Discover more from What's Hot in Enterprise IT/VC
Ed Sim's (@boldstartvc) weekly readings and notes on enterprise VC, software, and scaling startups
What's 🔥 in Enterprise IT/VC #207
🏰 Developer ❤️, power of community moats and two ways to get there
Do you remember those long road trips back in the day or maybe even now, if you are a parent, and the thought running through a young you or your children, is "are we there yet?" This reminds me of a couple of board meetings for infrastructure and open source companies when we get to the "how are the community efforts going" slide.
In the early days, many have that same feeling that no matter what you do, you really aren't getting anywhere fast. It really takes true conviction, perseverance, and patience to build a true community-led and bottoms up motion. And if you stick with it (assuming you have an amazing product developers ❤️ and continue iterating on that), I truly believe that community is one of the true long term 🏰s that can be built in the software business.
As I'm a fan of looking at successful companies, let's look at this week's news and see what we can learn. Top of mind for me was Hashicorp and several product announcements from Hashiconf, Armory's $40mm Series C round, and Twilio's completion of its Segment acquisition. Looking backwards, it's clear there are 2 paths to build a community, start your own, or leverage an existing one and work like hell to make sure that you add enough value to grow.
In the build your own scenario, Hashicorp, valued at over $5 billion, is a great example of what I mean by patience and perseverance in building a community. If we look at Gitstars as a proxy for user ❤️, this chart below spells it out. Vagrant, Hashicorp's first product, was released in 2010 and took 3 years to reach 2700 Gitstars and languished in no growth territory and then boom, in 2014 it started taking off.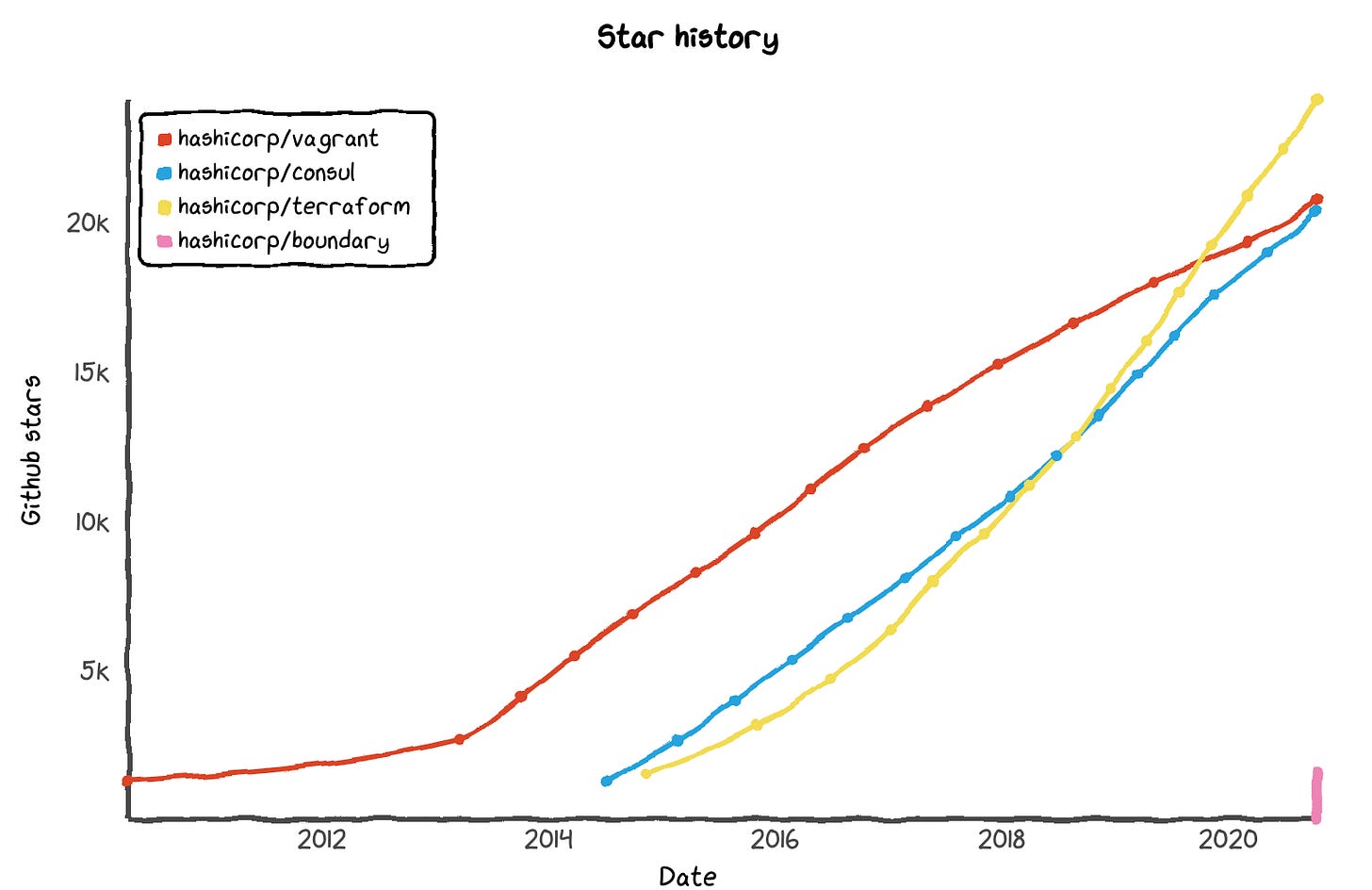 Now that the hard work of building community drip by drip was done, its next OSS release of Consul only took 6 months to reach 2700 stars and its next release of Terraform took a little more time but scaled past Consul. And this week, Boundary, developer first secure remote access based on trusted identity, was released and has already hit 1500 ⭐ in a couple of days. Because of that amazing developer ❤️ built drip by drip, it's now an overnight legit contender going after two of the newer venture backed companies, Nebula, originally started at Slack, with 6k ⭐ and Tailscale with 2.8k ⭐. Not only has community allowed it to protect its flank against competition, but it has also provided a huge boost as it open sources more product.
Second, let's look at this slide from Twilio's acquisition of Segment.
As I wrote two weeks ago Twilio took a long time to get there but once it did, growth started compounding. With that huge community of developers, we can see how Twilio will extend its reach by offering Segment to 10 million from the 250k installed base already.
Finally, let's look at Armory which has built an enterprise version of Spinnaker. In this case, however, Armory is not the steward of the community, but rather an active participant. Spinnaker took an insanely complicated open source project and built an installer, offered enterprise support and SLAs, and in its first 6 months signed 4 enterprise customers worth over $100k of ARR, standardizing on enterprise Spinnaker from Armory. Here's Drodio's YC Demo Day pitch from 2017.
So that was fast, 6 months from start to paying customers but that's because Armory was built off an existing community started by Netflix. The big risk, of course, is if one of the core maintainers leaves and takes the community with them, but in this case, Armory has done a tremendous job contributing code and adding value on top. From the video, Spinnaker's big vision is to be the cloud native control plane, and Armory, who does not own community, will build enterprise value from auditing, compliance, and cloud arbitrage. Well, it's clearly working, as Armory was able to go enterprise super early because the rabid community was comprised of large companies who were waiting for someone to support them and build an enterprise-ready service. And now, it even launched an OSS plugin framework on top of Spinnaker to continue adding value to the community.
⚠️ In your darkest days when you feel like you will never get there, you will be tempted to build for the enterprise use case. While I am a huge fan of the 🥪 sandwich model, bottoms up GTM and Top Down enterprise, going enterprise too early can kill you. It can be so tempting, as that enterprise customer will have a big bag of 💰 waiting for you, like a pot of gold at the end of a 🌈, but the question you need to ask is if I pursue this, what is it taking away from my engineers and team actually building to make it easier on the developer first side? If I pursue this, are dozens upon dozens of other enterprise customers ready and willing to pay. In Armory's case, they leveraged a built in Spinnaker community made up of larger organizations and were able to scale quickly. For someone creating their own community from scratch, this may be too much to handle.
So remember, there are 2 ways to get there, one is the slow way by building your own community and the other is leveraging an existing base. If you build it from scratch, remember to focus on making an incredible product developers love, be patient as it will be slow, and continue to invest in community. Trust me, you will eventually get there like you always did on those long road trips. And once built, community ❤️, becomes a true 🏰 for future success and defends your turf and amplifies each new release.
As always, thanks for reading and please share with your friends and colleagues!
---
Scaling Startups
Often forgotten on what makes a great product - Shreyas from Stripe reflecting on the Superhuman (a portfolio co) philosophy - wait till the developer and infrastructure startups get hold of this design thinking 🤯

and here's the podcast - we (@boldstart) were fortunate to be an investor Rahul's last company Rapportive and then be the first check into Superhuman watching him build this from scratch with a product North 🌠 of speed and simplicity and beautiful design. He even built his own font - I kid you not!

Fully remote, partially remote and now remote first from Dropbox - makes a ton of sense as you think about how to get back to work

Starting today, Dropbox is becoming a Virtual First company. Remote work (outside an office) will be the primary experience for all employees and the day-to-day default for individual work.

And, once it's safe to do so, we'll continue to facilitate a cadence of in-person collaboration and team gathering either through our existing real estate or other flexible spaces. 
---
Enteprise Tech
Must read from Martin Casado (a16z) and and team on next generation architectures for modern data infrastructure - great overview of the how and who are some of the top companies providing value; a couple missing items are on the privacy engineering front with cos like BigID and Cape Privacy and data collaboration/sharing front on the output side with the likes of Harbr (all portfolio cos 😃)

Speaking of data, databricks reported to be at $350mm ARR as of end of Q3 2020, up from $200mm same time 2019. This will be a big IPO one day as it has a big vision combining data eng with data science and data warehousing. If you don't have TC Extra, I suggest paying for it as Alex Wilhelm does a great job breaking out the Databricks story from OSS to top down enterprise sales.

How the hell did the company raise a Series B with minimal revenues? I, too, was curious.

At the time Databricks had a more open-source focus. So, the company attracted capital based on usage of its software, the popularity of its conference and other nonfinancial metrics. Ghodsi joked that during the company's early fundraising periods, investors would tell the company that "this is the last time we're giving you money based on your hopes," and that the next time they wanted to see "hard numbers."

Accel Euroscape of Top 100 Cloud Startups built in Europe and Israel out. Some amazing category defining companies like UiPath, GitLab and Gong. Great to have boldstart portfolio cos Snyk, BigID and Front on this list!

Bonus, 5 of our 15 portfolio cos in latest fund from 🏴󠁧󠁢󠁥󠁮󠁧󠁿 🇮🇱 🇮🇪 🇫🇷 🇩🇪 - great cos can be built anywhere!

DevOps 100 - Tech Beacon's Annual list of DevOps & OSS influencers to follow on Twitter - congrats to Nora Jones (Jeli), Patrick Debois (Snyk), Gareth Rushgrove. If you're looking for great content on all things infra, I encourage you to take a look at the list and follow!

In process automation land, Celonis seems to be moving upstream from process mining to now automation (see Integromat purchase) while UIPath has long moved down the stack when it bought Process Gold to do light discovery.

Uptime matters and as the world goes more online and loads increase, shit happens - Twitter down for several hours this past week. And where the users are, the hackers will be as Robinhood confirmed at least 2k accounts hacked. Massive VC interest in in uptime, resiliency and security will continue!

Semil from Haystack is usually spot on when identifying his breakout startup of the year and for 2020 it's event platform - Hopin - and i

👇🏼💯
---
Markets
👇🏼Must watch 📺 - Bill waxing poetic on tradtional IPOs vs. directs and Spacs

Bitcoin is back and Fidelity tells investors to allocate up to 5% to the digital currency - article and Fidelity report here

Amish Jani from FirstMark Capital shares why Firstmark launched their own SPAC

Fastly, one of the best performing cloud stocks of 2020, takes a huge hit from impact of TikTok which was 12% of revenue

The company, whose core technology helps companies speed the delivery of digital content to consumers, said it now expects revenue of $70 million to $71 million, compared to its previous guidance of $73.5 million to $75.5 million. 

"Due to the impacts of the uncertain geopolitical environment, usage of Fastly's platform by its previously disclosed largest customer did not meet expectations, resulting in a corresponding significant reduction in revenue from this customer," the company said in the release.