Discover more from What's Hot in Enterprise IT/VC
Ed Sim's (@boldstartvc) weekly readings and notes on enterprise VC, software, and scaling startups
What's 🔥 in Enterprise IT/VC #206
Enterprise funding on 🔥 but pause to remember 3 Cs for what makes a truly supportive investor who knows when to cheer 👏🏼, challenge 🧑‍🏫, chill 😎
Where did the time go? I can't believe that we are now in October and dialed in on Q4 already. In my 24 years of enterprise investing, I can say that I've never seen a 🔥 pace of company creation and fundings like now. While part of me ❤️ this, another part makes me worried. For example, with this speed of deal making, I want us all to take time to pause, at least briefly, to think about this 👇🏼, the 3 C's for Founder/Investor relationships.
Given that preemptive rounds are the new normal, and we are investing over Zoom, the art and nature of relationship building has changed. So it's imperative for founders to slow down to understand who they are partnering with and how they operate. These are decisions that last a lifetime. Always make time to do references on your investors or future partners. And investors, make sure you spend the time talking to existing board members and investors on the cap table.
This is often lost in the speed of capital deployment.
The M&A markets also are on 🔥 and the latest huge, potential acquisition comes from Twilio who is rumored to be buying Segment for $3.2 billion. When you're worth $45 billion, it's always a question of what's next on the product side and great to see that Twilio continues to lean in on their API and developer first product North ⭐ (see last week's newsletter for a breakdown of the Twilio model).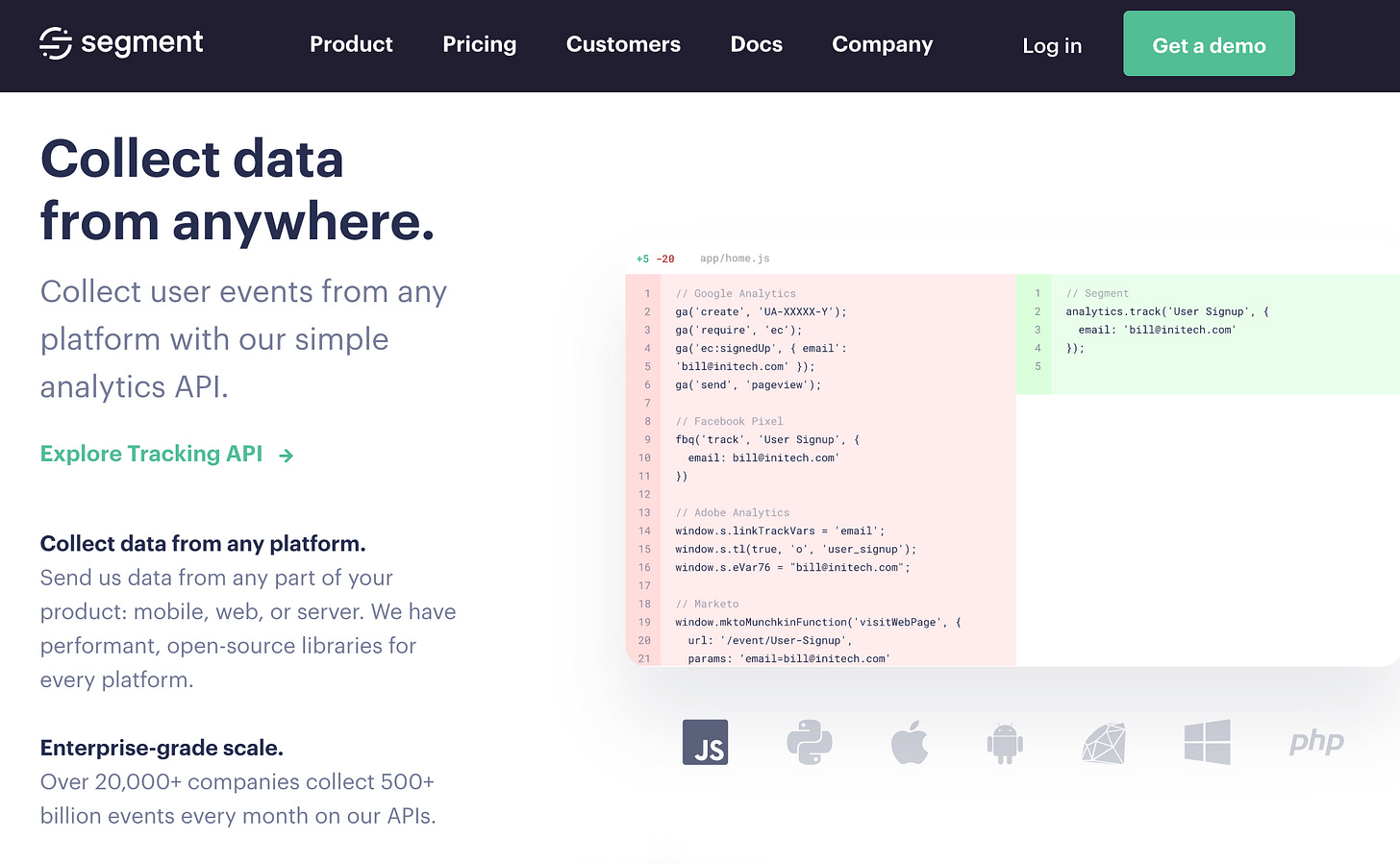 I don't see any signs of this slowing down as cloud multiples are at all time highs and companies need to find more ways to grow their TAM.
As always, 🙏🏼 for reading, and have a wonderful weekend!
---
Scaling Startups
👇🏼💯

Index Ventures shares it's playbook for European founders expanding to the US. FWIW, our last two investments were in open source related companies in Germany and Ireland so super excited about the developer talent coming out of Europe with an eye towards US expansion. That being said, IMO, the best dev first companies continue to focus on community and product and end up getting pulled into the US because of that and not the other way around. Forcing the US expansion with a "playbook" too early can be a recipe for disaster.

Love Jim McKelvey's (co-founder of Square) advice for entrepreneurs. Reminds me of the difference between "white-board" entrepreneurs who start with the market looking for white spaces vs. founders who start companies born out of a problem or pain that they've experienced, with a burning desire to solve it. (The Profile newsletter).

The final thing is to understand why you're doing it. The motivation is really important. If you're doing it for money or notoriety or anything that's easily accessible, then you're probably going to burn out. It turns out that money, fame and the flashy stuff are really weak motivators because once you have a little bit of money, you'll quit. The best motivator, at least for me, is a problem you care deeply about solving.

And Tobi from Shopify concurs

First, a super cool article about sled dogs, but secondly, this is how I try to approach our current times - embrace each and every day and make the most of it - What my sled dogs taught me about planning for the unknown (h/t Farnam Street)

Planning for forever is essentially impossible, which can actually be freeing: It brings you back into the present. How long will this pandemic last? Right now, that's irrelevant; what matters is eating a nourishing meal, telling someone you love them, walking your dog, getting enough sleep. What matters is that, to the degree you can, you make your own life sustainable every day.
---
Enterprise Tech
The Developer Experience Gap from Stephen O'Grady from analyst firm RedMonk. This is also what excites me about the opportunities that lie ahead to solve this.

Fragmentation makes it impossible for vendors to natively supply the requisite components for a fully integrated toolchain. That does not change the reality, however, that developers are forced to borrow time from writing code and redirect it towards managing the issues associated with highly complex, multi-factor developer toolchains held together in places by duct tape and baling wire. This, then, is the developer experience gap. The same market that offers developers any infrastructure primitive they could possibly want is simultaneously telling them that piecing them together is a developer's problem.

Battery State of the Cloud is out and another must read 💎. Here's a couple of nuggets on their best practices for building an OSS company. Key is point 1, need to think about the atomic user and build for them, not the CIO or CISO. Second, I would add is must have investment in the community.

Targeting "practitioner" buyers inside organizations, like data engineers and DevOps experts, rather than high-level buyers like CIOs and CISOs;

Building your product in the cloud initially, as opposed to on-premise, which can create a quicker path to $100 million in ARR;

Leveraging different paths to efficient customer growth, including the best features of open source and SaaS;

Spending time to understand and nurture your community of users, and also working with open-source foundations;

Also ❤️ this slide

21 Dev and Infrastructure startups to watch from SD Times - includes companies from Netlify to Tidelift to Env0 (a portfolio co)

🤣 This is so good! What is Docker and Kubernetes. 🎩 Crissy Costa

McKinsey debunks the 7 myths of the cloud - always interesting to hear how the F500 thinks about the cloud and why and where their real concerns are

Can't keep up with all of the latest CNCF projects? Marc Campbell's podcast (co-founder Replicated, a portfolio co) will go deep with the maintainer to understand the who, what and why of each project and provide a window into how we will build, deliver and operate cloud-native systems in the near future.

Episode #1 is with Uma Mukkara from Maya Data, creator of LitmusChaos, a k8s native chaos engineering platform. Besides discussing the idea of shifting chaos eng left to developers, I thought the benefits of participating in the CNCF were important to highlight for founders - stamp of approval for orgs and devs to use which also means more distribution!

You own Sandbox, that means there is some degree of due diligence that is already put in, so I should go look at it."

It's an enthusiasm for the maintainers as well, and it's easier to build an ecosystem around that.

You get more ideas, more people are trying out Litmus for example.

We were having 50,000 experiments in July, and now we're already 100,000 in just a few months.

The rate at which Litmus is being used is much higher out of the Sandbox adoption.

Speaking of the CNCF sandbox, Backstage from Spotify is one of the newest and more interesting projects to join. Backstage is an open platform for building developer portals with a vision to provide engineers with the best developer experience. Here's more on the plugin marketplace which just went live this past week.

Imagine a not-so-distant future where you walk up to Backstage, install it in your environment, and then choose from a gallery of existing, open source plugins that match whatever infrastructure you use inside your company. That is our vision for the Backstage plugin ecosystem.

Running services on Kubernetes? There's a plugin for that. Using Snyk for security scanning? There's a plugin for that. Grafana, DataDog, or Rollbar for monitoring? There's a plugin for that. Using Jenkins, CircleCI, GitHub Actions, or Travis CI? Pick the CI plugin of your choice. You get the picture. Regardless of your stack, there's a plugin that you can use.

Slack down this week, Microsoft down twice in last few weeks and Google down a few weeks ago - resilience matters - expect to see continued investment and innovation as we become more reliant on being online all the time. A great place to learn from some of the top SREs is the Learning From Incidents community.

🤣 Great marketing - Superhuman created their own day, the Inbox Zero Day with Mr. Russ Hanneman helping launch
---
Markets
Go ☁️ or Go 🏠

"IBM will focus on its open hybrid cloud platform and AI capabilities. NewCo will have greater agility to design, run and modernize the infrastructure of the world's most important organizations."

Reid Hoffman lays out the whys on his SPAC

Bitcoin? Square invests $50 million

Square believes that cryptocurrency is an instrument of economic empowerment and provides a way for the world to participate in a global monetary system, which aligns with the company's purpose. The investment represents approximately one percent of Square's total assets as of the end of the second quarter of 2020.

"We believe that bitcoin has the potential to be a more ubiquitous currency in the future," said Square's Chief Financial Officer, Amrita Ahuja. "As it grows in adoption, we intend to learn and participate in a disciplined way. For a company that is building products based on a more inclusive future, this investment is a step on that journey."

Bubble talk building every week - this from Bloomberg - "Cloud Stock Mania Comes With Eerie Echoes of Dot-Com Boom and Bust"