Discover more from What's Hot in Enterprise IT/VC
Ed Sim's (@boldstartvc) weekly readings and notes on enterprise VC, software, and scaling startups
What's 🔥 in Enterprise IT/VC #205
☎️ 📱👩🏼‍💻 Anatomy of a developer first juggernaut, Twilio
Twilio held its annual developer and customer conference this past week highlighted by an investor day presentation you can find here. All I can say is 😯! If you're looking for proof of the 👩🏼‍💻developer first and land and expand model, then Twilio is it. This is one of the best public investor presentations I have seen in awhile, and I'll share a few slides showing why I'm so excited. Winning the ❤️ and 🧠 of developers truly does pay off in the long run.
But before I go there, let's go to the Wayback Machine to Twilio's founding in 2008 and one of its first websites. Twilio started with an API for voice communications so developers could build easily build telephony apps.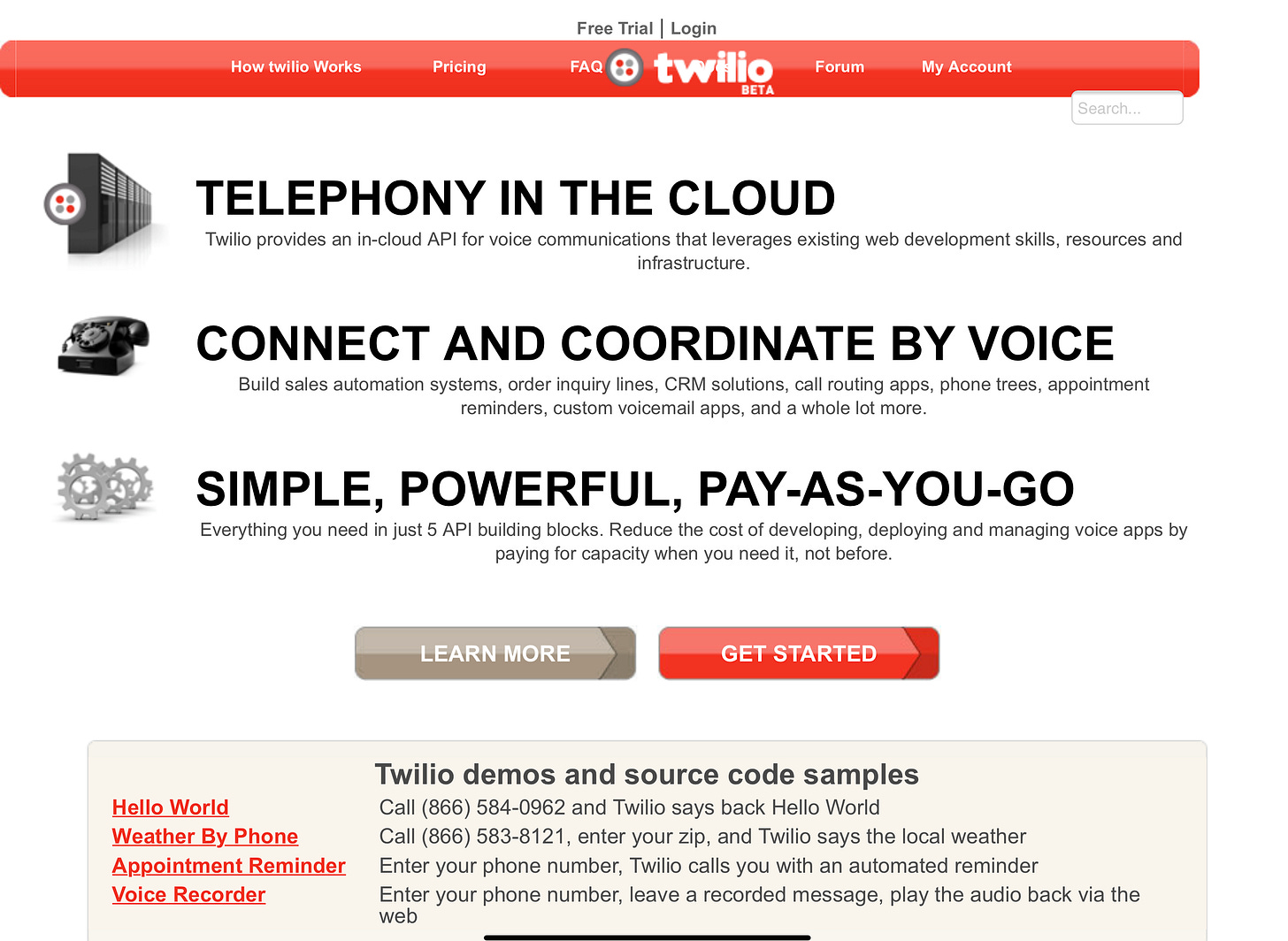 4 years later in 2012, Twilio refined its value proposition and expanded from just voice apps to text messaging as well. As you can see from both websites, it's all about APIs and building.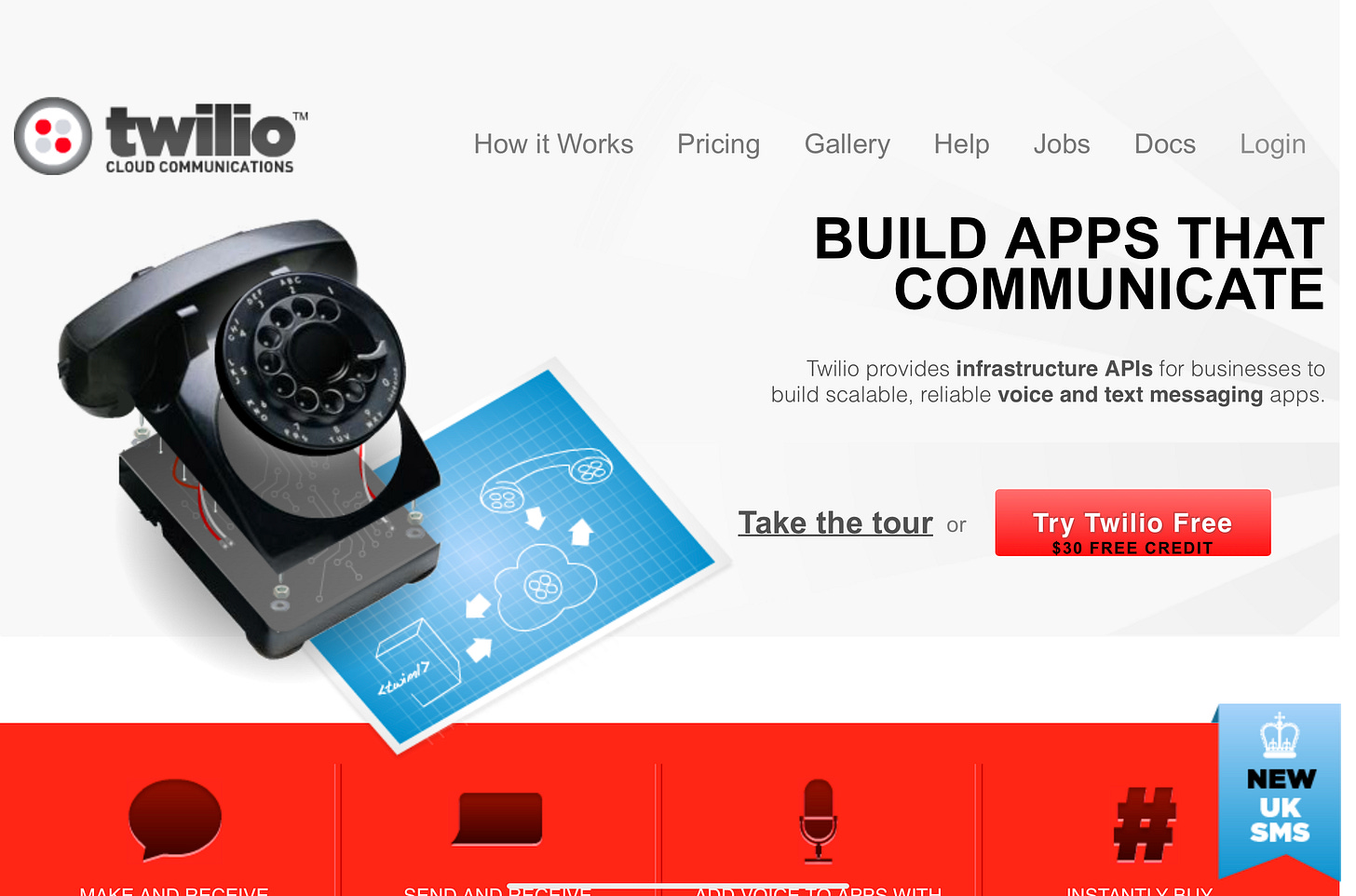 In early 2016, the year Twilio filed to go public, the messaging is getting broader but still about building apps and developers. The latest product expansion from the core base of voice and messaging is now around video and authentication.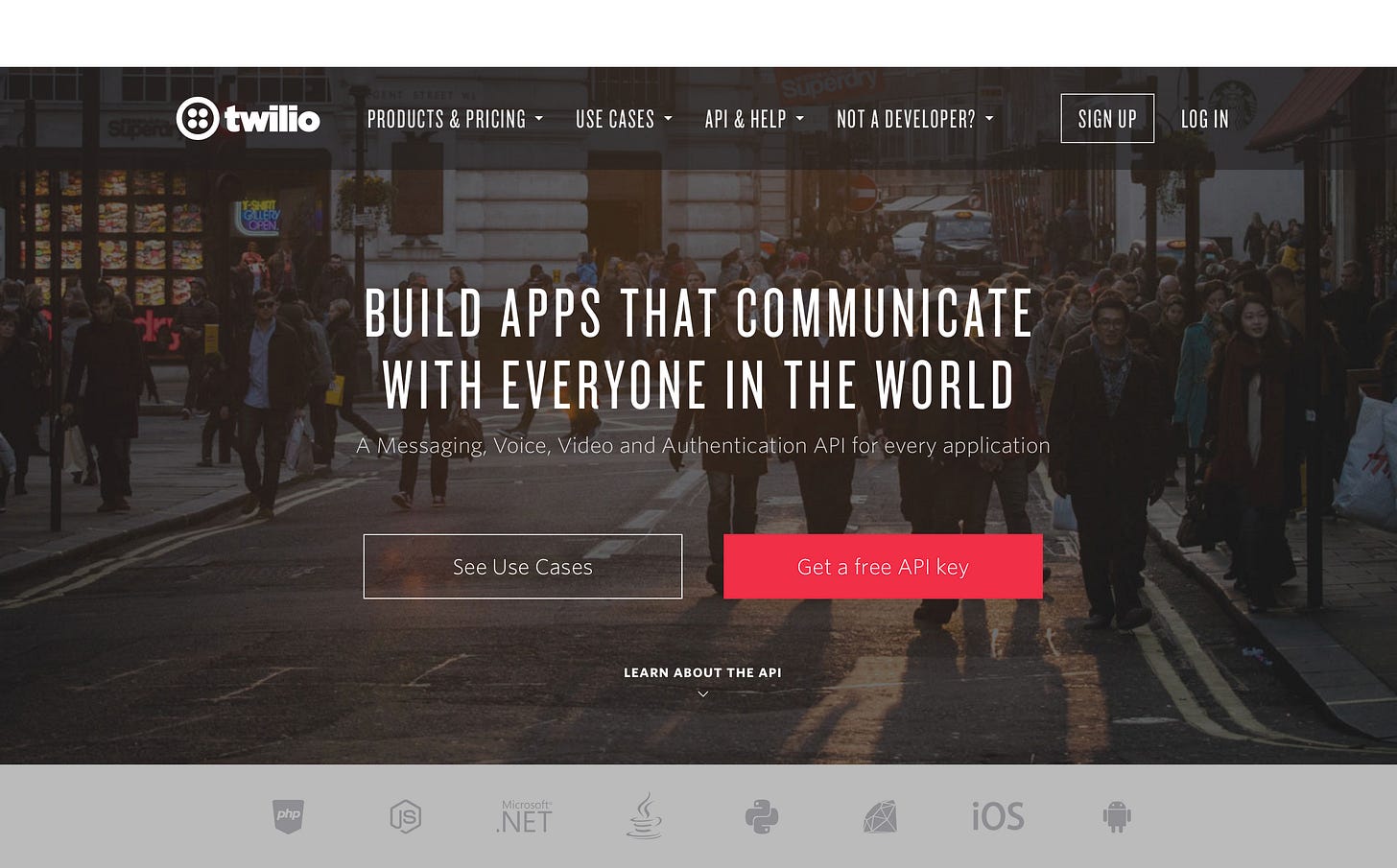 In the Twilio S-1 from 2016, I pulled a couple of 💎as it was one of the first developer led and API-first models to go public. It's always interesting to see how the bankers positioned the company and sold the story to the public.
The future is developers!

Software developers are reinventing nearly every aspect of business today

The dev first model requires patience and letting them "explore" on their own; so don't sell to them.

As of March 31, 2016, over 900,000 developer accounts had been registered on our platform. Because big ideas often start small, we encourage developers to experiment and iterate on our platform. We love when developers explore what they can do with Twilio, because one day they may have a business problem that they will use our products to solve.

Twilio invested significant 💰into Signal, its developer conference to the point of including it in its S-1 several times and highlighting the $2.6 million cost to run it. I'm not advocating for startups to spend this much but the point is, events matter, one by one and eventually once you build your installed base, epic user conferences matter…which is why I'm so excited for the first ever SnykCon coming on October 21. Twilio continues to invest in Signal, despite what Wall Street may have thought in the early days!

Our business model is primarily focused on reaching and serving the needs of developers. We established and maintain our leadership position by engaging directly with, and cultivating, our developer community, which has led to the rapid adoption of our platform. We reach developers through community events and conferences, including our SIGNAL developer conference, to demonstrate how every developer can create differentiated applications incorporating communications using our products.

Product North ⭐ remains the same - developers, developers, developers - reduce the friction, focus on ease of use…

Our platform was built by developers for developers, and our approach has the following strengths:

Developer Mind Share.  We are recognized as the leading platform for cloud communications, and we believe we set the standard for developers to build, scale and operate real-time communications within software applications.

Easy to Get Started.  Developers can begin building with a free trial, allowing them to experiment and iterate on our platform. This approach eliminates the upfront costs and complexity that typically hinder innovation.

Easy to Build.  We designed our APIs so developers could quickly learn, access and build upon our Programmable Communications Cloud.

Easy to Scale.  Our platform allows our customers to scale elastically without having to rearchitect their applications or manage communications infrastructure
And for the first couple years, Wall Street didn't really understand the developer first model.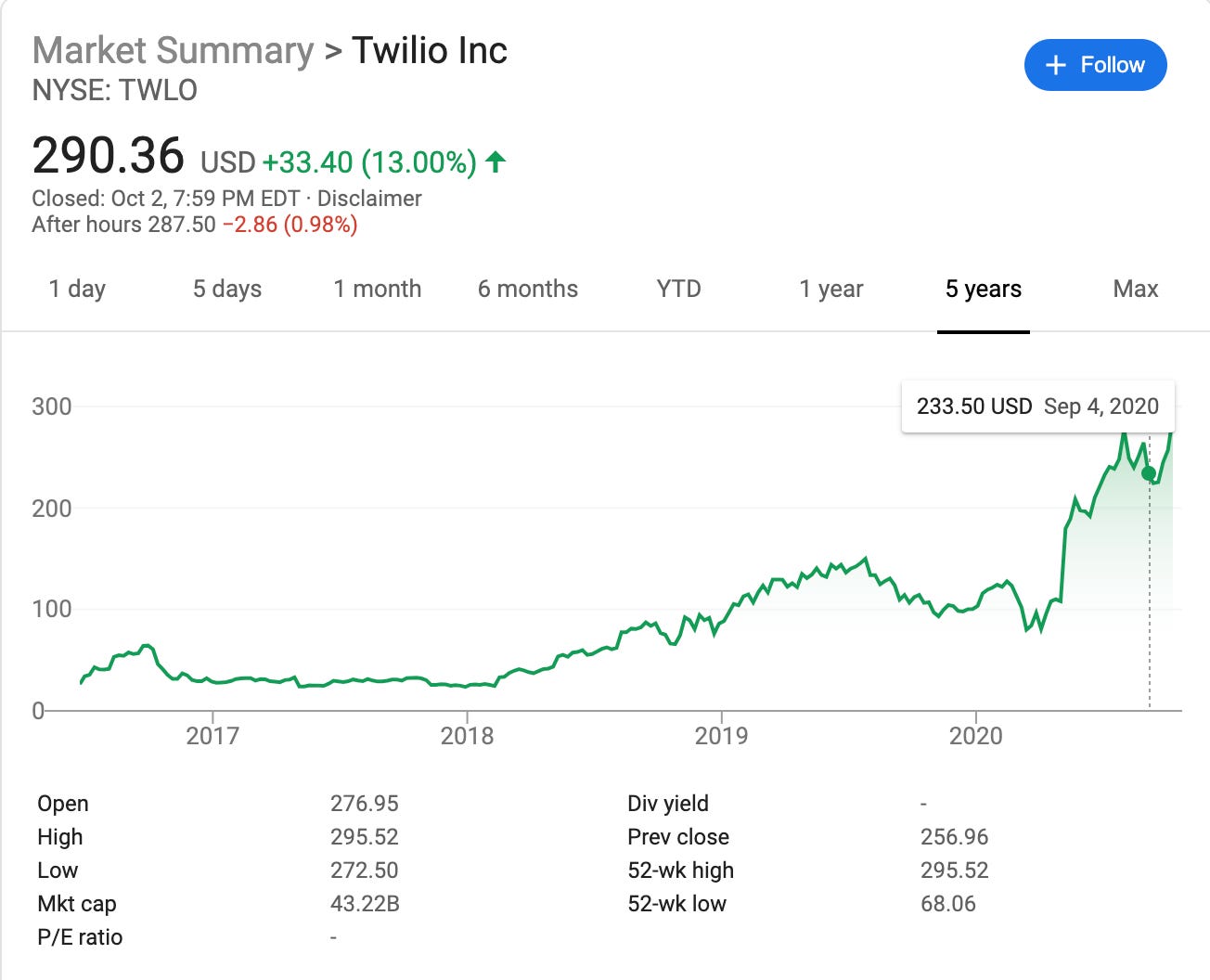 And now it does.
So let's dive into the investor day deck. First, it's a full blown platform now but as you can see from the earlier websites, for many many years, it only focused on doing one thing, being the best API for voice and text before carefully adding more products. 🔑 lesson for startups is to know you can't sell a platform on day one, you need to solve a narrow pain and grow your way into it. In addition it takes time and patience to build the initial developer first engine.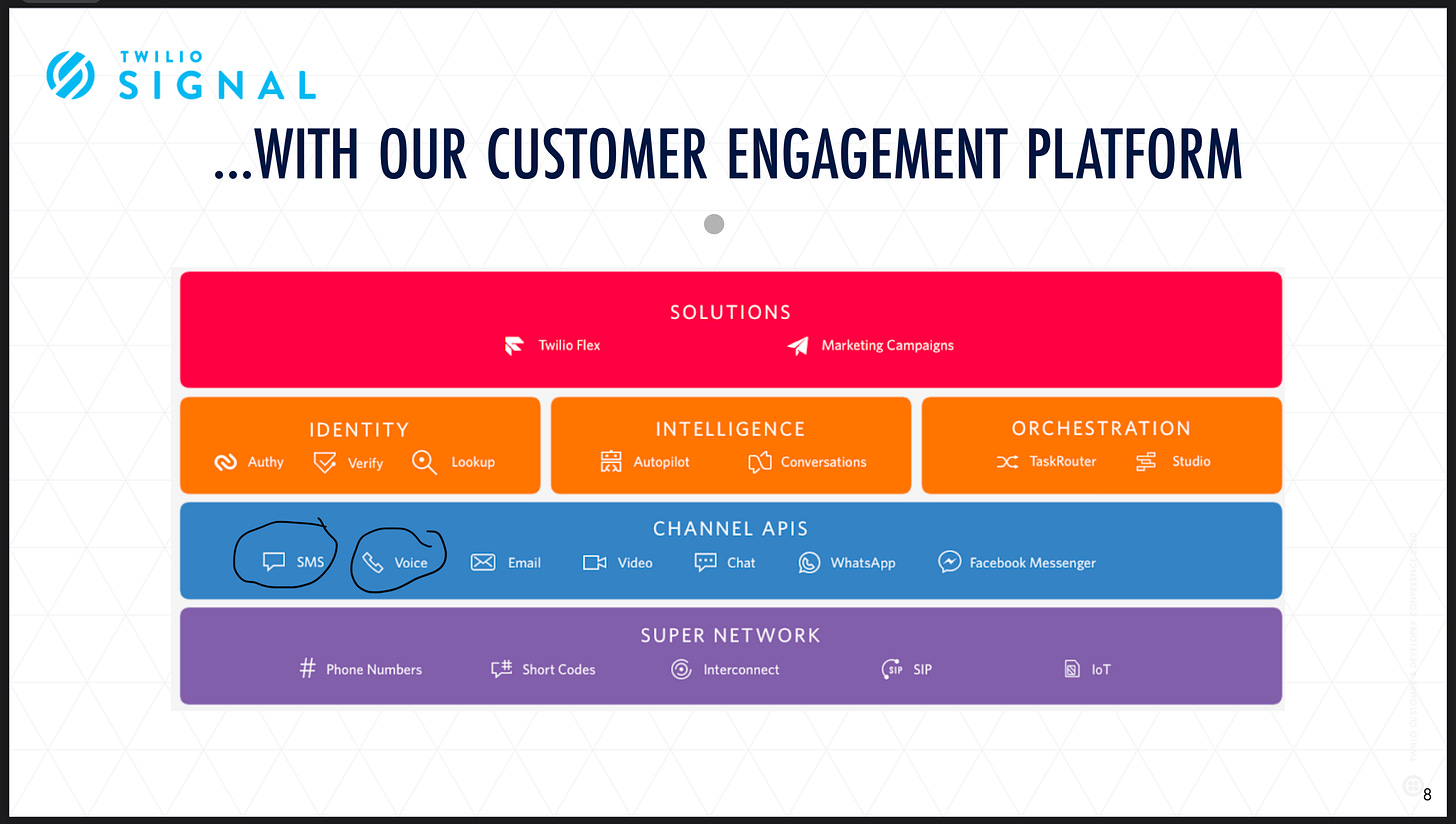 12 years from its founding Twilio continues to focus on this developer first motion resulting in astonishing growth in the last 4 years going from 900k devs in 2016 to 2 million devs in 2017 to 10 million in 2020. The reward is significant customer growth along with world class dollar-based net expansion and revenue. Dollar based net expansion has grown over time due to more usage as well as new product upsell.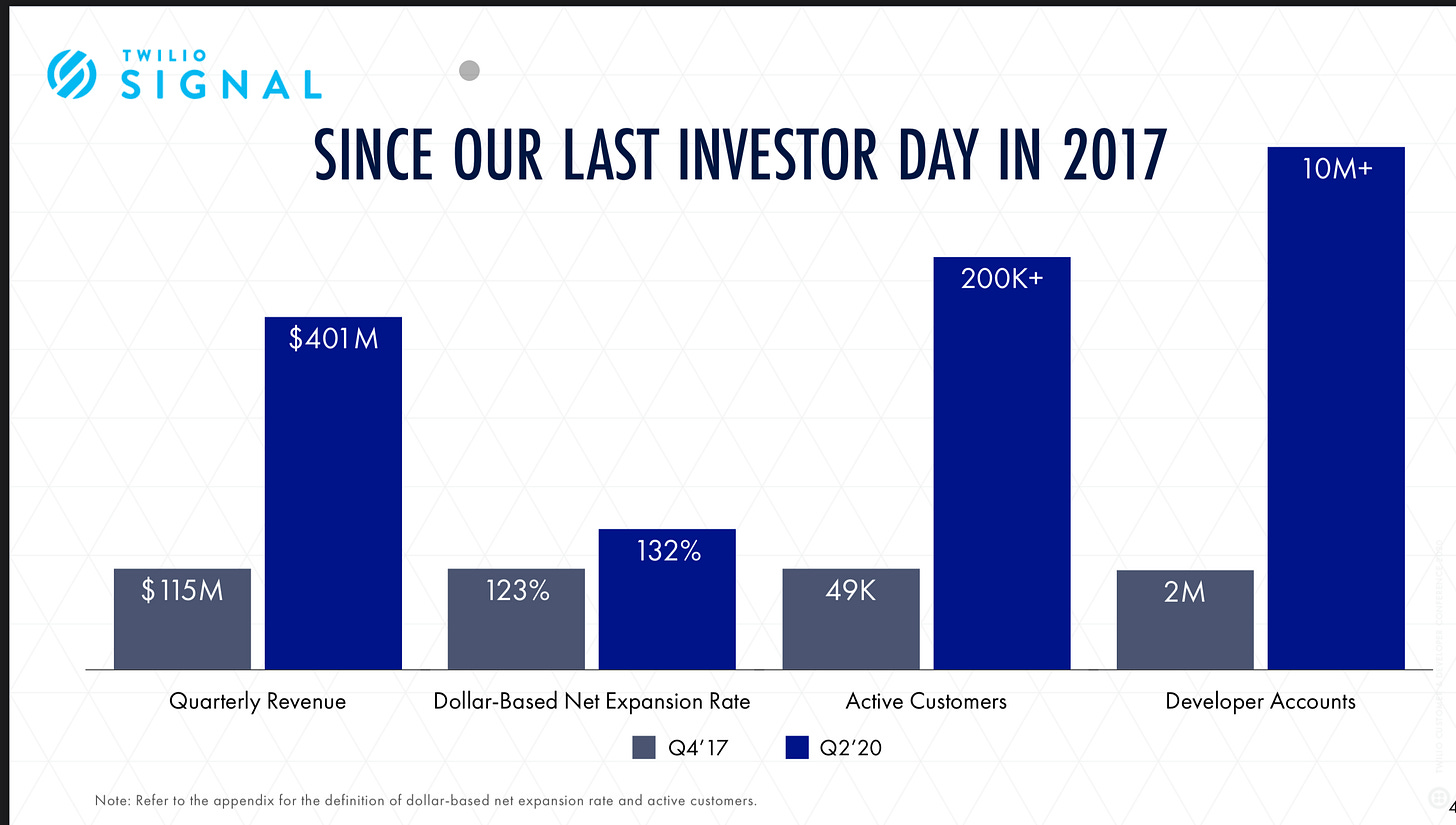 Here's another great slide on Twilio's developer first model showing the life of one customer journey with a small initial land and upward sloping curve and steep ramp 4 years later - it takes time and patience for this small land to fuel massive growth but when it does the economics are wonderful.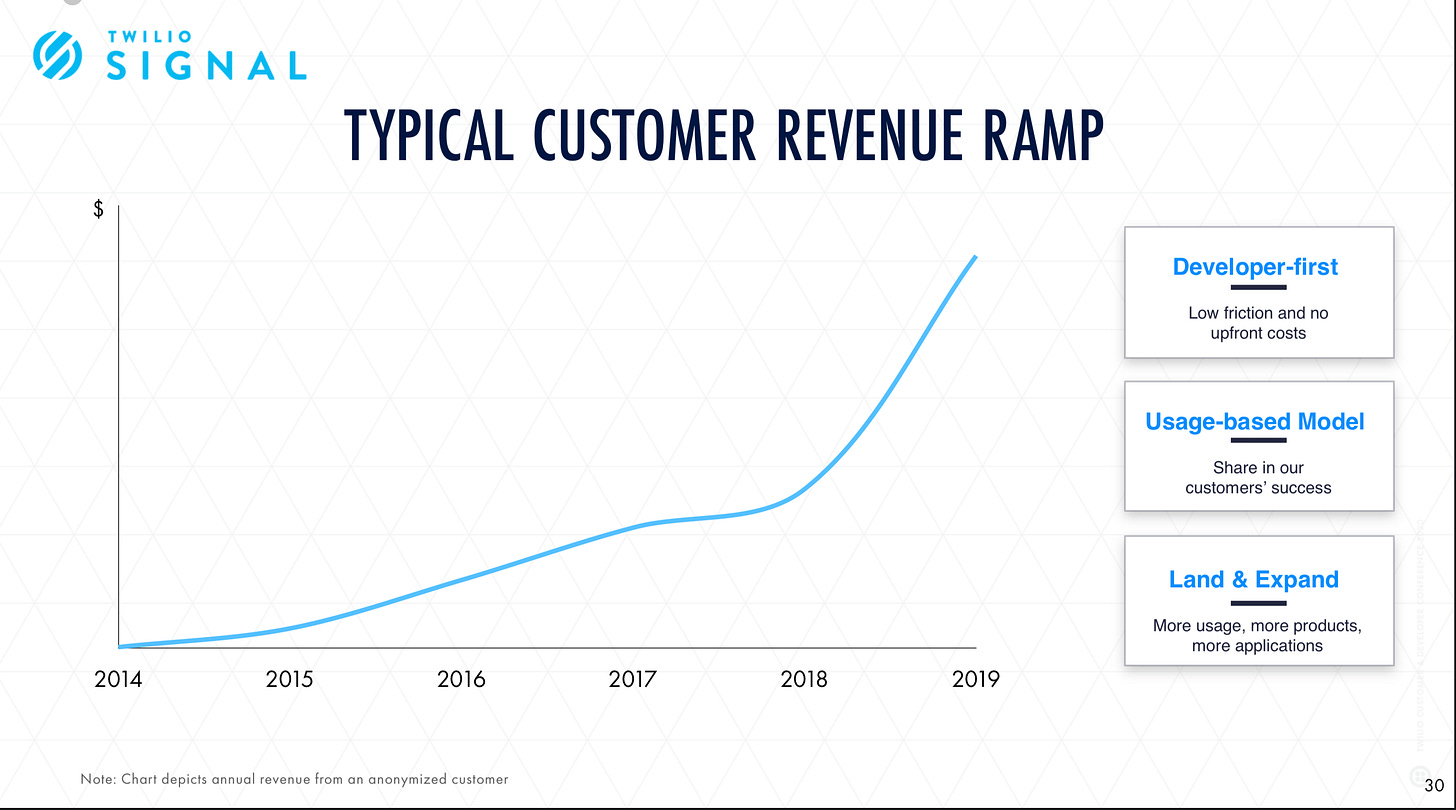 And here's the result when it comes to Twilio's cost of sales and marketing versus many leading SaaS companies.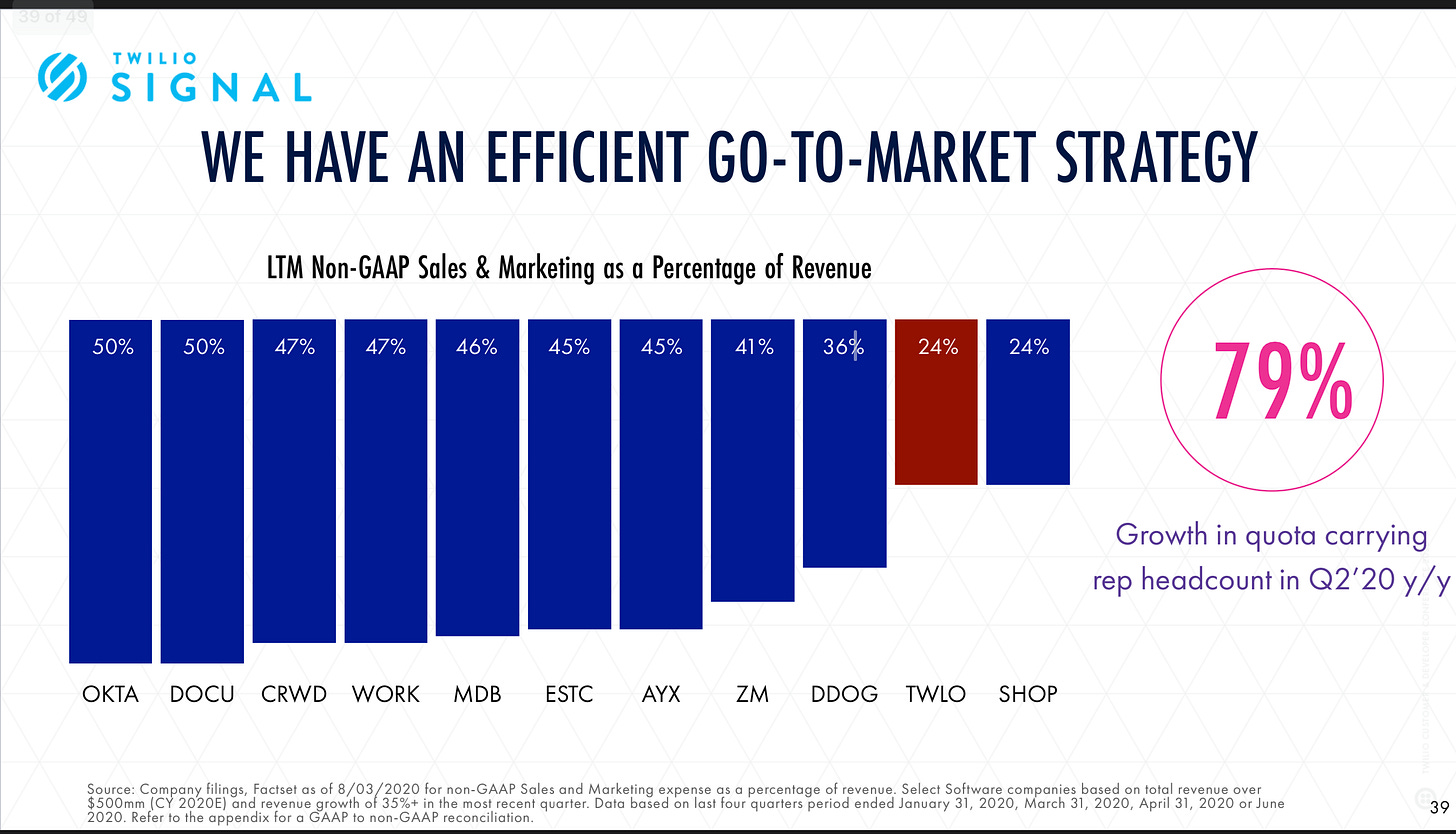 And over time this expansion leads to much larger customers as usage and product upsells drive this.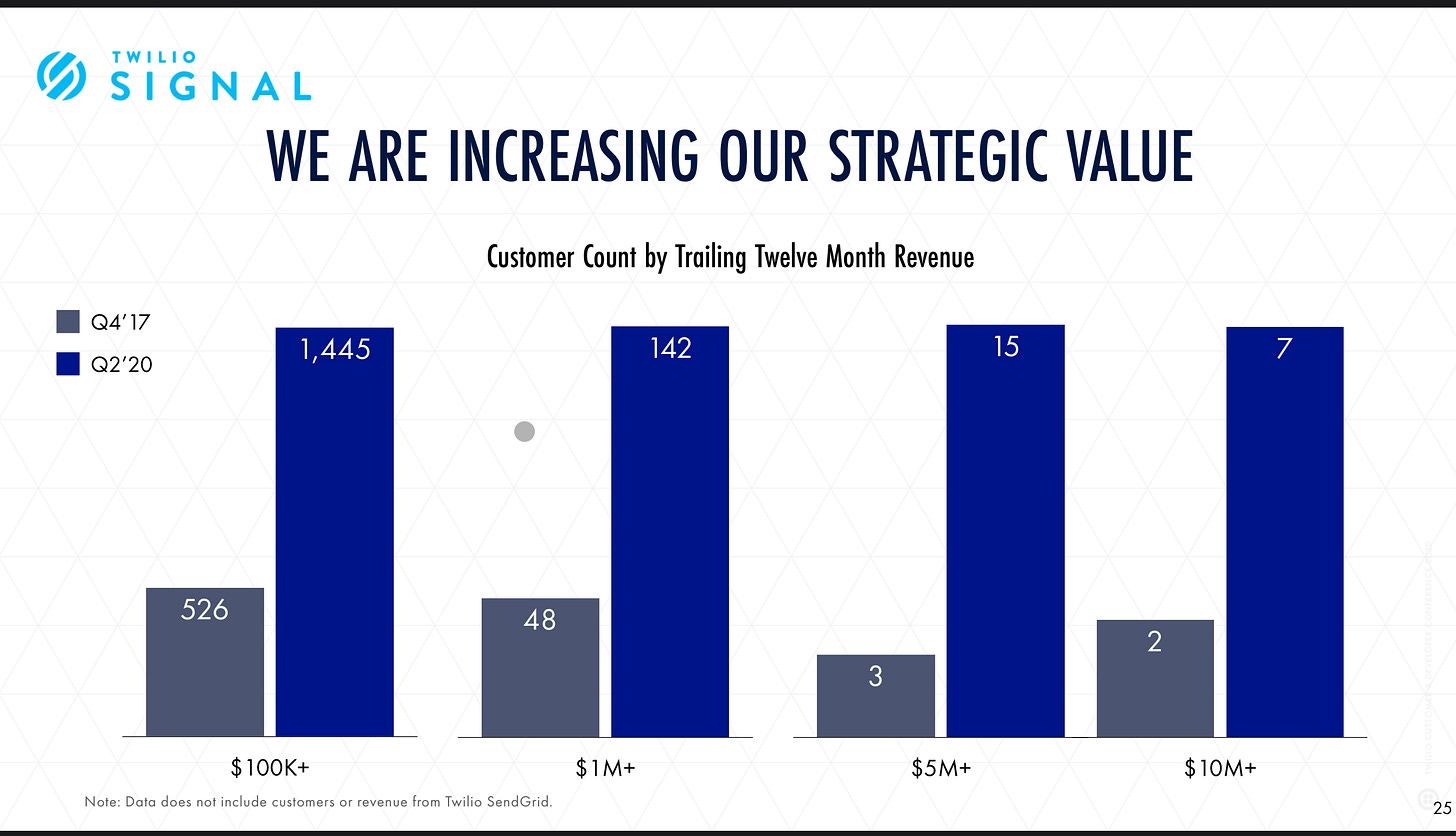 Lastly, here's another look at the developer first strategy in action as you can see the expanding growth in revenue by cohort.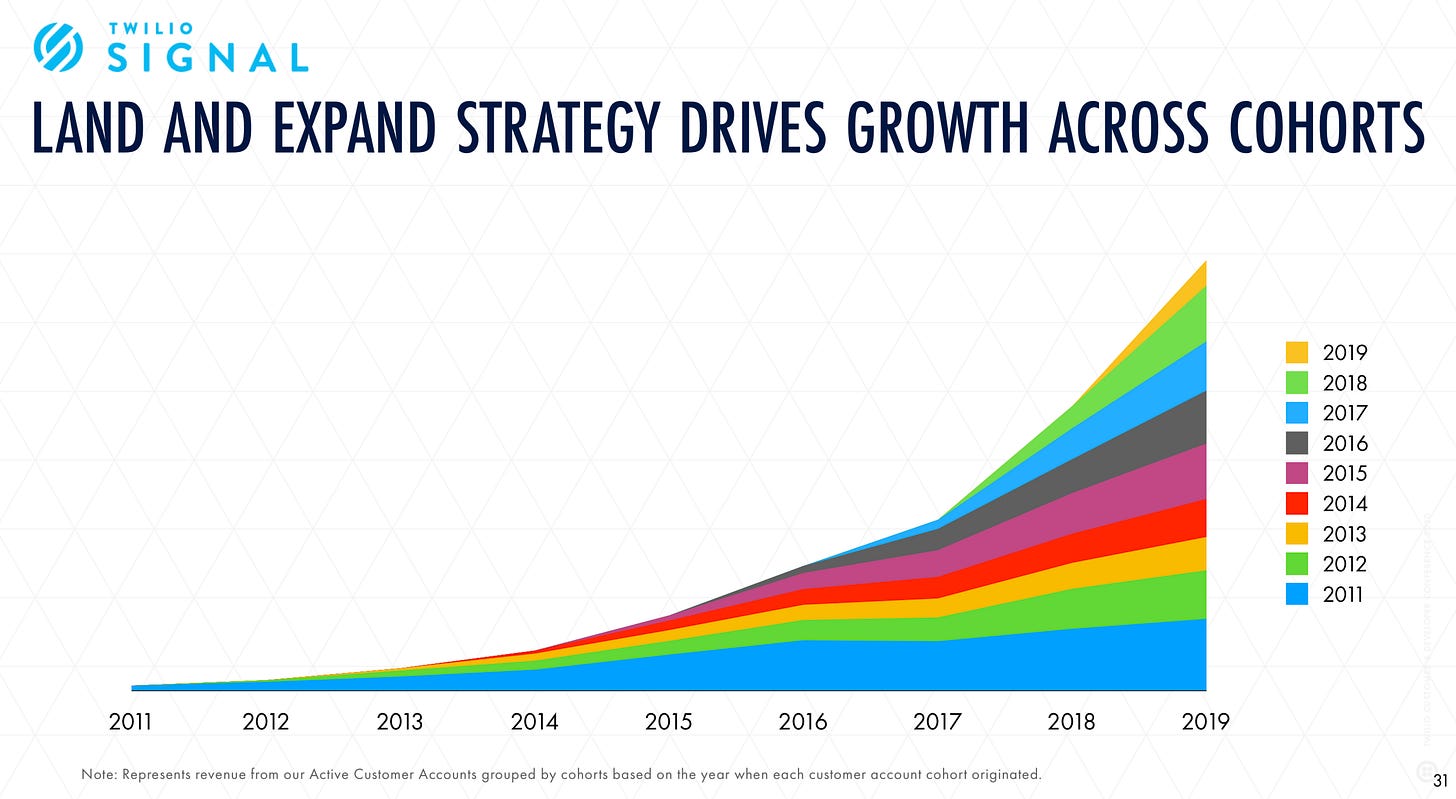 Bottom line, Twilio has been one of the leaders along with Atlassian paving the way for product led growth and developer led motions, so it's important for all of us to look at what true business success looks like as we think about our own companies or portfolio.
And going back to Twilio's S-1 in 2016, the real question is shouldn't every company have a developer first doppelganger ready to disrupt the old way of doing things? You know my answer!
As always thanks for reading and please share with your friends and colleagues.
---
Scaling Startups
👇🏼💯 Shreyas Doshi, first lead product manager at Stripe, has another great breakdown of what a product-focused company is. I encourage you to click and dive deeper into the thread.
---
Enteprise Tech
How Linkerd rebuilt it's CI (continuous integration) and took it down from hours to under 10 minutes. Lots of great thoughts on requirements and what tools were evaluated, and why it chose kind, Packet, and Github Actions. 🎩 Gareth Rushgrove

With the prioritized requirements in mind, we set about evaluating any tools we could find in this space:

k8s Distributions: kind, k3d, k3s, GKE, AKS, EKS, DigitalOcean K8s

Compute: Packet

Job Management: GitHub Actions, Prow, Travis, CircleCI, Azure Pipelines, Jenkins X, Gitlab CI, garden.io

Release/CD: Kubernetes Release, werf.io

Cloudflare with new serverless product, Durable Objects for stateful serverless on edge - this is potentially huge, here's an example for real-time editing…

Durable Objects make this easy. Not only do they make it easy to assign a coordination point, but Cloudflare will automatically create the coordinator close to the users using it and migrate it as needed, minimizing latency. The availability of local, durable storage means that changes to the document can be saved reliably in an instant, even if the eventual long-term storage is slower. Or, you can even store the entire document on the edge and abandon your database altogether.

Matt Turck with another great update to his Data and AI Landscape.

For what it's worth, our strategy has been investing in the layer above the pure infra side to help end users unlock the value of all of their data - companies like Harbr and Cape Privacy.

Datadog and Azure announce deal - seems like Azure finally allows customers to draw down from existing spend for marketplace - startups should take notice!

In addition to the integration enhancements, the new channel through the Azure Marketplace allows customers to draw down on their committed Azure spend to purchase Datadog. This makes it significantly easier for customers to find budget, and also aligns incentives for Azure and Datadog sales teams for better collaboration and engagement in co-sell motions with enterprise clients. As a result, this partnership will enable more Azure customers to leverage Datadog's observability platform to drive successful cloud modernization and migration initiatives.

Great explainer post on the Cloud Native Landscape, runtime layer including all things container runtime, storage and networking
---
Markets
Palantir and Asana both directly listed on the NYSE this past week with both Palantir ($9,20 vs. $10 offer) and Asana ($25.70 vs. $27 offer) below their offering price at end of week.