Discover more from What's Hot in Enterprise IT/VC
Ed Sim's (@boldstartvc) weekly readings and notes on enterprise VC, software, and scaling startups
What's 🔥 in Enterprise IT/VC #203
☁️💯 + ❄️ + 🐸, breaking down the Top 20
What a huge week for enterprise software with Snowflake, JFrog and Sumo Logic going public 📈. In addition, Bessemer and Salesforce Ventures released the Cloud 100, the 5th annual list of the top 100 private cloud companies. This is an important list to follow as it's a leading indicator for what the next great IPOs could be. Snowflake is #1 this year and now a graduate. As an aside, I'm pretty excited as 3 companies we backed in the very beginning with a first check debut on this list with Snyk at #86, BigID at #93, and Front at #94.
Rather than breakdown why some of these companies are Cloud 100 worthy which Bessemer does quite well here, I wanted to take a look with a different lens. I took the Top 20 and used my best guess to understand the primary business model and sales motion that they employed and as you can see below, dev first models (including OSS) account for 40% of the list! Winning the ❤️ and 🧠 of developers to win the enterprise, is certainly paying dividends for those who stick with it. While most investors are enamored by the bottoms up mode, top down enterprise is not dead. 2 of the top 3 are more traditional enterprise sales oriented in Snowflake and UIPath, although Snowflake increasingly has multiple paths to close new customers.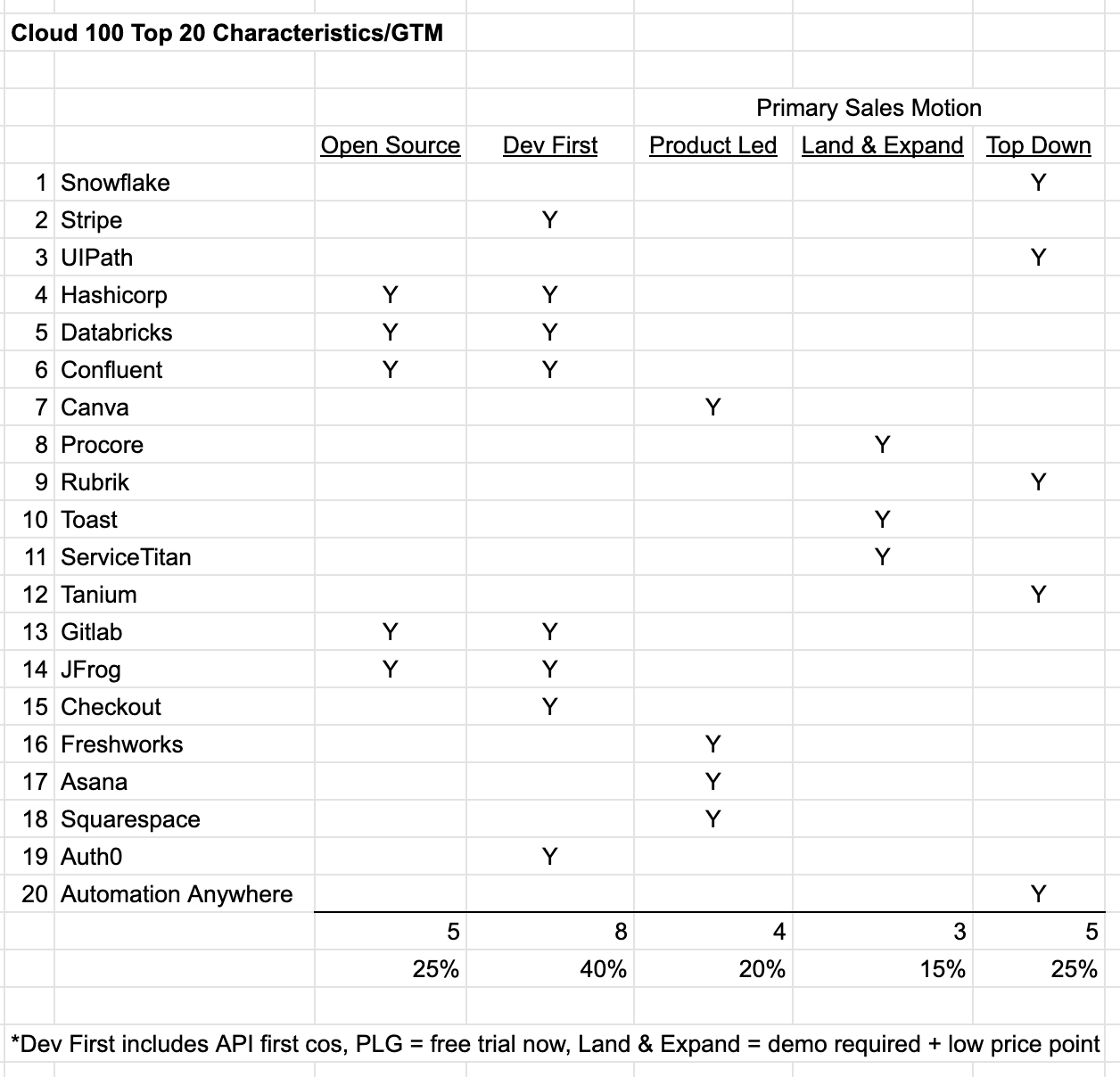 Grant Miller, cofounder and CEO of Replicated (a portfolio co) takes a different view of the Top 20.
There has been an ongoing philosophical debate whether all cloud or on-premise and it's been a religious war in many executive meetings and boardrooms. With the cloud, companies maintain and build one version of their software and on-premise installations means one has to maintain hundreds of different installs at a customer's data center which becomes a maintenance nightmare over time.
Even in Greylock's founding story of Sumo Logic, one of the key points centered on the cloud:
Throughout our partnership with Sumo Logic, we have admired their steadfast commitment to delivering continuous intelligence at scale. In the early days, many large enterprises requested an on-premise version of Sumo's platform, but the team stayed true to their vision and focused on where the puck was headed – cloud scale analytics. From those humble beginnings, it's amazing to see the platform today which scans more than 870 petabytes of data per day. That's what continuous intelligence at scale is all about.
My view is that this debate should not really be one as it's all just cloud native which means it doesn't matter whose cloud you deploy on as it's still the same software, especially as kubernetes and container usage has proliferated. Grant calls this modern on-prem and of note is that UIPath and Hashicorp, 2 of the Top 5, both use Replicated for their "on-prem" versions. Digging deeper, Grant goes on to say:
"Interestingly, only 4 of the Top 20 from 2016 had an on-prem version available... now there are 8. It seems rumors of the death of on-prem software are greatly exaggerated."
I wonder how many on next year's list will be part of the Hybrid Cloud 100?
Finally, if you're looking for more reasons to be excited about the future of enterprise, take a look at a presentation from Citi this past week at the Barclays Financial Services Conference. Notice the annual $9 billion in tech spend "to enhance client experience, productivity, and control environment!"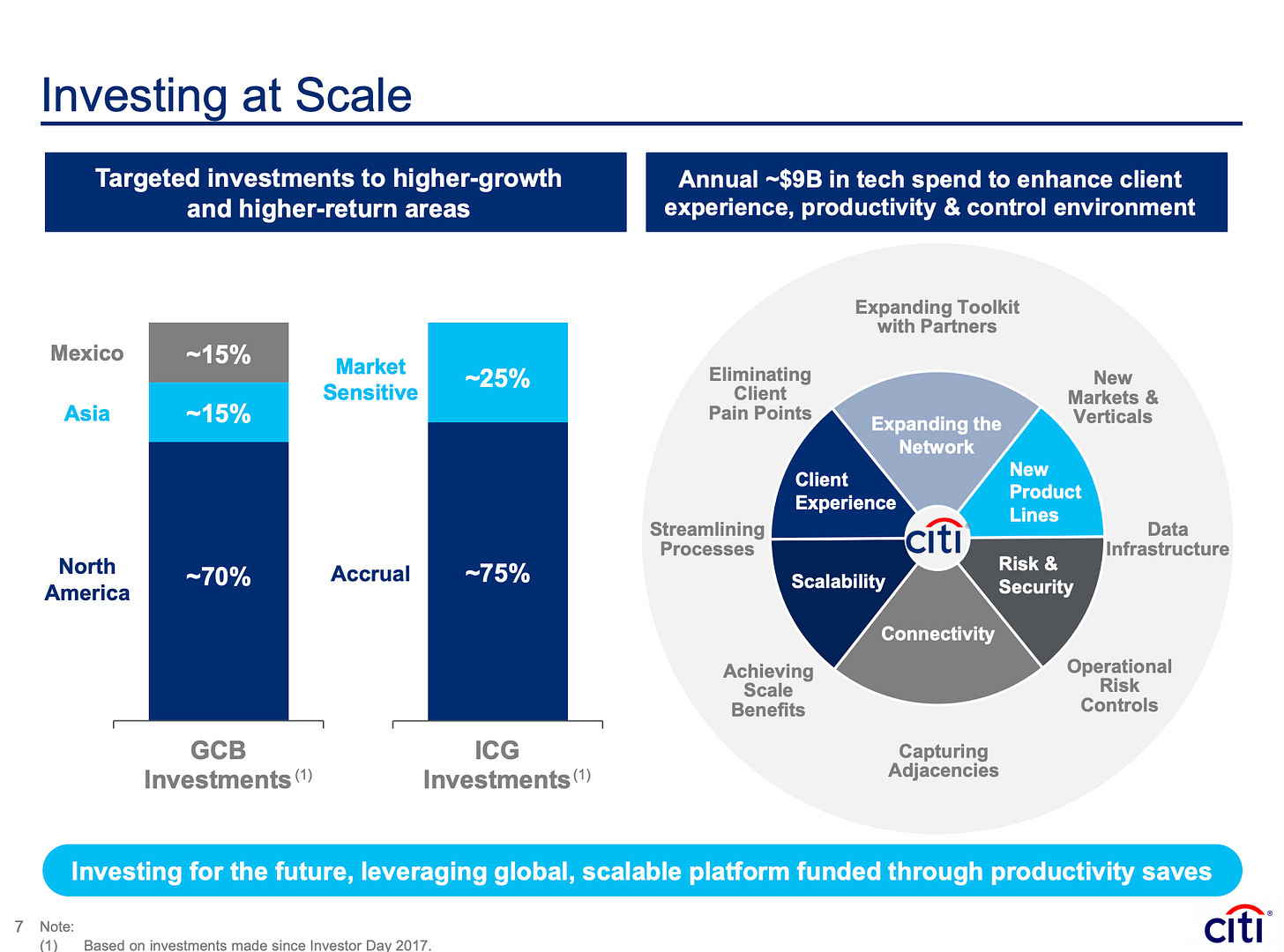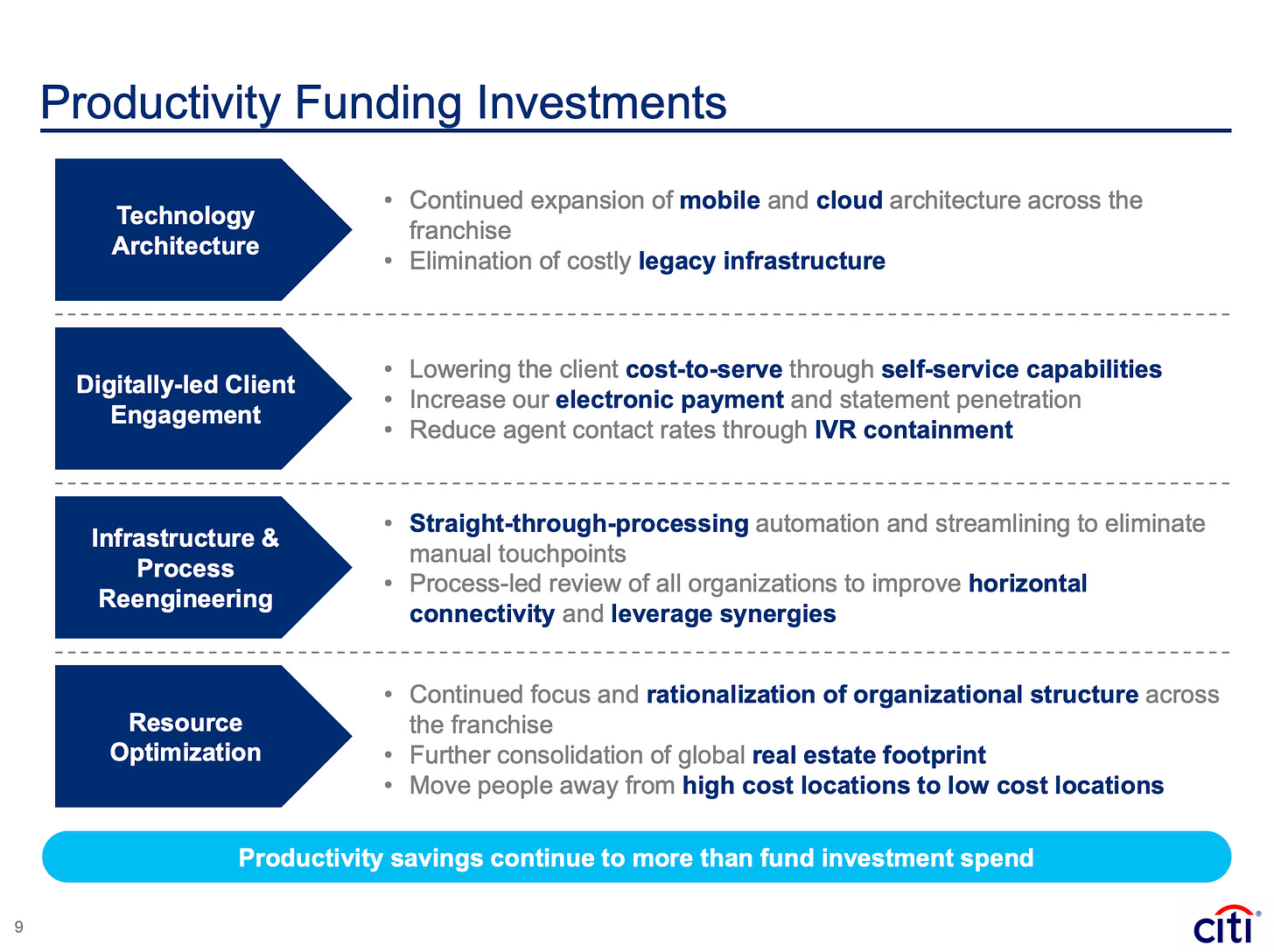 As you can see from above, key spending areas include the continued move to mobile and cloud, the elimination of legacy infrastructure, and a focus on improving the customer experience. Every Fortune 500 is a tech company and this shows why we still have much more room on enterprise spending growth.
As always, thank you for reading and please share with your friends and colleagues. I hope my readers on the west coast find some relief from the terrible fires, and that we all find time to reflect on the passing of RBG, a true pioneer and champion of justice.
---
Scaling Startups
Why is Frank Slootman, CEO of Snowflake, successful and how does he lead his team? Read Frank's 2018 posting to understand his philosophies for management from Data Domain to ServiceNow to Snowflake. Short answer - he's intense, and it works for him. So many 💎 in here, and not for everyone, but certainly a style that delivers results as evidenced by Snowflakes massive IPO this week. It also sounds like Frank subscribes to the Topgrading philopsophy - if interested, read this book, first published in 2005, on how to hire, coach and keep A Players. The wonderful thing about business is that there is never one right answer, and you need to figure out what works for you.

🎧 Had to slip this one in - interview I did with Jeff Meyerson from one of my fave podcasts, Software Engineering Daily - covers it all from starting in VC in the mid-90s and what it was like, parallels to today, how we got started at boldstart, what to think about when building a VC firm, how founders should choose partners, not investors, and day zero investing for developer first companies

Gitlab has been default distributed/remote from day one - great read from Fast Company on how it continues to uplevel performance and you guessed it, writing and documenting everything is 🔑

At GitLab, meetings, memos, notes, and more are available to everyone within the company—and, for the most part, to everyone outside of it, too. Part of this embrace of transparency comes from the open-source ethos upon which GitLab was founded. (GitLab offers a free "community" version of its product, as well as a proprietary enterprise one.) But it's also crucial to keeping employees in lockstep, in terms of product development and corporate culture.

When do some of the top startups hire their first PM? This is always a huge question and inflection point as it shows the transition from founder led product to team led product.
---
Enterprise Tech
McKinsey says large companies still only host 10 to 15 percent of their applications in the cloud - read on to understand why - and you know what I'm 🤔, challenges = huge opportunities. Also ❤️ this

Focus on developer experience. CIOs must redesign the technology delivery processes end to end, using cloud-native practices to create a "delightful" developer experience. Applying developer journeys to workflows with modern tooling drives organic adoption and sustainable velocity.

This is why companies like JFrog are doing so well (from Protocol).

"Every company is now a software company," said Shlomi Ben Haim, co-founder and CEO of JFrog, in an interview with Protocol on Wednesday. However, "every company was not created as a software company," and those scrambling to modernize their approach to software development need help making that transition, he said.

JFrog offers a series of software development tools that help companies manage the process of getting software from the idea stage to production. These tools allow companies to manage their code repositories, monitor the entire development pipeline for potential issues or problems, and deploy that code to self-managed servers or cloud services.

Congrats to Chris Hecht and Atlassian on launching a $50mm venture fund to fuel its ecosystem

"As more and more customers transition to our cloud products, we are committed to supporting their journey by fostering a robust ecosystem of cloud-based apps that enhance their experience and satisfy all use cases," Chris Hecht, Atlassian's head of Corporate Development, writes in today's announcement. "We are incredibly proud of the 4,200+ apps already available in our Marketplace and the integrations we already offer with popular tools like Slack, Zendesk, and GitHub . But this is no time to rest on our laurels. Atlassian Ventures will facilitate our continued investment in the best-of-breed tools and integrations our customers need to fuel the next wave of innovation and manage their work, both now and into the future."

The note taking wars are in full swing…reminder, treat folks with respect as sometimes it may come back to bite you

Where does Zoom go next? The Information says messaging which is not surprising…watch out Slack

Questioning the value of why service meshes for microservices? Karl Stoney who runs the platform team at Auto Trader breaks it down nicely for us.

Dependencies?

🤔
---
Markets
And there it is, Bill Gurley weighing in on giving up billions of dollars of wealth resulting from the traditional IPO and Snowflake's 112% run up on day 1 - more in the thread

Headlines like this worry me though! "Opinion: IPO like it's 1999: Snowflake and other software stocks pop as market nears dot-com-boom levels"