Discover more from What's Hot in Enterprise IT/VC
Ed Sim's (@boldstartvc) weekly readings and notes on enterprise VC, software, and scaling startups
What's 🔥 in Enterprise IT/VC #200
🎆Enterprise IPO Party & power of developer first models
I can't believe I'm writing weekly #200! Little did I know when I started this newsletter four years ago that enterprise software would truly become 🔥 not just in my own mind, but also in the 👀 of the public. At the time, consumer investing was absolutely on top as a Sapphire Ventures post from 2016 shows.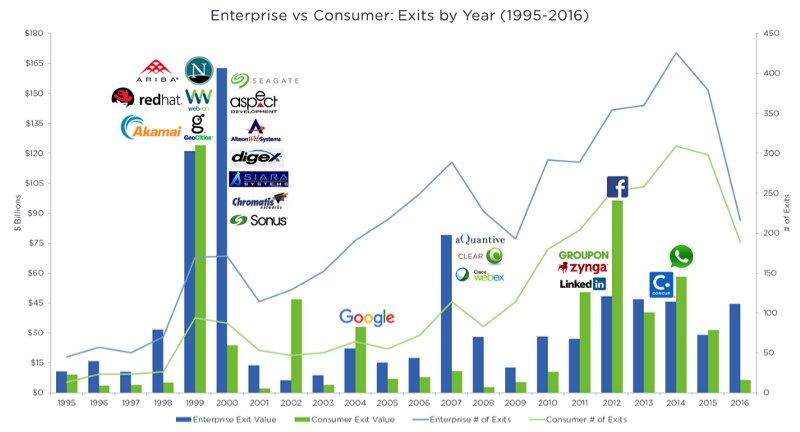 In the most recent five years, the value of consumer exits has eclipsed enterprise exits per year on a fairly consistent basis. Note that IPO exit values are based on the total market capitalization at time of IPO.
It's amazing what a difference 4 years can make, and I can't imagine a better way to celebrate 🎆 Issue #200 than with 4 Enterprise IPO filings in one week (Snowflake, Asana, Sumo Logic, JFrog)! Also, who would have thought that $5 - $10 billion enterprise companies are now the new norm for success. Let's 🙏🏼 that this keeps going for the next decade and as you can imagine, I still believe we are just getting started 📈!
Given how focused I am on developer first GTM and the strongly held belief that winning the ❤️ and 🧠 of developers, is the key to winning the enterprise, I thought I'd dive deeper into JFrog and also privately held Redis Labs (now valued at > $1 billion as of this week) and share some observations.
It takes time to build a developer first company, to build a community, to evolve the software - patience is of utmost importance. To that end, JFrog is 12 years old and Redis Labs is 9 years old.

While it takes time to build, the economics of land and expand can be tremendous. Look at these 👀 popping numbers for JFrog - 5800+ customers with 75% of the Fortune 100 and 139% net dollar retention.

Redis Labs has over 8000 customers with close to $100mm ARR and growing 50% year over year.

Revenue for the startup has grown about 50% year-over-year over the past few years, he says, and now stands at close to $100 million (the company says it is not yet cash flow positive, but that it's "making progress toward profitability"). 

Paying customers—of which Redis Labs counts more than 8,000 across sectors such as finance, tech and healthcare—also lean on the Redis Enterprise product for different applications, such as processing claims or messaging.

Digital Transformation is real and a developer first motion can truly lead to significant enterprise traction.

JFrog has 75% of the Fortune 100 as customers and Redis Labs (while I don't have the number) has some significant names like FedEx, Home Depot, Microsoft, Mastercard, The Gap, Dell and more.

Clothing retailer Gap relies on the database software for inventory management and order fulfillment, and Bengal says three of the world's top four credit card issuers use the product for real-time transaction authorization.
With these economics, it's no wonder why so many investors these days are chasing developer first companies!
As always, 🙏🏼 for reading and please share with your friends and colleagues!
---
Scaling Startups
Must read thread for founders from Fred Destin at Stride on startup valuation, impact of notes and options and more

YC trends from Vivek Sodera, co-founder of Superhuman. I'm sure there will be plenty of breakout companies but also too many me toos…Here's the full list from Techcrunch

David Peterson of AirTable waxes poetic on "no code operations" and why he'd have an expert in one of these tools be one of his first five employees- this is a trend we've seen across the board as companies like Superhuman have their signup process fully wired using next gen tools. I shared this a month or so ago but worth a read if you're interested in using tools like Typeform, Zapier, Airtable for your ops.

Founder of Okta shares a detailed thread on what makes a great engineering org 👇🏼
---
Enterprise Tech
Charity Majors, founder of Honeycomb, shares the Future of Ops Jobs (DevOps, SRE) and dives into the difference between monitoring and Observability (Honeycomb) - h/t @Gareth Rushgrove

Much has been written about the operational demands of a microservices architecture. Now that functions calling other functions involves a network hop, operational concerns are an unavoidable part of debugging even the most trivial problems. Microservices change the game from "building code" to "building systems", which pushes more and more code writing into the realm of operations.

👇🏼💯 from @CackF @IVP - Uptime = $, testing and building resiliency pre-incident and understanding post-incident are still wide open!

Case in point - Zoom was down for a few hours early in week - time to bring some proactive resilience testing a la Netflix…

DevSecOps rising: Congrats to Andrew Peterson and Zane Lackey as Signal Sciences was acquired by Fastly for $775m signaling the continued importance of DevSecOps.

Gartner flash pulse survey with Financial Services CIOs shows…

Sixty-five percent of financial services CIOs surveyed plan to increase spending on infrastructure technologies such as APIs, microservices and cloud in the coming year, and over half plan to invest in automation that reduces the need for high-touch processes and contributes to cost optimization. "Both business leaders and CIOs demonstrate a shared interest in automation technologies, so it's clear that this area will be a key priority for financial services organizations post-COVID-19," said Ms. Sturgill.

A reminder to never get too cocky or overconfident in your own abilities no matter what you do in life from investing to even cutting your own hair!
---
Markets
IPOs Galore but Snowflake is the granddaddy of them all and here's why

Check out Jamin Ball (Redpoint) Clouded Judgement newsletter for breakdowns of Sumo Logic, JFrog, Asana, Snowflake S1s