Discover more from What's Hot in Enterprise IT/VC
Ed Sim's (@boldstartvc) weekly readings and notes on enterprise VC, software, and scaling startups
What's 🔥 in Enterprise IT/VC #196
🥊Going after the 🐳 in your market and the power of pricing, also tips on scaling your 👩🏻‍💻🧑🏾‍💻👨🏼‍💻🧑🏻‍🎤
Hard to talk about what's 🔥 this week without first quickly mentioning cloud growth numbers from the Big 3: in short, all continued to grow significantly through the pandemic but yearly growth from the previous quarter is down. Despite that, the numbers are astonishing with AWS Cloud doing $10.8 billion, Azure Cloud at a % of $13.4 billion from the Intelligent Cloud line item, and Google Cloud at $3 billion.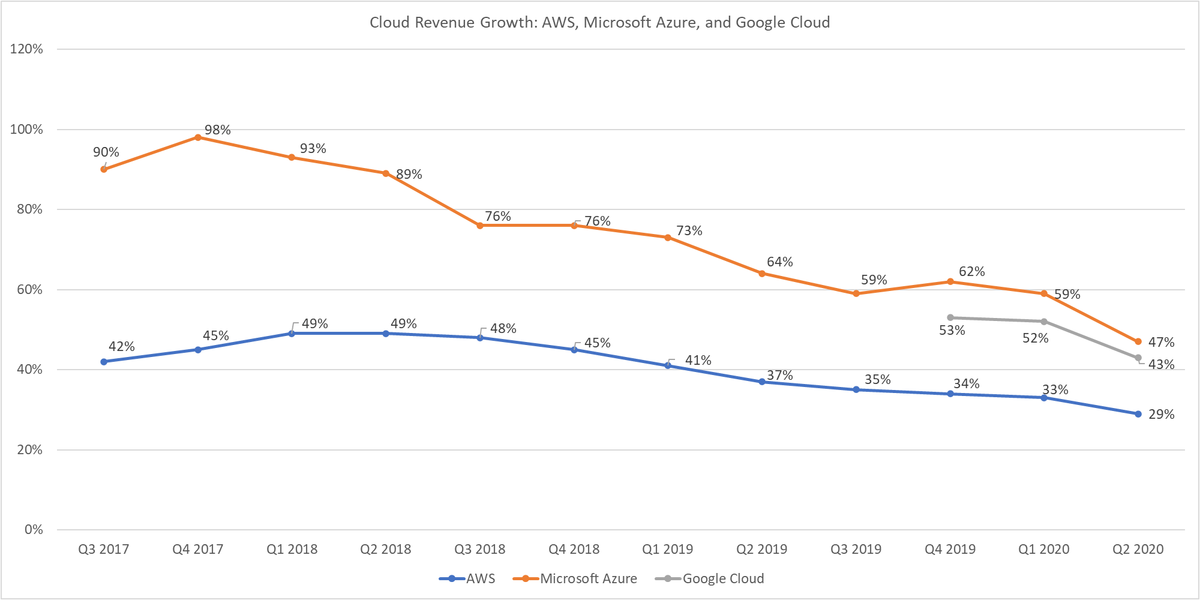 Switching gears, the question many startups face is when and how to aggressively go after your competition, the incumbents and big 🐳in your market. Many times it comes down to pricing and other tactics. Kustomer (a portfolio co) took an aggressive shot at Zendesk this past week. And I'm a huge fan of 🥊 because the economics make too much sense 😃
And Villi from Two Sigma nails it:
This is even more exciting because Kustomer also has insane net expansion metrics so not only is payback quick but also over long haul expansion kicks in with significant LTV.
Question is when to do it - in early days GoToMeeting went right after WebEx with all you can eat monthly pricing right out of gate. That combined with an easier to use product created significant momentum. And now New Relic is coming out to disrupt the upstart that became a giant, Datadog with a new pricing model.
In the monitoring world, typically when you spin up a new instance, you pay a fee to monitor it. If you are particularly active in any given month, that can result in a hefty bill at the end of the month. That leads to limiting what you choose to monitor, to control costs. New Relic wants to change that, and today it announced it's moving to a model where customers pay by the user instead, with a smaller, less costly data component.
As always, 🙏🏼 for reading and paying attention to my rants, and please like and share.
---
Scaling Startups
❤️ this

Been thinking a lot about how startups grow at the earliest stages and which ones are able to go from product to more scale and which ones aren't - here are some thoughts from the week

And a thread on something we see often…click through for much more 💎!

Anatomy of a rebrand - this is so good from Front (a portfolio co) and Mathilde Collin on so many levels, from new mission, positioning, and corporate branding to go with it

Front makes missions possible by powering the heart of business.

🤣
---
Enterprise Tech
To share or not to share…your product roadmap publicly. Pinpoint (a portfolio co) is the latest to do so. Jeff Haynie highlights the whys. I've always been a huge fan of this, to get feedback from the community, to be transparent about what's next on the product side.

Here's Github's roadmap release from last week.

Front (a boldstart portfolio co) was one of the first companies to do this back in April 2015. Here is where it is today in 2020. As Mathilde Collin wrote there are huge benefits; users like it, the product gets better faster, and the team is accountable.

There always comes a time in a company's life when it becomes too successful and it's time to rearchitect for scale. Great read on how LaunchDarkly went from polling to streaming (push vs. pull) as it evaluates 3 trillion feature flags a day!

For them it not only came to scale but also costs.

At LaunchDarkly, we use a CDN. As we grew, the costs associated with frequent polling increased. It was no longer feasible for us to have clients poll for updates – we had to find an alternative. 

But as we continued to grow in size, issues began to arise, and we realized we had once again outgrown the architecture. At this point, we decided to build our own streaming architecture. 

Sales stack on 🔥 these days, with move to more remote work and sales, need more productivity, workflow, intelligence - Chorus.ai raises $45mm, Aircall raised $65 million laet May, Outreach raised $50 million in June

Yes, infrastructure and dev first cos can take a long time to bake, mature, and build the community. Mitchell from Hashicorp sharing some of his stats and in the early days, it was a long road!

State of Kubernetes (The New Stack)

although the scale of container usage has increased, and so have the size of deployments. While the percentage of Kubernetes users with more than five clusters rose from 34% in 2017 to 39% in 2019, organizations with five or fewer Kubernetes clusters are having trouble adapting. Big companies continue to have the bigger Kubernetes deployments. Smaller companies and their smaller deployments will continue to face a unique set of challenges.

Nice recap of the Intelligent Automation market since Covid hit (from Pascal Bornet, Automation Leader at McKinsey)

Great thread on developer relations and incentives to get users as evangelists (see comments - lively!)

👇🏼great read on the plethora of tools in devops market and need for glue and connective tissue in best of breed products

and Nat's post (CEO of Github) speaks to this

along with Kelsey's…
---
Markets
Microsoft - so intriguing how Satya started the earnings call talking about digital transformation and then went to Azure cloud - next up, the focus on developers! Satya and Microsoft get it - developers, developers, developers.

AWS cloud (Business Insider) despite slowing growth, the backlog numbers increased significantly.