Discover more from What's Hot in Enterprise IT/VC
Ed Sim's (@boldstartvc) weekly readings and notes on enterprise VC, software, and scaling startups
What's 🔥 in Enterprise IT/VC #190
lots of advice for scaling startups, tips on breaking into your first Enterprise IT account
🤔 It was the best of times, it was the worst of times, it was the age of wisdom, it was the age of foolishness...
SaaS stocks at all time highs, deal flow back to normal, sales recovering faster than expected
Systemic racism, black lives matter!, COVID-19 rising in 23 states
Such a crazy time we are living in these days as it feels like the enterprise recovery from my limited view seems to be happening faster than expected…but in the back of my mind, I wonder if this is just the calm before the storm with a resurgence of COVID in the fall/winter and a reminder we still aren't out of wave 1 yet.
Switching gears, I want to thank my friends at Angular Ventures for hosting me on a webinar to share some thoughts on how founders can break into their first enterprise IT Account. While there is no right way, I've shared some tips from how to find, how to prepare, how to message, and how to build trust, esp. in a time of remote first. Video here (about 15 mins, rest is Q&A) and slides here along with notes (minus the animated GIFs).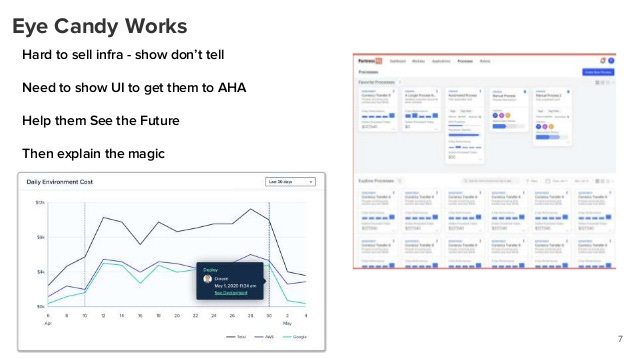 To all the dads out there, have an amazing Father's Day! As always, if you enjoy this newsletter, please feel free to share!
---
Scaling Startups
Interested in building a startup the Superhuman (full disclosure: a portfolio co) way? Rahul Vohra shares his mental model for what has worked for him. Some rules of engagement:

Don't Launch. Onboard

To 10x Your Product, Study Game Design

To Nail Your Pricing, Start with Positioning

Must listen interview (or transcript) with John Collison, co-founder of Stripe, on Invest with the Best. He's a fan of history and discusses some of the best technology companies to study - Salesforce and Oracle - Softwar (book).

And as Paul Graham says - it's not luck

Wide ranging interview with Marc Andreessen in the Observer Effect with a particular emphasis on personal productivity and investing. This quote quite resonates with me because most companies are not overnight successes and it takes time to find the right path and to build a great company.

Because sometimes these companies really struggle for a while and then they really succeed. Sometimes it's the opposite - they really succeed fast and then they have serious issues later.

How Lo Toney is bringing VC into the 21st century. Lo is doing some amazing things and proud to have him as a LP in boldstart.

With his second fund, he's hoping to turn the dial even further. More specifically, he says, Plexo aims to "develop a Y Combinator of sorts" that enables "a great investor" to transition into "a great fund manager."

Part of the idea is to institutionalize the work that Plexo already does in an ad hoc way around helping managers to prepare marketing materials, pitch their strategy to both high-net-worth individuals and institutions and manage LP communications after that base of investors has been established. And those are just three aspects of the many elements of fund management with which Plexo can help, he says.
---
Enterprise Tech
For anyone looking for a refresher on what DevOps is and isn't, this article has you covered - Get the fundamentals of DevOps right - then worry about tools.

Automation, Automation - In the midst of UIPath's rumored raise at a $10 billion valuation, Jason Chen breaks down the market from the Fortune 500 perspective. The market is quite fluid with Microsoft becoming an overnight big player and UIPath, Automation Anywhere and Blue Prism leading the way on the RPA side. Given that consolidation is happening, partnerships like this one from FortressIQ (a portfolio co) and Blue Prism show how the market is moving to including process discovery/mining along with RPA.

10 Hottest Cybersecurity startups of 2020 according to CRN - includes Orca Security, Evervault, and Securiti.ai - lots in the privacy space. And speaking of security, Gartner shares it's latest security spending forecast - it's set to increase 2.4%, down from 8.7%, to $123.8 billion this year! That is a whopping number and here's a great pic showing where the growth is coming from - cloud. More from CIO Dive.

Software testing is a must have for delivering great products but as more and more features are added, so does the number of tests. Shopify shares how they "spark joy by running fewer tests" by using dynamic analysis.

Tests impede developers' productivity here. The test suite of our monolithic repository:

has over 150,000 tests

is growing by 20-30% in size annually

takes about 30-40 min to run on hundreds of docker containers in parallel.

Each pull request requires all tests to pass. Developers have to either wait for tests or pay for the price of context switching. In our bi-annual survey, build stability and speed is a recurring topic. So this problem is clearly felt by our developers.
Speaking of development speed, Pinpoint just released its latest update to help teams build better software faster, especially great for a remote first world where one can no longer be managed by walking around the office. More in Devops.com

Designed to collect data from multiple tools and platforms spanning a DevOps process, Pinpoint automates most of the tedious tasks associated with collecting the metrics required to manage a distributed development team, Haynie said. With more developers working from home in the wake of the COVID-19 pandemic, that ability to collect metrics automatically also plays a key role in allowing application development managers to set more meaningful agendas for meetings that now occur via videoconference rather than in a physical conference room.

In effect, the application development process can no longer be managed by simply walking around the office to find out what everyone is working on, he noted.

Whatever happened to the hype around serverless? Great interview in the New Relic blog on where we are in the market and pluses and minuses of various vendors. Also full report on state of serverless here.

For AWS, the biggest issue we currently face is dealing with larger file sizes. You only get 512MB in /tmp on Lambda. Fargate is a fine solution to this, but it would be nice to distill the architecture down to a single-compute primitive. The second biggest issue we hear about is a desire for SQL database support.

Azure improvements will be exciting when they happen. Let's go through the cloud fundamentals: network, compute, storage, and governance.

On the network side, we need Azure to make things easier for frontend developers. Standing up a CDN should be effortless, and the cache invalidation needs to be instantaneous. The offering today is based on Akamai, and there is too much old school friction.

Market map for community SaaS tools from chat platforms to events to others.

Enjoy!
---
Markets
Jamin Ball from Redpoint nails it again with this updated grph on net dollar retention, the engine of growth for the best in class cloud startups

If you believe Robinhood investors are responsible for some of the stock market gyrations, then Robintrack is for you - breaks out top holdings for Robinhood investors along with stock performance

SMB market is huge! Staying in your swimlane as a business can pay dividends!