Discover more from What's Hot in Enterprise IT/VC
Ed Sim's (@boldstartvc) weekly readings and notes on enterprise VC, software, and scaling startups
What's 🔥 in Enterprise IT/VC #189
Inspiration for taking down incumbents
This week is about inspiration! How do you go after incumbents and crowded markets? First when talk about incumbents we can't forget Elon Musk - Derek sums him up quite well.
Chetan from Benchmark has a great thread here on Zoom and what it was facing at the time it started.
I chimed in as I was on the board of GoToMeeting which at the time was taking on Skype, Webex, and even Placeware which Microsoft bought.
And for me, it always started with a mental model to help me get out of my comfort zone.
Spend time on the who and how because taking down incumbents usually also means large market opportunities worth pursuing. Chris Fralic from First Round reminds us back to 1963 on how IBM lost their leadership to a startup.
This was how we thought about investing in Kustomer back in 2015 when Brad Birnbaum and Jeremy Suriel just had a slide deck.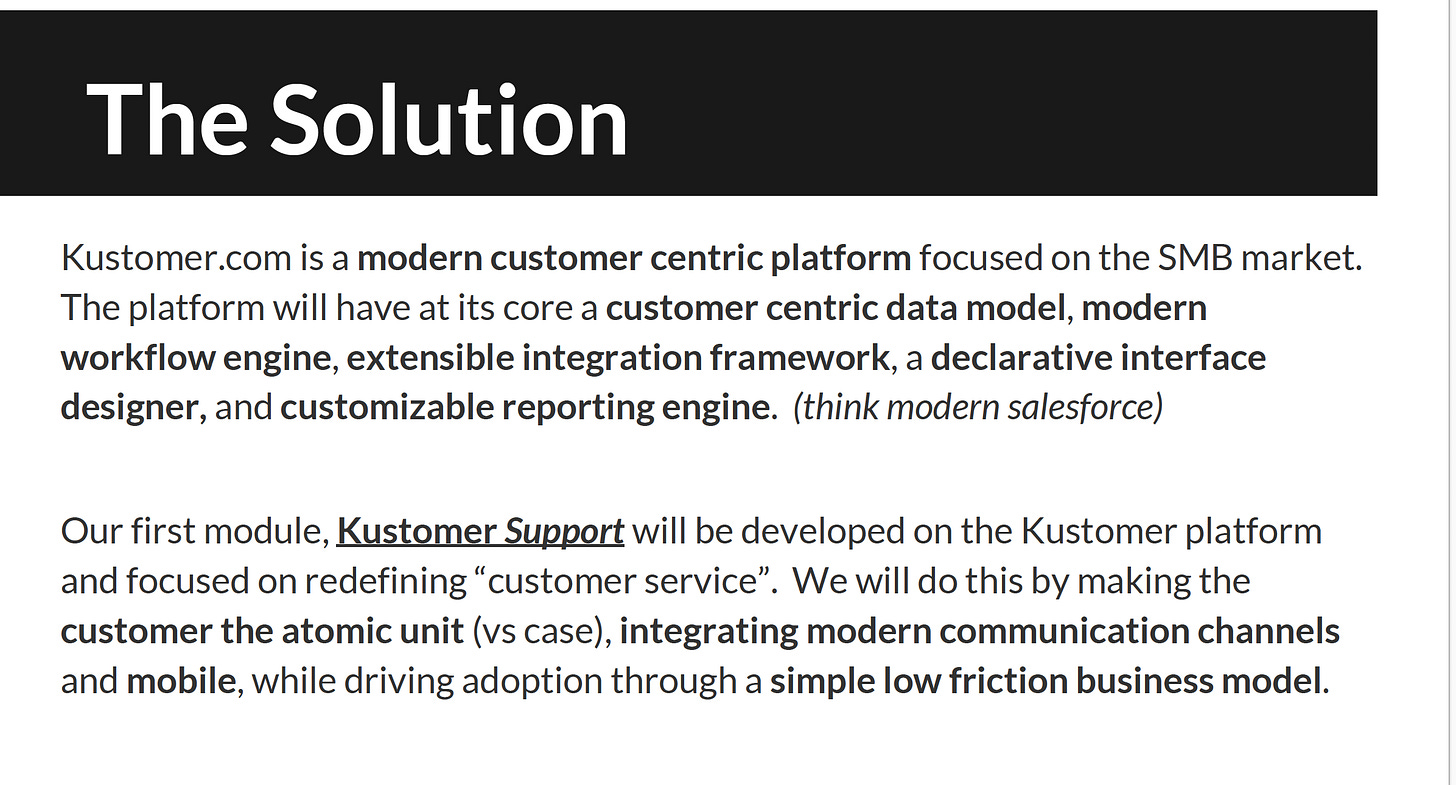 What you may miss is this nugget said twice in different ways: "the platform will have at its core a customer centric data model" and "we will do this by making the customer the atomic unit (vs case)." To date in 2015, most of the companies had siloed data based on the channel from which a customer interacted with a company - email, chat, phone, custom data and the Kustomer platform would treat it as a customer and not channel. While it sounds simple, this was the core of a data moat and platform strategy combined with slick UI that has positioned Kustomer to where it is today. And Brad and Jeremy were the ones to do it considering they were builders and had previous CRM experience as co-founders of Assist.ly, which was sold to Salesforce and became the core of Salesforce's first support product called Desk.com. The company is scaling rapidly and has gone on to raise over $170 million from that slide. It's possible with the right people with the right unique insight at the right time reimagining what is already there.
You just need to believe! Speaking of belief, I know we are all still in shock from the events of the past few weeks, but let's hope that this is the beginning of real change for the Black Community, and let's also remember that whatever you do, no matter how small, contributes to this movement! If interested in what you can do, I suggest reading this post from my friends at 645 Ventures, a VC firm founded by African-Americans, on their long term approach to combat systemic racism.
Until next time!
---
Scaling Startups
If you are interested in how to break into your first enterprise IT account, please register for this webinar I am doing with my friends at Angular Ventures on June 16, 10am ET. I'll share thoughts for both top-down and bottom-up companies and how infrastructure startups can think about finding and partnering with their first large enterprise.

How does Superhuman build its growth funnel to find product market fit and what tools are used - Typeform, Zapier, Airtable - more from Gaurav Vohra, Head of Growth, in this article

Todd McKinnon, co-founder and CEO of Okta talks efficiency.

Treat investor updates as an opportunity to zoom out and also engage your investors for help! Click through on what Immad from includes.

Life is long for both investors and founders, treat it as such

State of fundraising from Semil…about right as usual

But don't do this as Harry Stebbings points out
---
Enterprise Tech
Future 50 Unicorns according to CB Insights, great to have BigID, a portfolio co, in there - lots of enterprise companies overall as 30% are related to enterprise and BigData - others include Harness, Algolia, Sendbird, and Cockroach Labs.

What are 12 enterprise VCs thinking as far as navigating COVID, working with portfolio companies, and making new investments? Ron Miller at Techcrunch covers here.

Pure plays still work - while I write about the Fortune 500 becoming tech companies and playing catch up, startup speed still wins. Latest from the Information but notice Instacart vs. Walmart!

For those who don't know what Chaos Engineering is and how it helps with resiliency, here's a great read on its origins in Infoworld. Awesome to have Nora Jones (a boldstart founder), quoted in there as she is also the co-author of the O'Reilly Chaos Engineering book and used to work at Netflix.

The catchy name came from "the idea of unleashing a wild monkey with a weapon in your data center (or cloud region) to randomly shoot down instances and chew through cables — all the while we continue serving our customers without interruption," the blog post states.

Power of Open Source

Thoughtful read from Spencer Kimball, CEO of Cockroach Labs on "How 5G and Public Clouds will Shape the Future of Applications"

The incredible amount of time that an average person now spends in these virtual realities, enduring a latency-laced experience, is an unbelievable opportunity that's ripe for the next generation of application developers.

People always wonder, "what's going to be the big next platform shift?" "What's the next iPhone?" "Is it gonna be an Apple Watch?" (Nope!) It's the out-of-the-box infrastructure that enables developers to deliver local experiences to global audiences — a platform for the people, with the global capabilities that Netflix, Facebook, Twitter and HBO spent cumulative centuries of engineering hours building.

90 Page report on the cyber security market from Pitchbook here. This is one of the most enlightening charts showing the graduation rate of companies for each round. Cool to have portfolio cos BigID and Snyk also profiled 😃

AI is still in its early days. Why, cost per compute and AI training costs down 100x from 2017-2019. More from ARKInvest.
---
Markets
I'm a big fan of Carlota Perez who wrote Technological Revolutions and Financial Capital. I love her long term framework based on history about how technology and financial bubbles go hand in hand. If interested, she just did an hour video sharing her thoughts here.

Jamin Ball with Redpoint has a great post covering Q1 earnings for 54 SaaS and enterprise companies - we are still at all time highs in terms of valuation multiples on the forward 12 months revenue forecast with the top 5 at 30x! Read more here.

Snowflake cloud data warehouse which has taken on AWS, files to go public and seeking a $20 billion valuation

Reminder that historical context can be helpful at times!