Discover more from What's Hot in Enterprise IT/VC
Ed Sim's (@boldstartvc) weekly readings and notes on enterprise VC, software, and scaling startups
What's 🔥 in Enterprise IT/VC #188
✊🏿✊🏾✊🏽✊🏼
I know this newsletter is all about enterprise tech, and I'll get there. But before we get to that, I want to share what I posted on LinkedIn and Twitter regarding the tragic events of the past couple of weeks.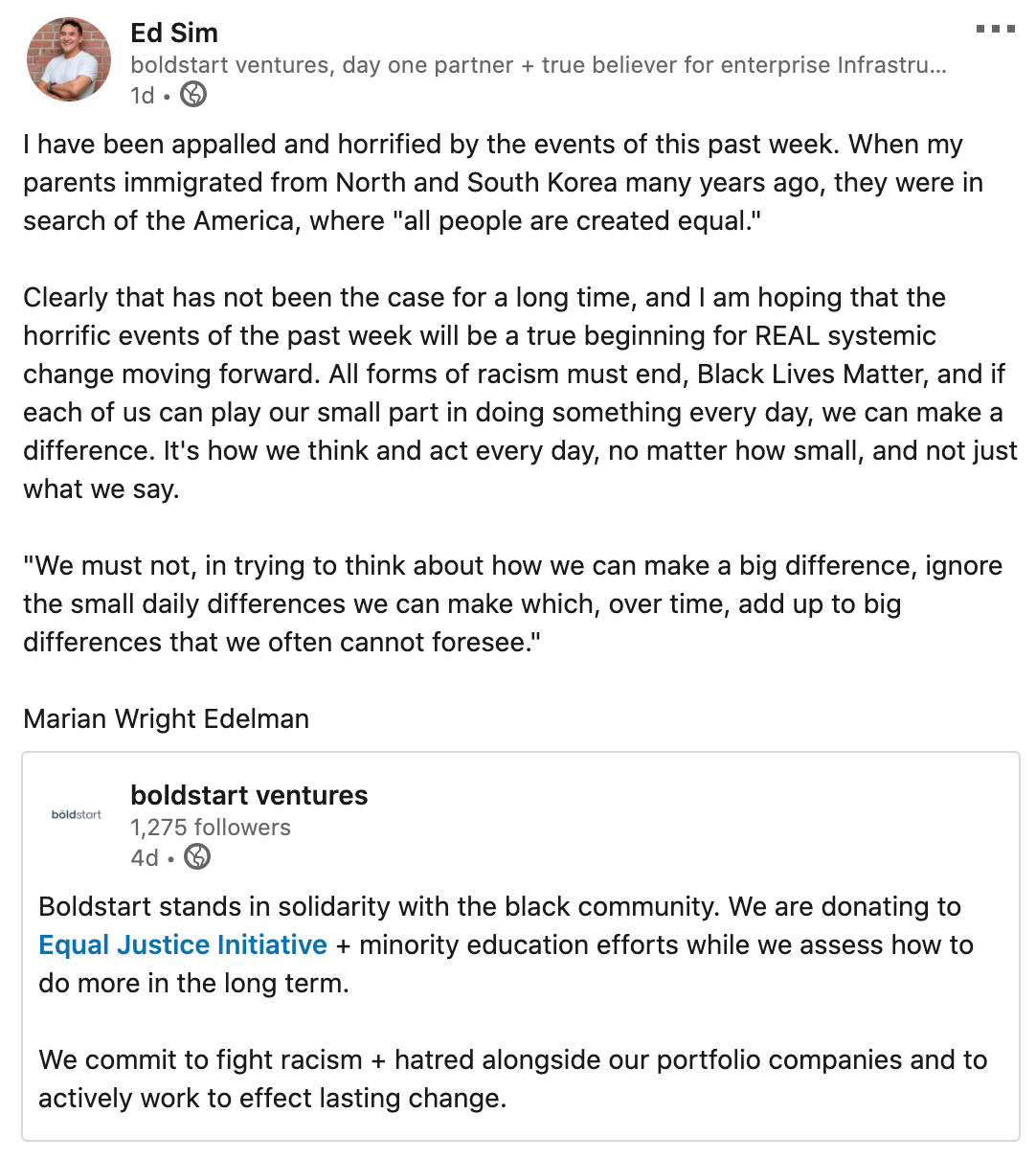 If you are not sure where to start, I suggest watching and listening to this moving BLCK VC video from last week which shares stories from the community and the
struggles that black founders, investors, and employees face in tech and beyond. Donations are nice, but there is much more I know I can do and will be working on that now and in the coming days, months, and years.
Now on to the tech news…
---
I've always loved Silicon Angle's Cube and finally had a chance to participate in an interview with Stu Miniman and 2 portfolio company founders, Ohad Maislish of Env0 and Guy Podjarny of Snyk. The topic was Env0's new platform which provides a control plane for Infrastructure-as-Code and allows the creation of self service environments for developers enabling proactive control of cloud costs. Central to the discussion is the idea of empowering developers to do more than just code and also for development teams to become true product teams where design, product management, and security are all embedded together vs. siloed and separate. There are huge parallels to how Snyk has empowered developers to handle security and Env0 in empowering developers to manage costs. Of course, I keep thinking about what other functions will be embedded in these teams as we strive to deliver applications faster.
As always, thank you for reading and please feel free to share!
---
Scaling Startups
Given the current times that we live in, I found this interview with Nancy Koehn, author of Forged in Crisis, in HBR on how history's great leaders managed through a crisis an important read with some great practical lessons.

First, give people the facts to keep them informed, to help them make sense of the crisis, and to build their trust. Then you tell them what you are doing about the key challenges, what resources you — and they — have at hand to confront the moment, and what their job is in helping to navigate the crisis.

Some of these resources are tangible, such as money, manpower, or military might; some are intangible, such as courage, resilience, unity, compassion, and imagination. Presenting both is very useful for dialing down fear. You don't ignore or eliminate the anxiety. You do get people to understand that they are part of a solution

Where are Security VCs investing these days? Lots of talk on zero trust and identity, devsecops, and API security.

Thanks to Bayo for organizing and interviewing Conrad Irwin, co-founder and CTO of Superhuman, on his startup journey and what it takes to build a world class product.
---
Enterprise Tech
What is Digital Transformation and how does modernizing the whole IT stack and moving to microservices tie back to the business? Here's a great read from CIO Dive with our friends at Guardian Life Insurance, the 4th largest Mutual Life Insurance Company in the US.

It takes a long time to create a series of APIs for customer and client information on a legacy tech stack, said Furlong. At the heart of Guardian's shift is a complete "replatforming of core applications into a microservice-based architecture."

Microservices aren't a cure-all to cloud woes. Adoption requires companies to rethink their technology culture, similar to how DevOps augments the delivery model and how technology is constructed. 

API Security - new report from Gartner (requires subscription) but Michael Isbitski has an excerpt here. I've seen a handful of API Sec companies covering part of this stack in the last month and expect to see more in the future, particularly around visibility of PII inside of APIs.

Secure design, testing, discovery, classification, monitoring, mediation and threat protection require a multi-pronged approach that cannot be satisfied with one technology, nor is it one size fits all for organizations. API security is also not just use of TLS to protect data in transit or access control to restrict who can access a given API. These are controls that improve security, but they should not be where your API security strategy begins and ends.

Speaking of APIs, Postman, an API startup which is a collaboration platform for managing, developing, and testing APIs is in talks to raise more captial at a $2 billion valuation. The company is only 6 years old!

What's Hot in BI in 2020? Check out Louis Columbus' article summarizing the recent Dresner Report which surveyed over 5000 organizations.

Reporting, dashboards, data integration, data warehousing, and data preparation top the 🔥list for 2020.

On the topic of data and BI, this was relatively quiet news last week but interesting nonetheless. Snowflake has been moving up the stack from just pure data warehouse and more platform by announcing it's Cloud Data Platform to

"Snowflake is aiming to reduce friction in data analytics. The features will help customers "companies unify, integrate, analyze, and share virtually any amount of data"

And as you know, I'm pretty excited about the future of not only data sharing and collaboration but also data models as well. Check out Harbr where I'm an investor.

As I've always said, it's hard for startups to sell a platform, you need to solve a specific pain first and expand over time and become a platform. With that, I'm excited to see portfolio company BigID in 4 1/2 years evolve from PII discovery to a broader platform play, announcing its app marketplace this past week.

"BigID's App Framework empowers customers and partners to easily build and add their own applications to the BigID Data Intelligence Platform," said Eyal Sacharov, chief architect at BigID. "With a full fledged ecosystem, community-built apps can easily and intuitively leverage BigID's discovery-in-depth capabilities with built-in monitoring on open architecture to address problem spaces in privacy, security and data governance."

For those interested in DevOps and Agility, here's a great pic from Eduardo Sucena (yes, it's missing some items) of what's needed to make it happen.

Pretty awesome thread from Paul Biggar (cofounder of Dark, a portfolio co, and previously CircleCI) on removing complexity - what's most interesting are the comments and discussion that ensues

The battle for "best-of-breed" and all-in-one continues between Microsoft Teams and Slack. Slack just entered into a strategic relationship with Amazon to provide Amazon's voice/video conferencing system Chime inside of Slack and for Amazon to roll Slack to its 840k employees. While I understand the idea of leveraging partners to compete against Microsoft, integrating Amazon Chime which no one uses is not my idea of exciting. So it sounds like Slack now needs to start bundling to offer that all-in-one solution. As Microsoft has always said:

Bundling serves customers' needs. "The thing we heard customers value the most is the ability to chat, meet, call and collaborate all in a single experience," Mr. Spataro said. "You don't have to pull together Slack, Zoom, Dropbox or perhaps Google apps."

"ServiceNow will be the defining enterprise software company of the 21st Century" - Bill McDermott, current CEO of ServiceNow and former CEO of SAP, continues his assault on the enterprise SaaS market.

What is all of this about? What's the big idea? The big idea is this. I believe with everything I have, we are in the midst of a workflow revolution. I believe the workflow revolution is taking place in the modern enterprise for the following reasons. One, most companies have a very difficult time giving their workers a mobile, web based, conversational, tool based, consumer driven user experience. It's all about the consumer driven user experience.

Yes, I keep talking about when will AR/VR come back. Great read from Sara Castellanos at WSJ on use cases in healthcare training.

Since March, Sheba Medical Center has used five HoloLens 2 headsets to train about 60 physicians, biomedical engineers and nurses on how to operate ventilators for Covid-19 patients, said Ravid Segal, chief technology officer of the MSR - The Israel Center for Medical Simulation, located at Sheba Medical Center. The HoloLens headset uses computer processing and optical projection systems to create digital hologram-like objects that users can see and interact with in their real environment.

Broadband internet company Cox Communications in March rolled out augmented reality technology to its workforce of more than 5,000 people including home technicians and contractors. "It's absolutely essential to how we're operating," said Len Barlik, chief operations officer. Customers who need help installing internet service, plugging in a modem or setting up WiFi and passwords receive an email or text message with a link to start a virtual call through a software program from Alabama-based technology company Help Lightning Inc.
---
Markets
Zoom - wow!
While Slack did grow 50% in the current quarter, it's not Zoom-like at 169% growth and this drove the stock down 17% after reporting earnings. Demand and customers are up across the board but Microsoft has a target on the company so will be interesting to see how this plays out over 2020.

Revenue growth was 50% in the prior quarter. That's barely a move from growth of 49% in the previous quarter. On Tuesday Zoom reported 169% revenue growth, exceeding what analysts had expected, and more than doubled its earnings guidance. Slack, meanwhile, called for a full-year adjusted loss that would be 2 cents less than what it had previously predicted. 

MongoDB beats Q1 earnings with $130.3 million of revenue for Q1, 46% YoY growth with their Atlas mongo-as-a-service product growing 75% and now representing 42% of the revenue. That being said and as I've long suspected, the current environment is set to have a larger impact throughout the year. Here's what MongoDB said in its earnings transcript.

Let me share some more color on how we expect this impact to manifest itself. In March, we stated that we expected a greater impact on new business activity in Q2 as compared to Q1 as Q1 benefited from a deal pipeline already in place when the pandemic started. We still expect that to be the case and we now expect the Q3 environment to be similar to that of Q2, followed by a more modest improvement in Q4.

Furthermore, our forecast assumes that we continue experiencing the slower than historical growth from existing Atlas customers for the duration of the crisis, but returning to historic levels thereafter. Turning specifically to Q2, we expect a stronger than expected Enterprise Advanced performance in Q1 to represent a tough sequential compare given the term license revenue recorded under ASC 606.