Discover more from What's Hot in Enterprise IT/VC
Ed Sim's (@boldstartvc) weekly readings and notes on enterprise VC, software, and scaling startups
What's 🔥 in Enterprise IT/VC #186
Winning ❤️ and 🧠 of developers to win the enteprise - 50 million devs on Github 🤯
First of all, I want to let you know that I'm working remotely from my new home office. If you're looking for some quiet, this is a much better place than working from your car.
If you're an infrastructure founder or investor, I highly recommend listening/reading the Enterprise Ready interview with Grant Miller's (co-founder Replicated, a portfolio co) and Mitchell Hashimoto of Hashicorp. There are so many nuggets of wisdom here for starting, building and monetizing an open source company which is now worth $5 billion. Here's an excerpt (17:24) that quite resonated.
And our investors, for about three or four years of the company, every board meeting, they were like, "what's this company ever going to do?"

They were very concerned that would be nothing more than just the money pit where we built some great things and R&D came out of it, but it wasn't a venture success and there was a lot of fear.

From a non venture standpoint, making half million dollars a year on a VMware thing is great, because we could pay three people, four people with benefits poorly, I guess, you could do that but from a venture standpoint, if that 500 is not turning into a million, turning into 2 million, and so on, like, it gets stressful on that side, and we didn't do that for a very long time.

5 years ago…

We have a couple open source projects now that you might call de facto industry standards and they look like overnight successes but Terraform was actually a very long burn. (21:58)
I ❤️ it when founders share their "real" stories as there are very few overnight successes. Adding my tweet from last month to remind us all that while these developer first companies are super exciting and en vogue now, patience in building community is 🔑.
Speaking of developers, Microsoft Build was this past week and Satya and team clearly understand that "winning the hearts and minds of developers is key to winning the enterprise." Along those lines, I love this mission statement from Satya's keynote: "To empower every person and every organization on the planet to achieve more" and it starts with empowering developers! Watch the 20 minute keynote below. It covers dev tools like Github with now 50mm developers, Visual Studio Code with live sharing and collaboration, and Power Platform automation for citizen developers (3.5 million users) to create applications and workflows in a low-code, no-code format.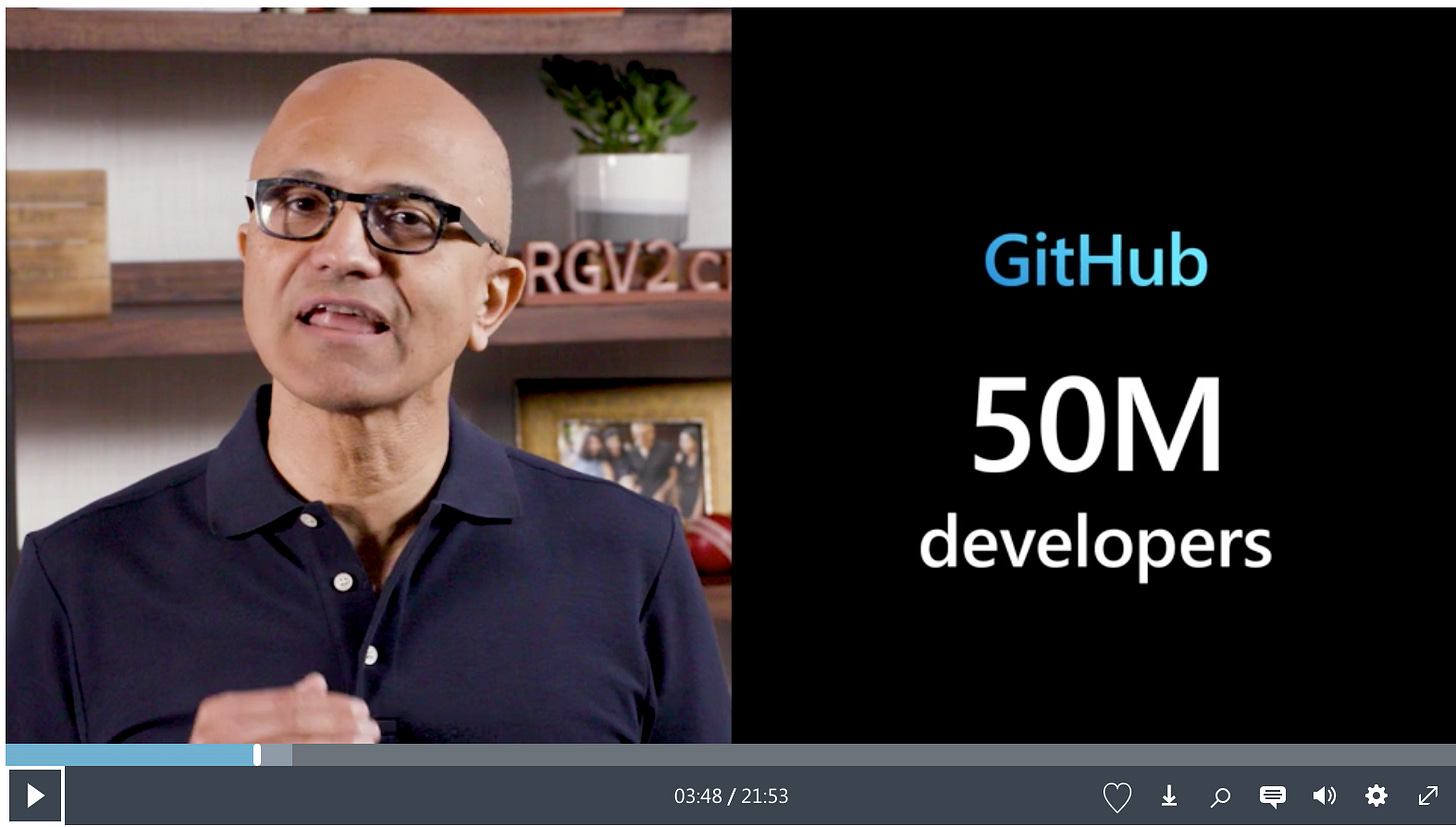 I hope you all have a great long weekend, and let's not forget those who valiantly fought for our country.
As always, please like and share if you find this interesting!
---
Scaling Startups
Founders, here's what 11 enterprise VCs are excited about as per Ron Miller at Techcrunch. Here are some of my thoughts that I shared with Ron on what I'm most interested in (notice a theme?):

"We've been heavily focused on developer-first startups, anything helping developers be more productive from better tooling in their pipelines, security shifting left, abstracting infrastructure and teams working and coordinating better."

If interested in what's top of mind for Fortune 500 CIOs and how startups can navigate sales in this environment, then read 6 Takeaways from our Boldstart CXO Connect with CIO Dean Del Vecchio from Guardian Life and CTO Marty Brodbeck from Priceline. If you have more time, the full video is here.

"I think what sets a startup apart is having a really great idea that can solve several business problems. And so the people that I've partnered with in my career have always been people that understood my business and had a unique way to solve a problem, whether it was in the infrastructure or software engineering space.

Marty Brodbeck, CTO Priceline

Great thread from April Dunford along those lines - don't pitch features

Thought provoking thread from Dan Rose at Coatue, formerly head of BD & Partnerships at Facebook - click through and fascinating how long into the future Bezos looked…
---
Enterprise Tech
Microsoft's Softomotive purchase brings automation to the mainstream and will set up for some interesting battles with UIPath and Automation Anywhere. Tom Tauli has a great writeup in Forbes with many industry vets quoted including Pankaj Chowdhry from FortressIQ (a portfolio co):

It was a classic wrap and roll strategy: Wrap the product in with other adjacent offerings and roll it out through your channel. Microsoft turned that second-tier code base into the SQL Server juggernaut that we know today.

As for Softomotive, the deal sets up the company even better. In addition to the technology, they get an engineering group intimately knowledgeable about the ins and outs of legacy Windows automation, and an installed base of 9,000 customers. Combine that with Microsoft's vast reach in the enterprise, and you have a turbocharged strategy to get competitive in the RPA space, quickly.

Forrester's Craig Leclair has a more detailed writeup here but needless to say, this will be big!

Is Facebook a consumer company or enterprise company? Hard to tell with launch of Facebook Shops (in partnership with Shopify and others) and more features for Facebook Workplace, it's Teams/Slack competitor. And of course they'll be 🐶fooding all of these services as Zuck announces permanent work from home for employees.

Today, Facebook announced a number of new products coming to Workplace, its enterprise-focused chat and video platform, including Workplace versions of Rooms (its Houseparty video drop-in clone), Work Groups (a feature it launched on Facebook itself last October to create informal Groups for co-workers), more tools to make video conversations more interactive and enhanced tools for its Portal video hardware.

What is resilience in security? Kelly Shortridge of Capsule 8 lays out what it is and why despite claims by many vendors, it doesn't exist.

I'll repeat my definition again: Resilience in security means a flexible system that can absorb an attack and reorganize around the threat.

I firmly believe resilience is the future of information security. Alas, the term is actively being bastardized by some vendors to serve their pestilent purposes. To the practitioners reading (whether you build systems or secure systems), remember that attackers are continuously evolving their methods based on changing context, and it is imperative for you to evolve your methods, too.

Due to the economy and focus on preserving cash, are we going to see more open source projects released into the wild from some of the leading tech companies? Uber is open sourcing Piranha which automatically scans code and removes stale feature flags.

Speaking of feature flags, I'm excited for Manifold (a portfolio co) and their new release of their SaaS pricing platform. It's awesome that someone is finally treating pricing and packaging as a product and will allow you to optimize and test pricing with integrations into feature flagging and more. Reach out to jevon@manifold.co if interested in being a beta tester and shaping the vision.

There has been lots of buzz about AIOps, especially as IBM focused their annual meeting on the promise of it. Here's a great read from the New Stack on what it is and why it just won't work. TLDR, you need to train models on data and that is where the problem starts. 🎩 Gareth Rushgrove

AIOps, then, seems like a logical next step. Clustering algorithms could bring together spurious alerts, realizing that they have nothing in common, and remove them. Perhaps a sharp-eyed AI system could find correlates across these large and varied datasets: it could notice that user failures happen often when a particular process uses all available memory, and not at other times; or notice that certain user paths are linked to failures.

The promise of AIOps is threefold: an end to alert fatigue, a rapid process for narrowing down the causes of failures, and a way to detect and predict failures before they impact users. The problem with the vision is, very simply, that it is largely intractable for an artificial intelligence system. In fact, AI is precisely the very worst technology for this sort of problem.

Age of the SaaS Decacorn from Jason Lemkin at SaaStr - when I started in the VC industry, investing early in an enterprise startup that was worth $1 billion was a magic number, super hard to do but possible. Now the $1 billion is $10 billion - the opportunity is that big!

Another week and another mention of VR for business. There's Spatial which has been garnering some interest around VR based conferencing and Facebook which released Oculus Quest for Business with over 400 ISV Partners already building enterprise software. Check out the insane hand tracking tech below and imagine the business use cases. Will this ever happen?

On the AR side, here's Hololens 2 from Microsoft…

Random - Jared Diamond who wrote Guns, Germs, and Steel has a great essay which puts the current pandemic in historical light and pretty much allows you not to read the book. The net result, like times in the past, is that this will "increase inequality within and between countries."
---
Markets
😲 "we are sitting at the all-time peak of public SaaS valuations in the midst of a global pandemic" Alex Clayton from Meritech has a superb breakdown here:

👇🏼Some serious public market returns

Target invested $7 billion starting in 2017 in software and infrastructure to be ready for the Q1 they had. Once again, every Fortune 500 is a tech company and infrastructure software is more important than ever!

Security still hot - Palo Alto Networks beats Fiscal Q3 Earnings:

"The world will likely be in a state of transition over the next 12 to 18 months due to the COVID-19 pandemic," Nikesh Arora, chairman and CEO of Palo Alto Networks, said in a statement. "We believe this will prompt key trends to accelerate, including remote working models, shift to the cloud, and focus on AI/ML and automation to drive effective cybersecurity outcomes," he added.

More of the same digital transformation story from Splunk as stock was up quite a bit this week

"COVID-19 has transformed the world into one that requires rapidly accelerated digital transformation to keep organizations moving -- we are seeing some resilient customers complete three-to-five year projects in just months," CEO Doug Merritt said in a statement. "As customers continue to adapt to this new normal, data matters more than ever, evidenced by our continued strong momentum this quarter."