Discover more from What's Hot in Enterprise IT/VC
Ed Sim's (@boldstartvc) weekly readings and notes on enterprise VC, software, and scaling startups
What's 🔥 in Enterprise IT/VC #183
😲 $7 Trillion to be invested in making work more digital by 2023: Bill McDermott ServiceNow
It's ugly out there. Jobless claims on a rolling 6 week basis hit 30 million, there is still no vaccine, and companies like Ford Motor continue to drop bombshells like losing $5 billion in Q1 while many analysts believed just days before it would be closer to half. While some states and countries are slowly opening up, the Economist gives us a glimpse of what life is like in China post-lockdown, the "90% Economy".
In many things 90% is just fine; in an economy it is miserable, and China shows why. The country started to end its lockdown in February. Factories are busy and the streets are no longer empty. The result is the 90% economy. It is better than a severe lockdown, but it is far from normal. The missing bits include large chunks of everyday life. Rides on the metro and on domestic flights are down by a third. Discretionary consumer spending, on such things as restaurants, has fallen by 40% and hotel stays are a third of normal. People are weighed down by financial hardship and the fear of a second wave of covid-19. Bankruptcies are rising and unemployment, one broker has said, is three times the official level, at around 20%.
Despite these uncertainties, this was a banner week for enterprise software, the ☁️, and Digital Transformation 🤖 as AWS, Microsoft and Google Cloud all announced Q1 revenue growth of 33-59%, and AWS hit $10 billion of revenue in a quarter for the first time ever. While we all know we are leaning on the cloud in a big way during this pandemic, the numbers are still astonishing.
As I've always said, every Fortune 500 is a tech company, or it won't be in the Fortune 500 for long. And while many companies like Walmart, Target and others who embarked on their Digital Transformation journeys well before, this pandemic is proving to be a massive accelerant for those who haven't. Just see Satya's quote below for more validation (thanks TNW for the pic).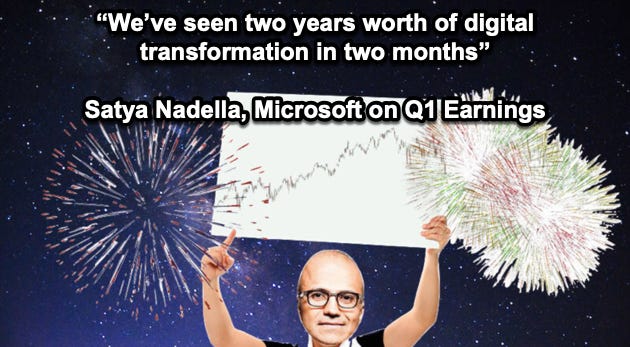 This is quite timely as we're hosting two of the most forward thinking CIO/CTOs in the Fortune 500, Dean Del Vecchio, CIO of Guardian Life, and Martin Brodbeck, CTO of Priceline, to discuss this and more. Dean gave an awesome keynote at AWS in 2018 talking about how he moved the Guardian infrastructure to the cloud in months while Marty has been at the forefront of infrastructure and tech (see his 2018 O'Reilly talk on building 12 factor apps). I'm super excited to hear what they are up to, and how they are leaning on startups to help them realize their goals faster. There will be time for Q&A, so respond to this newsletter with any questions you may have for them.
🔥☁️ Register here for May 11, 3pm ET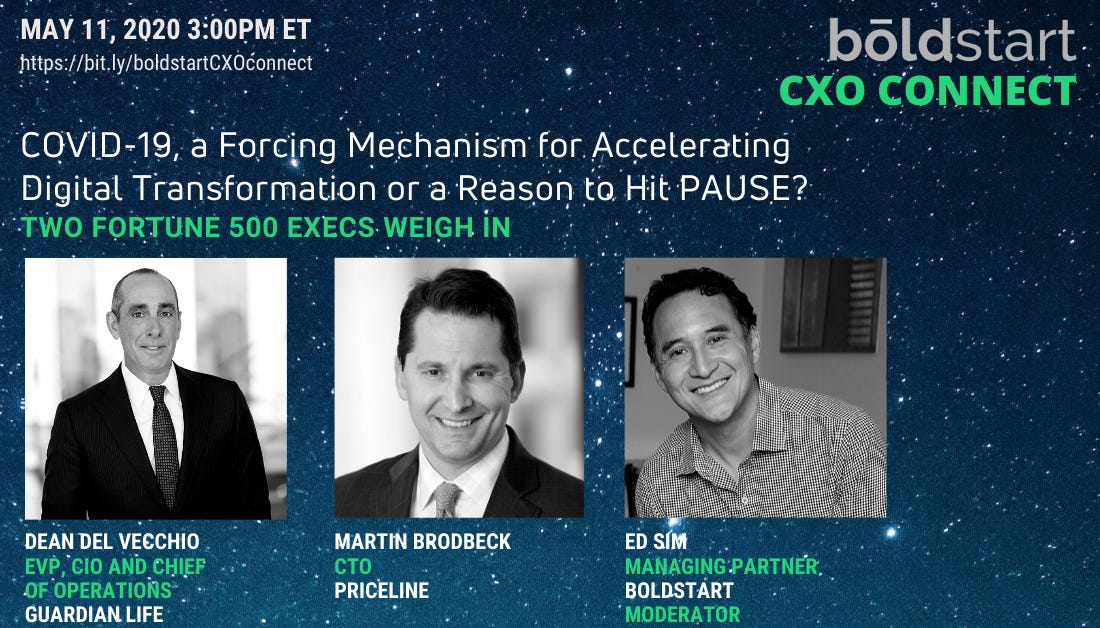 Speaking of Digital Transformation, my favorite quote from the week came from Bill McDermott (CEO of ServiceNow and former CEO of SAP) 🤯 as he says, "$7.4 trillion to be invested in making work more digital by 2023."
"People are going to get much more comfortable working in a virtual world," McDermott said. "This social distancing is not gonna go away anytime soon, and companies that aren't already digitally transformed and able to pull this off — they have a burning platform now. They have to lean into this."
Incidentally, ServiceNow had its best quarter in history, up 48% year over year on $1 million deals at 37. Enterprise founders watch the master pitchman Bill discuss ROI for his product:
Any ROI will give you payback of at least 5x the amount you invest in ServiceNow in any given year, payback in less than 6 mos and always see one in first year greater than 5x anything you pay to ServiceNow. CEOs focused on protecting revenue, business continuity, driving productivity and all want a fast time to value scenario!
So the question is what's ahead for the economy and enterprise software? The skeptic in me still believes that Q2 will be rough, especially as it captures more of the stay-at-home policies that kicked off in late March. However, there will continue to be pockets of growth and spend, particularly in enterprise infrastructure and applications that jive with Bill's point above. And founders, if you're product is not resonating with customers, I'd suggest spending time figuring out a better value proposition for today's world, one that also drives immediate value.
Be well all, and please feel free to share!
---
Scaling Startups
Rahul Vohra from Superhuman (a portfolio co) shares his thoughts on how to manage cash and plan accordingly.

angel.co

How to Run Your Startup in a Recession

Founder & CEO of Superhuman Rahul Vohra shares his guide on running a startup during a recession.

How are VCs thinking? Is it still business as usual? Read Samir Kaji's First Republic survey analysis from 427 venture firms. More on twitter here as well.
---
Enterprise Tech
While automation is another of the bright spots in enterprise software, it's been reported that market leader Automation Anywhere is laying off 10% of its workforce. If you read between the lines, on premise deployments with a long time to value don't resonate with their existing customers as they want more cloud.

The restructuring is part of the company's response to the reduced demand for its traditional products, Dayna Fried, Automation Anywhere's senior communications director, told Business Insider in an interview.

"We're allocating resources to new skill sets in key growth markets like cloud and hybrid cloud, areas our customers are asking for right now," she said. "Many of them are leaning toward our cloud and hybrid cloud options to manage the variability in their business as well as to respond to future crises faster or even prevent them from occurring at all."

🦈 🐟 Lots of action and rumors on software acquisitions this week as Rapid7 expands into cloud security with a purchase of DivvyCloud for $145mm and rumors of Google in talks to buy D2iQ, formerly Mesosphere. On the automation side, Microsoft in talks to buy Softmotive to better compete with Automation Anywhere and UIPath. I only expect more of this to happen in the future as some of the large enterprise companies whose stock has held up will look for bargain purchases as smaller companies struggle.

Disillusionment in the land of GDPR and privacy? Nearly two years in and there has been little enforcement thus far.

This is why I'm so excited about our investment in Env0 where it proactively helps orgs control cloud spend and understand how expenses are tied to applications (more at CIO Dive).

Time for new beginnings - Nick Rockwell, former CTO of NY Times, and new SVP Engineering at Fastly looks back at what he and his team accomplished in 4 years. While there was a lot that he learned, aligning technology goals with the business was key and betting on new tech at the time like serverless, distributed dbs like Google's BigQuery, and customer data platforms from startups like ActionIQ helped prepare for massive growth in subscribers from 1 to 5 million.

First, while intermediate metrics like productivity metrics or performance metrics can be useful diagnostics, in the end the business results — in our case, subscription growth — are what matter. And focusing on the core KPIs of the business forces you to think hard about how to tie those intermediate metrics, and the work itself, to real impact.

Congrats to Abby Kearns as she moves on to become CTO of Puppet! James Governor, an analyst with RedMonk, highlights the opportunity ahead for all in DevOps.

"Puppet is growing, DevOps is still a hot topic with enterprises, and I have spoken to a few orgs that are particularly keen to significantly invest in automation, feeling they have been somewhat undone by covid-19."

"Everyone in infrastructure space is always under pressure, but while a lot of buzz has moved onto other platforms and spaces - notably K8s and CI/CD - automation still has a significant role to play.

🤣

---
Markets
That didn't take long - Nasdaq almost back to end of year numbers.