Discover more from What's Hot in Enterprise IT/VC
Ed Sim's (@boldstartvc) weekly readings and notes on enterprise VC, software, and scaling startups
What's 🔥 in Enterprise IT/VC #169
If you think venture capital is overcapitalized, think again - amazing data from Cambridge Associates
Public market stocks in the product led growth category got a huge lift as Atlassian crushed its numbers with revenue up 37% to $400mm. This shows continuing strength in bottoms up, land and expand and the power of selling to developers and small teams. Tomasz has a breakdown of best in class payback periods for SaaS stocks and no surprise that Atlassian is amongst the best. Open source got a boost as well at IBM's Red Hat grew 24%.
If you think venture capital is overcapitalized, you should read Cambridge Associates report from my friends Maureen Austin and David Thurston, "Venture Capital Positively Disrupts Intergenerational Investing." Their paper lays out a story to allocate up to 40% in private investments with half or 20% going to VC. Returns for the top two quartiles (pick managers wisely) has outperformed all of the benchmark equity indices. Their paper lays out more allocation to venture, opportunities for new managers, and relative size at $.34 trillion versus $85.3 trillion in global equities. ROIChristie has further breakdown on twitter.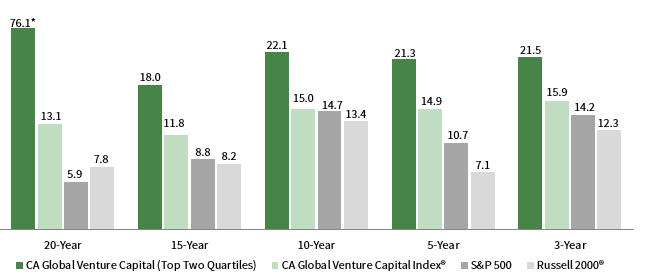 As always, if you like the new format or content, please share and ❤️ above! 
---
Scaling Startups
Startup line is not easy and nor is it for everyone. In honor of the late Clayton Christensen, professor and author of must read The Innovator's Dilemma, I've shared a seminal article on How will you measure your life" so you can have a framework and roadmap for thinking about happiness in career and home.

One of the theories that gives great insight on the first question—how to be sure we find happiness in our careers—is from Frederick Herzberg, who asserts that the powerful motivator in our lives isn't money; it's the opportunity to learn, grow in responsibilities, contribute to others, and be recognized for achievements.

For founders, raising more money is almost always better than less. However, think again…

I call this Gitops and it's a thing…

definitive thread on what favorite tools are for distributed teams - besides right process, lots of Zoom, Slack, Google Docs
---
Enterprise Tech
Stephen O'Grady from analyst firm RedMonk lays out a strategy to compete against AWS sharing historical examples of attacking where one is weak versus head on and then laying out where AWS is potentially weak. Does Azure have a chance - insertion point via Github and encompassing full developer experience is one that Steve lays out.

Its developer experience has never been top of class; its success has come because of its leading services and their first-to-market nature. 

The center of its gravity, meanwhile, is clearly post-deployment. While it's had a presence in markets from pipelines to version control for years, AWS is known first as a deployment target. Its developer toolset is a distant second, with narrow exceptions as in its AI category.

The strength of AWS' product portfolio is counterintuitively also a liability in certain scenarios. Service sprawl is so acute that even hand-selected AWS customers are often not aware of the availability of new or existing AWS services.

Congrats Snyk (a boldstart portfolio co) on it's $150m raise led by Stripes Group and including Coatue and Tiger. It's just the beginning for dev-first security, amazing product led growth with 400k developers leading to enterprise sales and 400% year over year growth

Speaking of product led growth, Tomasz Tunguz shares what "Best in Class Payback Period" is for a software company in 2020. Product led growth or bottoms up seems to be key:

Zoom is at the top with a payback period of just over 3 months. DataDog, Slack, Crowdstrike, and Twilio round out the top 5 at 7 months or less.

Those are exceptionally efficient businesses. It bears noting that 4 of the top 5 started out as bottoms up businesses, which have grown to support enterprise customers as they've matured. Zoom, DataDog, Slack, and Twilio all share this pattern.

Great data and post from Shin Kim who is Chief of Staff for Elad Gill showing us that most SaaS companies are super capital efficient at IPO

Phil Venables, ex-CISO of Goldman Sachs and currently on board, shares the importance of operational resilience:

Operational Resilience is the ability of firms and the financial system as a whole to absorb and adapt to shocks, rather than contribute to them. 

In a world of interconnectedness and cloud, one can understand why looking at the business and not just the technical risks are extremely important.

Congrats to Front (a boldstart portfolio co) on it's $59m raise led by CEOs of several tech companies like Zoom, Qualtrics, Atalssian, and Okta along with Sequoia. Semil has the round up…
---
Markets
Atlassian crushes earnings showing land and expand/product led growth can work - look at customer growth below tied to 37% revenue growth to $400mm this quarter. More from the earnings call transcript.

wow, IBM and Red Hat still lives and growing