Discover more from What's Hot in Enterprise IT/VC
Ed Sim's (@boldstartvc) weekly readings and notes on enterprise VC, software, and scaling startups
What's 🔥 in Enterprise IT/VC #156
Ed Sim's weekly readings and notes on VC, software, and scaling startups
Trying a new format with publishing platform Substack. Given how more and more of my time is spent collating news and thoughts from tweets, this provides a more flexible platform for sharing and conversing.
So much this week has been written about WeWork and the WeMess. All I can say is, no, the sky is not falling for everyone, especially enterprise tech. I won't go into the details of WeWork, but I do have one concern. The enterprise market has become too 🔥 and private multiples are on the super high end of the range making me wonder how long this can and will last. On the flip side, the replatforming of IT is so massive that I strongly believe there is lots more market share to capture.
On the sad side, RIP Don Valentine, founder of Sequoia Capital. He was a legend and inspired so many in the tech community: "The key to making great investments is to assume that the past is wrong, and to do something that's not part of the past, to do something entirely differently."
Finally, if you like the new format or content, please share and ❤️ above!
---
Scaling Startups
from Christopher McQuarrie, screenwriter, producer of Mission Impossible, Edge of Tomorrow, Top Gun - so applicable to founders, click to read the whole thread!

Nuggets of wisdom from memos written for internal audiences. Sriram Krishnan shares some of the best he's collected over the years from Bill Gates (Internet Tidal Wave) to Jeff Raikes to Warren Buffet on how to value Microsoft. Here's our first check memo/investment for Superhuman.

👇🏼💯
---
Enterprise
Europe has some amazing enterprise tech companies as summarized by Accel in its 2019 Euroscape. Excited to have boldstart portfolio cos Snyk, BigID, and Front on the list. We've always viewed NYC as a great bridge between Europe/Israel and the west coast. Of note, more SaaS companies valued above $5 billion and time to $100mm ARR faster and faster.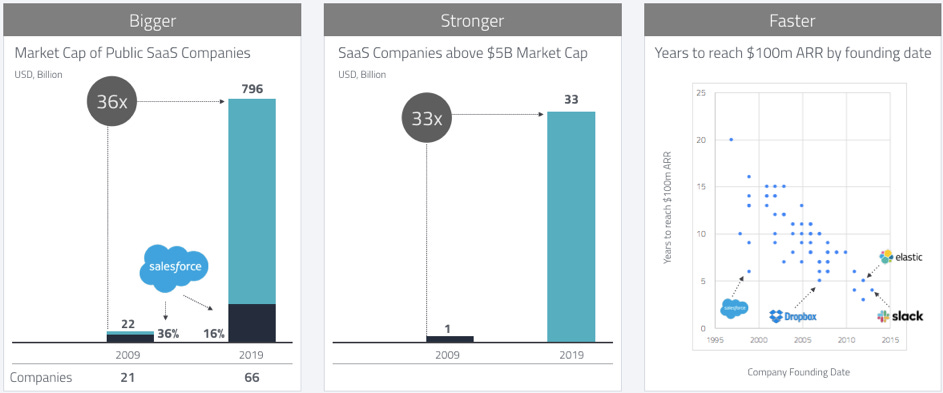 Gartner IT Symposium - Top 10 Tech Trends sounds like Gartner is trying way too hard! What is hyperautomation, multiexperience, deomcrotization of expertise and practical blockchain? Sounds like ridiculous buzzwords to me - more here.

RPA 🔥 and not so 🔥 - Instabase raised at $1 billion valuation while UIPath fired 400. IMO, UIPath is absolutely crushing it and this is standard par for course as they overhired sales and churning through less productive folks and pruning for profitability. All in all, market is growing super fast and I wouldn't be overly concerned on the downsizing of UIPath. On Instabase, it certainly has a huge vision and positions as much more intelligent than existing solutions. And please please, don't compare UIPath to WeWork. Reminds me of my prediction from end of year and being sick of the news sensationalizing stories.

Every Fortune 500 is a tech co - Nike hires ServiceNow CEO as its new CEO

What Donahoe does understand is technology, something Nike has been investing in heavily. Last year it acquired the data-analytics firm Zodiac. This year it bought Celect, a company specializing in predictive analytics. They're part of Nike's strategy of using customer data to be "more personal at scale," as Parker has previously put it.

UI matters even for infrastructure companies

Ever heard of chaos engineering? It's the idea of injecting failure in software systems to see what breaks, to learn more about unknown unknowns and popularized by Netflix. In laymen's terms, it's not that dissimilar from getting a flu vaccine. It's building momentum in the dev ops and SRE world and Nora Jones (Slack, Netflix) lays out what you need before you run a chaos experiment.
---
Markets
Next twelve months multiples over time - coming back to earth

💯 and according to Mike D. Kail that's less than what Softbank invested in WeWork

Venture funding slowed in Q3 according to PWC and CB Insights Money Tree report

Big Idea - $278mm of funding for Pensado Systems with Cisco's John Chambers as Chairman

Pensando's execs say they are taking on cloud giant Amazon Web Services with this tech by helping AWS's competitors make their clouds faster for the next wave of apps. But they also mentioned another type of competitor in their press release: "eliminating multiple legacy appliances."