Discover more from What's Hot in Enterprise IT/VC
Ed Sim's (@boldstartvc) weekly readings and notes on enterprise VC, software, and scaling startups
What's Hot in Enterprise IT/VC - Issue #76
If you are in NYC next week and interested in scaling infrastructure sales in the Fortune 500, come to our expert forum on Tuesday night! Great tips from Grant Miller on how to leverage customer intros and lots of public market activity for enterprise unicorns with rumors of Domo looking to file
boldstart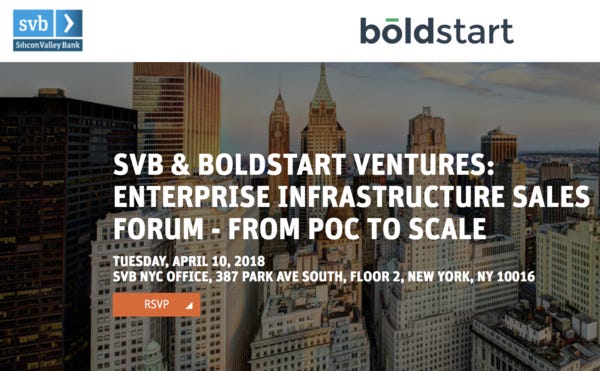 come RSVP for best practices in enterprise sales
Scaling Startups
The SaaS founder's guide to customer intros – Grant Miller – Medium
Grant from portfolio co Replicated, gives sage advice on how to make the most of VC customer introductions!
Founder to Founder: 10 Toughest Lessons Getting to the First $100m ARR with Cloudflare (Video + Transcript) – SaaStr
great interview on how to go from $0 to $100mm ARR in the enterprise space
Enterprise Tech
Microsoft Pledges to Let Joint Venture Partners Keep the Patents - Bloomberg
as customers begin worrying about who owns IP and data when working with the cloud providers, Microsoft makes a huge statement - "Microsoft Corp. President Brad Smith said customers don't have to worry that the company will help them develop new products and then set up a competing business."
Cloud, Not Tax Cuts, Drives IT Spending: Survey - CIO Journal. - WSJ
despite market volatitily, IT spending going up - security and cloud, still lots of legacy workload to move - "Cloud, Not Tax Cuts, Drives IT Spending: Survey" according to Morgan Stanley survey
Microsoft Researching Storage Based on Biological DNA | Light Reading
yes, this is an area getting some interest but still many years out - Microsoft thinks DNA can solve some long-term problems with storage media - assuming access speeds get better than 10MB per week.
Atlassian's two-year cloud journey – TechCrunch
great article on Atlassian moving from on-prem to fully cloud and microservices (hat tip Shomik Ghosh at Top Tier Capital)
techcrunch-com.cdn.ampproject.org • Share
Markets
Domo, Josh James's $2 billion software company, is moving to go public - Recode
another enterprise unicorn getting ready to go public! - "Utah-based Domo last week held its "organizational meeting," which generally serves as the formal kickoff in advance of an IPO filing with the Securities and Exchange Commission"
Zscaler Rebuffed Takeover Offers Before 2018 IPO - Bloomberg
S-1 filings are usually giant for sale signs, case in point but Zscaler turned it down
numbers came in at $435mm vs $460 est. for quarter - cites sales challenges - enterprise sales is tough, really tough! - "Cloudera will make changes in its field sales organization, with specialists coming in to focus on cloud computing, machine learning and analytics, Reilly said. The company is also looking for a new head of sales who can take the company to $1 billion in revenue, he said."
By Ed Sim
Ed Sim's weekly readings and notes on VC, software, and scaling startups - #enterprise #seed #DeveloperFirst #IntelligentAutomation #DataInfra #CloudNative #Cybersecurity
If you don't want these updates anymore, please unsubscribe here
If you were forwarded this newsletter and you like it, you can subscribe here
Powered by Revue