Discover more from What's Hot in Enterprise IT/VC
Ed Sim's (@boldstartvc) weekly readings and notes on enterprise VC, software, and scaling startups
What's Hot in Enterprise IT/VC - Issue #58
AWS Re:invent week - way too many announcements to keep track of but some big ones are AWS Fargate - running containers without infrastructure, Sagemaker to deploy and train machine learning models, lots of IoT and edge analytics/security, a serverless database, Rekognition for photo/video analysis - and I've said it before, if you are an infrastructure investor, this is a must attend event with unparelleled networking.
Pic showing AWS Cloud Dominance on Feature Set
Vendor2= Azure // Vendor 3 = Google // Vendor 4 = Oracle // Great idea to show the competitors via @espinozaman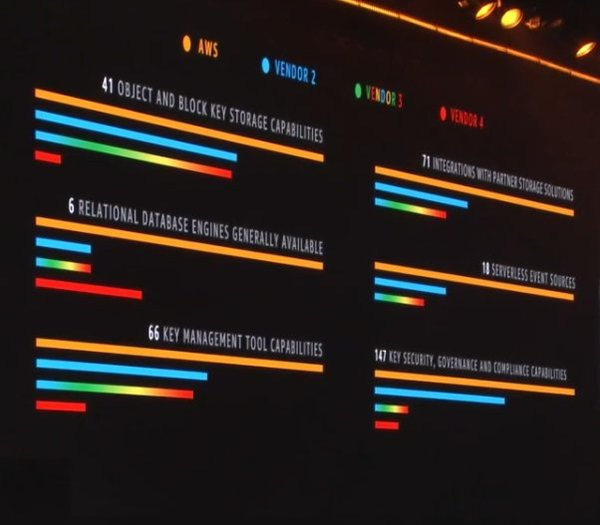 Enterprise Tech
Amazon Web Services Takes on Kubernetes, Offers a Serverless Database Service - The New Stack
solid overview of some of key features from Re:Invent
How Amazon Web Services aims to win cloud computing's next big battle - SiliconANGLE
AWS and enterprise adoption - also every startup holding their breath to see what AWS announces and which startups may get obliterated, Andy Jassy thinks otherwise - "How Amazon Web Services aims to win cloud computing's next big battle"
What the future of work will mean for jobs, skills, and wages | McKinsey & Company
Thought provoking on how AI and future of work will impact jobs…"As many as 375 million workers around the world may need to switch occupational categories and learn new skills."
51 Artificial Intelligence (AI) Predictions For 2018
My quote from a recent Forbes article on 2018 and AI - "If you are a software company and are not thinking about adding some type of intelligent AI layer on your product or service, then you will be lagging behind others who will. AI is like water or the air around us – it's not a category, but it's everywhere and will be embedded in most software we use whether we know it or not—Ed Sim, founder, Boldstart Ventures"
Markets
Barracuda Is Going Private In A $1.6 Billion Deal
Cybersecurity consolidation as Barracuda gets taken out in huge deal in a take private buy PE Firm Thomas Bravo and McAfee buys Skyhigh Networks
Tech Stocks Crushed As Sector Flirts With Worst Decline of 2017 - MoneyBeat - WSJ
Tech stocks experienced sell-off this past Wednesday - as investors abruptly dumped this year's biggest winners and snatched up out-of-favor ones.
Will Investors' Low-Rate Mistake Kill the Stock Market? WSJ
behavioral economics and low interest rates playing a big part in risk seeking behavior from investors - what happens when rates go up? - "Why are stocks so expensive? In part it may come down to a behavioral quirk that could be putting the market at risk."
boldstart
Email Is Broken. Can Anyone Fix It? | WIRED
Great profile on Rahul Vohra from @Superhumanco (a boldstart portfolio co) on reinventing mail and giving users superhuman capabilities
By Ed Sim
Ed Sim's weekly readings and notes on VC, software, and scaling startups - #enterprise #seed #DeveloperFirst #IntelligentAutomation #DataInfra #CloudNative #Cybersecurity
If you don't want these updates anymore, please unsubscribe here
If you were forwarded this newsletter and you like it, you can subscribe here
Powered by Revue