Discover more from What's Hot in Enterprise IT/VC
Ed Sim's (@boldstartvc) weekly readings and notes on enterprise VC, software, and scaling startups
What's Hot in Enterprise IT/VC - Issue #57
great slide deck on what makes best in class enterprise software companies; why zero knowledge proof required for banks on the blockchain; all about AWS reinvent this week- the whole infrastructure world will be there and if you are reading this, you should too; AWS just added machine learning consultancy and lab for customers - going after the enterprise world in a tried and true fashion; end of net neutrality would be terrible for us consumers so let's make sure to rally against this; and Happy Thanksgiving to all!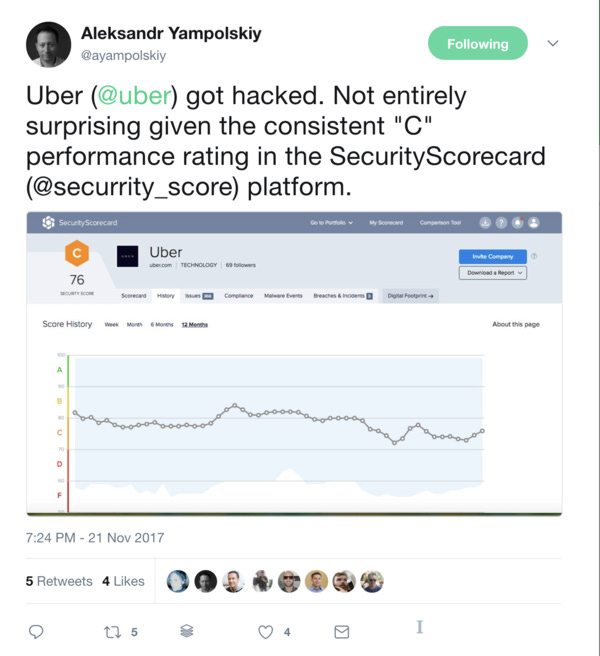 Value of data driven security ratings from Security Scorecard (a portfolio co)
Scaling Startups
Best in Class: Lessons from Publicly Traded Enterprise SaaS Companies
great slide deck on what makes great enterprise software companies - also case study on Atlassian's amazing bottom up sales model
Enterprise Tech
AWS ramps up in AI with new consultancy services and Rekognition features | TechCrunch
this is big - AWS opening machine learning lab for customers adding some consultancy work to lock down huge enterprise customers - AWS is opening a machine learning lab, ML Solutions Lab, to pair Amazon machine learning experts with customers looking to build solutions using the AI tech
What If Kubernetes Is One Big Google Conspiracy? - Enterprise Cloud News
food for thought - Google knows software and is this an end-around to AWS dominance, bringing multi-cloud orchestration and other software to developers? - "Google's latest effort at world domination includes Kubernetes, at least according to one theory."
www.enterprisecloudnews.com • Share
Why America's Biggest Bank Digs Anonymous Cryptocurrency - MIT Technology Review
zero-knowledge proof key to blockchain which ethereum cannot provide and zcash can - "A JPMorgan collaboration with the tiny startup Zcash shows how serious financial institutions are about blockchain technology."
www.technologyreview.com • Share
F.C.C. Plans Net Neutrality Repeal in a Victory for Telecoms - The New York Times
End of net neutrality would be terrible for consumers - throttling of websites and being charged more to access other sites could happen - "A rollback of net neutrality regulations would represent a significant victory for companies like AT&T and Comcast and would amount to a strike against consumers."
Sumitomo Group announces the largest-ever RPA deal, but is this really all RPA? - Horses for Sources
RPA or robotic process automation getting huge - $60mm contract with Sumitomo - some food for thought - is this really all RPA and are the claims for cost savings and productivity valid?
www.horsesforsources.com • Share
The Ultimate List Of Announcements Expected From AWS re:Invent 2017 - Part 2
great list - lots of Machine Learning, tools for data scientists, edge compute and more - AWS Reinvent has become a must-attend event for anyone investing in infrastructure
Uber Paid Hackers to Delete Stolen Data on 57 Million People - Bloomberg
so many things wrong with this - besides ethical implications - complete lax of security by leaving AWS login credentials in source code and no 2FA
Markets
Cash Sloshes Into Venture Funds, Prompting Fears of Excess - WSJ
Silicon Valley is bursting with fledgling venture-capital funds as cash continues to flow despite worries that startups have generally returned little in profits.
boldstart
Open source's big weak spot? Flawed libraries lurking in key apps | ZDNet
Snyk locking down open-source scanning for dependencies and vulnerabilities - "To avoid becoming the next Equifax, it could be a good idea to scan your apps for vulnerable open-source libraries."
By Ed Sim
Ed Sim's weekly readings and notes on VC, software, and scaling startups - #enterprise #seed #DeveloperFirst #IntelligentAutomation #DataInfra #CloudNative #Cybersecurity
If you don't want these updates anymore, please unsubscribe here
If you were forwarded this newsletter and you like it, you can subscribe here
Powered by Revue