Discover more from What's Hot in Enterprise IT/VC
Ed Sim's (@boldstartvc) weekly readings and notes on enterprise VC, software, and scaling startups
What's Hot in Enterprise IT/VC - Issue #154
This week feels a bit like Chicken Little "The Sky is Falling" as headlines like this "A Hard Lesson in Silicon Valley: Profits Matter" have been reverberating in the twitter echochamber. My thoughts having been in this for over 20 years is let's not be sensationalist but use common sense! Yes, businesses need high gross margins and for those readers here, enterprise software should cover that. Also nothing is ever so good or so bad - ignore the headlines and keep building product and selling product. More below…
Scaling Startups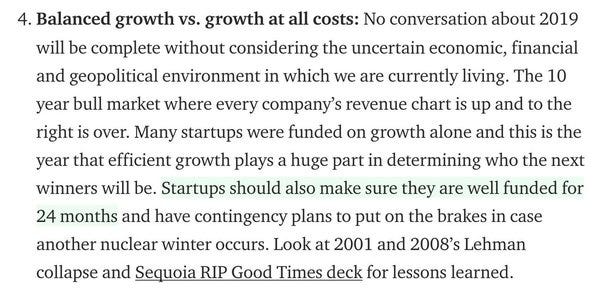 Founders, keep ur heads down + keep building -why is everything always either so great or terrible? As I said end of 2018, 2019 is all about balanced growth vs growth at all costs https://t.co/ZWBmYVVtA6 vs. A Hard Lesson in Silicon Valley: Profits Matter https://t.co/86k6OhjMis https://t.co/Pf5qsGsDi8
8:43 AM - 9 Oct 2019
Priceless advice from friend Tom Mendoza (Chairman NetApp) on Richard Bliss LinkedIn (video interview here) - "Tom pointed out there are two types of salespeople…those who sell some stuff to a lot of people and those who sell a lot of stuff to a few people.
Selling in the Enterprise is the second category. It is where Tom built his career and he identifies that it is the relationships built over time that make a salesperson effective."
Marc Benioff (Salesforce) shares The Lesson I Learned from Steve Jobs
inspirational…"Steve helped me understand that no great innovation in business ever happens in a vacuum. They're all built on the backs of hundreds of smaller breakthroughs and insights—which can come from literally anywhere. AppExchange now has more than 5,000 apps, ranging from sales engagement and project management tools to collaboration aids. Building an ecosystem is about acknowledging that the next game-changing innovation may come from a brilliant technologist and mentor based in Silicon Valley, or it may come from a novice programmer based halfway around the world. A company seeking to achieve true scale needs to seek innovation beyond its own four walls and tap into the entire universe of knowledge and creativity out there."
Reimagining enterprise is hard esp. when just an idea, try this hack, work backwards, show a mockup of dashboard or product, value is much clearer, u can then discuss what's under hood, 4 investors + customers, worked well 4 @pchowdhry @fortressiq @rahulvohra @Superhuman on day 1
8:40 AM - 12 Oct 2019
Enterprise Tech
Open Source: From Community to Commercialization
great overview of Open Source from Peter Levine at Andreessen Horowitz, how to turn projects into businesses - "one common pitfall that I want to note is that sometimes an OSS product can be too good. The product-market fit may be phenomenally good, such that there is no need for value-market fit, meaning there is no natural extension to drive revenue. As a result, while you are driving organic adoption, you and your community should consider carefully what you may expect to commercialize in the future."
Ditch Chef, Puppet, Splunk and Snyk for GitLab?
the age old philosophical debate of all-in-one platform vs. best of breed, my biased thought (investor in Snyk) is today's world of API and integrations is so much easier to have best of breed
There's an Automation Crisis Underway Right Now, It's Just Mostly Invisible
it's important to acknowledge that with automation jobs will go away - Instead, automation increases the likelihood that workers will be driven away from their previous jobs at the companies—whether they're fired, or moved to less rewarding tasks, or quit—and causes a long-term loss of wages for the employee.
The secret to HashiCorp's "overnight" DevOps success
Hashi was far from an overnight success - great read on how it cracked the code on what it takes to build great DevOps tooling
Markets
SAP's New CEOs Must Keep Chairman and Activist Investor Happy
Bill McDermott out and co-CEOs Christian Klein and Jennifer Morgan are in - there will be more SaaS acquisitions to come from SAP - It's time for SAP to capitalize on its acquisitions and prove to clients it's got its cloud strategy together.
By Ed Sim
Ed Sim's weekly readings and notes on VC, software, and scaling startups - #enterprise #seed #DeveloperFirst #IntelligentAutomation #DataInfra #CloudNative #Cybersecurity
If you don't want these updates anymore, please unsubscribe here
If you were forwarded this newsletter and you like it, you can subscribe here
Powered by Revue