Discover more from What's Hot in Enterprise IT/VC
Ed Sim's (@boldstartvc) weekly readings and notes on enterprise VC, software, and scaling startups
What's Hot in Enterprise IT/VC - Issue #146
Great nuggets from Paul Graham (YC) refocusing founders on what matters - not amount of funding but about product and efficiency, some lessons learned from myself for founders who focus too much on their tech and not on customer value; lots of interesting data on cloud in Fortune 500 and importance of developers; recaps from Black Hat in Vegas on too much noise and a great read on marrying chaos engineering with security, and markets a bit whacky with that inverted yield curve and concerns of a global recession
Scaling Startups
💯from Paul Graham - let's not making how much funding as the milestone or number of people but focus more on building a great product and being efficient with our growth
A simple heuristic that will save inexperienced startup founders from several different types of mistakes: be really cheap. This will save you from hiring too many people, from renting a fancy office, and from growing by buying users instead of making great things.
2:58 AM - 11 Aug 2019
When people visit your startup, they should be surprised how few people you have. A visitor who walks around and is impressed by the magnitude of your operation is implicitly saying "Did it really take all these people to make that crappy product?"
11:44 PM - 13 Aug 2019
reminder to all technical enterprise founders, what are you doing for the person sitting across table from you versus what is the cool tech you are building, focus on their values and your tech will be how you are able to do it 10-100x better
A common mistake I see from many early enterprise founders is over indexing on their technology when meeting with customers versus focusing on the values you offer them - how do you help them do things better, faster, cheaper - it's basic but often lost in early messaging
7:58 AM - 16 Aug 2019
Enterprise Tech
our 🥁beat - there is no digital transformation without infrastructure spend, devs r the engine, tradeoffs to speed them up while maintaining control, so much opportunity to get this right, read @McKinsey cloud report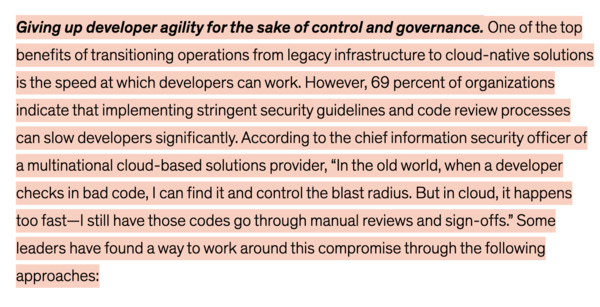 Busting The Multi Cloud Drumbeat
so true - not a magic bullet and not for costs alone, real value, from Krishnan Subramanian of Rishidot Research - "The key is to give the developers flexibility to use the right service than force them to make compromises on their apps to use the service offered by a specific cloud provider. Multi cloud provides organizations a lever to empower their developers than constrain them with services from a single cloud provider. Multi cloud is about flexibility without compromising on agility. Under certain circumstances and with right tools, it can also save costs."

Thanks to friend Grant Wernick (founder of Insight Engines) for shedding a light into manu of the problems with the security market - too many choices, too many buzzwords, lack of transparency in pricing, and complexity in disguise with the Cloud and security issues
great presentation from Kelly Shortridge (Capsule8) and Nicole Forsgren (Google) on Chaos Engineering and the marriage between dev ops and info sec (from Blackhat)
3 trends shaping the business intelligence market
Looker and Tableau acquisitions show huge opportunity in BI market but what's next? - "The future of BI won't be a BI tool," Caldwell said. "The future of BI is finding ways to empower everyone in the organization with data. Instead of having a dashboard, it's about pulling the data out of the platform and putting it into something people are more familiar with."
Markets
from the Economist - tech makes up 25% of US stock value and the big 5 accounted for 10% of S&P 500 total R&D spending now up to 30%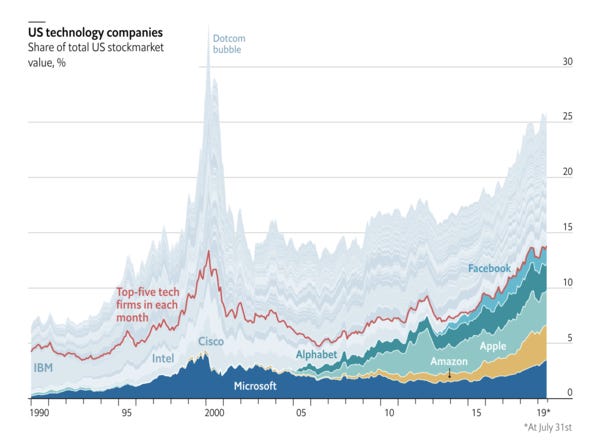 Does Raising More VC Lead To Bigger Outcomes?
Another gem from CB Insights Research - I'm a firm believer of too much capital flooding the market and discussed in last week's Bloomberg Technology segment about Softbank (starts min 27:18) - looking at companies like Zoom who have raised under $200mm to create significant value, Atlassian, and others and I get worried about Softbank doing the same to the enterprise space as consumer, overfunding everything - "The received wisdom in Silicon Valley is that raising more capital in larger and larger rounds is an essential part of the formula for success. But is this idea supported in the data?"
VMware says it's looking to acquire Pivotal
a bummer as Pivotal had a huge opportunity as one of the leaders pushing cloud native to the Global 1000 - however increasing competition from cloud providers with hybrid offerings and the rise of kubernetes slowed growth - VMWare acquiring Pivotal is a natural, as part of Dell Family and also with VMWare push into hyrbrid
Alibaba cloud biz is on a run rate over $4B
don't forget Alibaba and the Chinese market - Alibaba announced its earnings today, and the Chinese e-commerce giant got a nice lift from its cloud business, which grew 66% to more than $1.1 billion, or a run rate surpassing $4 billion. It's not exactly on par with Amazon, which reported cloud revenue of $8.381 billion last quarter, more than double Alibaba's yearly run […]
Cloudflare Files S-1 With Healthy Mix Of Accelerating Revenue Growth, Slimming Cash Burn
Cloudflare which offers CDN, DNS, DDoS protection and security has been growing solidly with "dollar-based net retention between 110 percent and 115 percent which is quite solid for an enterprise SaaS model
By Ed Sim
Ed Sim's weekly readings and notes on VC, software, and scaling startups - #enterprise #seed #DeveloperFirst #IntelligentAutomation #DataInfra #CloudNative #Cybersecurity
If you don't want these updates anymore, please unsubscribe here
If you were forwarded this newsletter and you like it, you can subscribe here
Powered by Revue