Discover more from What's Hot in Enterprise IT/VC
Ed Sim's (@boldstartvc) weekly readings and notes on enterprise VC, software, and scaling startups
What's Hot in Enterprise IT/VC - Issue #145
Best reads from the week include Jono Bacon outlining how startups should think about Open Core models, podcast on Tobi from Shopify on accidentally starting Shopify, discussion on enterprise VC landscape with myself on Bloomberg, deep dive into Observability and the future, and an interesting read on how VCs are chasing founders - not all good!
I had a fun discussion on Bloomberg (minute 27:18) on the enterprise vc landscape, how every Fortune 500 is a tech company and is spending massive $ on engineering, Softbank's impact as they point their $ to enterprise, and the bottom up sales efficiency in the market today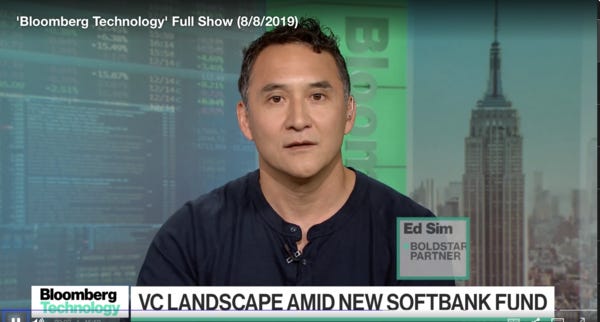 Scaling Startups
must read from Jono Bacon for those founders who are considering open source or have an open source company - lots of decision points for building a real business model besides brand recognition
Companies often fail because they hit the "snooze button" once too many times when their customers are trying to give them a wake up call.
11:16 AM - 8 Aug 2019
For Top Venture Capital Firms, Success Breeds Success
for those VCs out there, what is it that drives consistent success?
Shopify: Tobias Lütke : podcast
great listen on How you Built That (hat tip to Boris Wertz), Tobi is an accidental CEO and now has built it into an absolute juggernaut with over $1 billion in revenue - "Tobi and his co-founder realized that software had more potential than snowboards, so they launched the e-commerce platform Shopify in 2006. Since then, it has grown into a publicly-traded company with over 4,000 employees and $1 billion in revenue."
Enterprise Tech
Your multicloud strategy is all wrong
been talking to lots of CIOs/CTOs and multicloud is a thing but more about multi by workload or use case - what's forgotten is the extra overhead to manage and monitor and have skills to lock down, Matt Asay has more to say here - "Multicloud sounds nice, and it offers second-tier cloud vendors hope that they can serve some niche role within your cloud stack. Don't be fooled. Enterprises that spread themselves between multiple clouds will slow innovation and agility, not increase them, while increasing costs and decreasing security. There's not much to love in that "strategy."
Github has always been the open platform while GitLab has built an end to end developer experience from source code to CI/CD and vulnerability scans. It will be interesting to see at Github launches more of its own software in the stack, how partners will be affected. "GitHub has made a commitment to keeping their platform open to all partners, but only time will tell," CircleCI CEO Jim Rose said in a statement. "Ultimately, developers are smart and will choose the best, most powerful tools available on the market, and we're confident that that's where CircleCI will continue to be. […] With more than nine years of data and experience on how teams move from idea to delivery, CircleCI is the leader in CI/CD and we are confident we have the best solution for developers."
Kubernetes Matures: On Operator Experience, industry updates from Docker, Pivotal and Mesosphere
James Governor from Redmonk shares his thoughts on state of Kubernetes today - I couldn't agree more on two personas, devs and operators and need to make it easier to use - "when it comes to user experience there is plenty to play for – we're still early in a secular shift. So far a lot of the Kubernetes build-out has been very much full stack, with the expectation that the developer is also an operator. This needs to change. Specialisation will be required for Kubernetes to continue to flourish. Operator Experience and Developer Experience are not the same thing – they concern two different personae."
Observability — A 3-Year Retrospective - The New Stack
What is it and where are we going from Charity Majors of Honeycomb.io
Meet the US's spy system of the future
Until now, Sentient has been treated as a government secret, except for vague allusions in a few speeches and presentations. But recently released documents — many formerly classified secret or top secret — reveal new details about the program's goals, progress, and reach.
Open-Source Software Has Changed The Way Software Is Developed. Here's Where The $33B Industry Is Headed
CB Insights has a deep dive into the history of open source software and where it is going
Zoom's rise carving market share from Microsoft, Cisco
amazing to see how Zoom in such a short period of time went after a market full of incumbents and now a true leader in Gartner Magic Quadrant - it's possible, best of breed taking out incumbents in a pure replacement market
Superhuman's Secret Onboarding UX
I've been getting lots of Superhuman of X emails from founders - here's a great breakdown of their bespoke onboarding model (boldstart is an investor in Superhuman)
Markets
More security acquisitions this week with Broadcom buying the Symantec enterprise business for $10.7 billion and McAfee making a small acquisition of Nanosec for container security, clearly a response to Palo Alto buying TwistLock
Salesforce acquires field-service company ClickSoftware for $1.35 billion
another week and another Salesforce acquisition in field service software space, a company started in Jerusalem 22 years ago!
How VCs Win Deals: Comic Books, Big Meals and Baked Goods
sign of the times - there is so much money out there, here's a few anecdotes on what VCs will do to win deals - When Palmer Luckey was raising money for his defense-technology startup Anduril, he got an unusual gift from a venture capitalist interested in investing: a comic book depicting Anduril's team as superheroes.The comic book portrayed a "magical chest filled with money with [the firm's] logo and …
www.theinformation.com • Share
By Ed Sim
Ed Sim's weekly readings and notes on VC, software, and scaling startups - #enterprise #seed #DeveloperFirst #IntelligentAutomation #DataInfra #CloudNative #Cybersecurity
If you don't want these updates anymore, please unsubscribe here
If you were forwarded this newsletter and you like it, you can subscribe here
Powered by Revue