Discover more from What's Hot in Enterprise IT/VC
Ed Sim's (@boldstartvc) weekly readings and notes on enterprise VC, software, and scaling startups
What's Hot in Enterprise IT/VC - Issue #144
Security and more money is the theme of this week - as the whole security industry gears up for another Black Hat in Vegas, all eyes have been on the massive Capital One breach from a misconfigured AWS S3 bucket; Softbank announced a new $108b vision fund and it's pretty clear there will be more of an enterprise focus, Dynatrace, a New Relic competitor, has a big IPO up 49% and worth $7b, and a great read from boldstart advisor Richard Crowley on Chaos Engineering at Slack
Scaling Startups
Enterprise Founders don't be alarmed if later stage investors have already done several customer calls before even meeting you; it's the new normal because rounds are materializing out of thin air
9:24 PM - 1 Aug 2019
well said by Fred Wilson, certainty of close should play a key role in your decision making
Seven years into Fund I: charting the return multiples
Boris Wertz from Version One shows how venture and entrepreneurship is built on power laws as he shares how one of his companies out of 20 is driving performance for his fund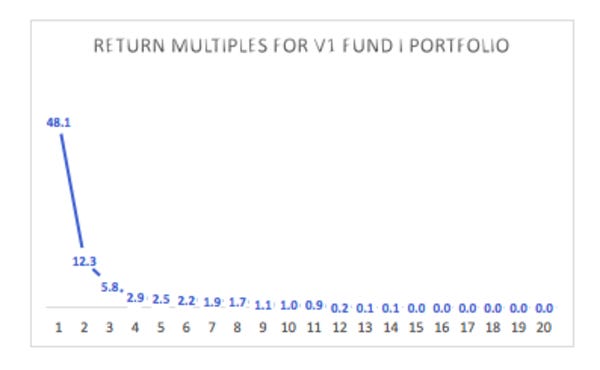 Enterprise Tech
Capital One's Cloud Misconfiguration Woes Have Been an Industry-Wide Fear
it's way to easy for devs to create new instances and way too hard to put the proper security controls on every new service, also it's shared responsibility between companies and AWS - Developers and IT decision makers should not be surprised by the recent Capital One data breach: Misconfigurations have long been the top cloud security concern.
Disasterpiece Theater: Slack's process for approachable Chaos Engineering
awesome piece from Richard Crowley (a boldstart advisor) about Slacks' approach to Chaos Engineering famously started by Netflix, also of note, Ops is a team sport as you will read - "If we were starting from scratch, we'd probably be practicing Chaos Engineering. After all, "the best way to test the failure path is never to shut the service down normally." But we're not starting from scratch — we operate a large-scale, business-critical service. So what do we need, right now? We need to make Slack as reliable as possible."
Analyzing the Black Hat USA 2019 Business Hall
Kelly Shortridge from Capsule8 does a deep dive on Black Hat's exhibit hall and breaks out startups, backers, and more…interesting trends
How VMware became a secret superpower in the cloud wars
great read on the behind-the-scenes battle for Google Cloud and Azure to partner with VMWare despite the strong ties to AWS - "Enterprises don't like to be locked in to a single vendor. By keeping VMware's software, they can fairly easily move their apps and data to another cloud. Google actually already offers a "cloud migration" tool to move customers from AWS to Google Cloud. This week, it launched a beta version to help customers take their apps from Microsoft Azure to Google Cloud, too."
Markets
SoftBank's New Fund Stands to Shake Up Enterprise Tech
a couple quotes from yours truly 😃 on the impact of Softbank on the enterprise - SoftBank's $108 billion technology fund will have a big impact on the venture-backed startups helping to develop next-generation enterprise technology, investors say.
Enterprise-Tech IPOs Spark 'Gold Rush' - WSJ
uh oh!!! too much money chasing enterprise not a good thing…
Dynatrace's CEO Talks About His Firm's Growth Following Hot IPO - TheStreet
New Relic competitor up 49% on debut, $7 billion market cap, look out for DataDog which is next in the space - During a talk with TheStreet, Dynatrace CEO John Van Siclen argued a slew of enterprise software technology trends work in his company's favor….DT
By Ed Sim
Ed Sim's weekly readings and notes on VC, software, and scaling startups - #enterprise #seed #DeveloperFirst #IntelligentAutomation #DataInfra #CloudNative #Cybersecurity
If you don't want these updates anymore, please unsubscribe here
If you were forwarded this newsletter and you like it, you can subscribe here
Powered by Revue