Discover more from What's Hot in Enterprise IT/VC
Ed Sim's (@boldstartvc) weekly readings and notes on enterprise VC, software, and scaling startups
What's Hot in Enterprise IT/VC - Issue #137
theme is of this week is big money - IPOs, acquisitions and large financings - Salesforce buying Tableau for $15.7b, Crowdstrike went public with a market cap of $11b, Slack looking to list at $17b, Softbank to invest another $550m into Automation Anywhere, on smaller but still large side a shoutout to portfolio co Security Scorecard for closing on their $50mm round, on the Scaling Startups front I highly encourage watching the video from Tim Grover, Michael Jordan's trainer, which will give you a ton of insight on how to perform at your best with lots of analogies to business
Cybersecurity risk-monitoring platform SecurityScorecard nabs $50 million
Congrats to portfolio co, Security Scorecard on their Series D led by Riverwood and including Intel Capital - all about global expansion
Scaling Startups
As a startup, always bias toward simple. Customers will tell you when your product doesn't do enough, but will never ask for fewer features when they stop using your product because it's too complex.
10:00 PM - 9 Jun 2019
The founders who have hardest time scaling r the ones who don't prioritize hiring key personnel, doing it yourself + heroic efforts are great in early days but will limit your abilities to build a big business, reviewing your hiring pipeline like your sales pipeline is must have
10:43 AM - 11 Jun 2019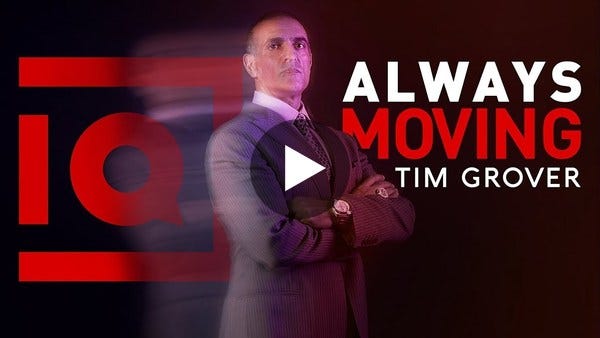 How to Be Unstoppable - Tim Grover | Inside Quest #29
great video, an oldie but hat tip to Nakul Mandan from Lightspeed for sharing "How to be Unstoppable" interview with Tim Grover, Michael Jordan's personal trainer, lots of nuggets of wisdom, how to get into the zone at work as well and be a cleaner and not a closer, how to use failure to keep driving…
Enterprise Tech
SoftBank CEO offers glimpse of deal logic with new AI investment
battle lines are drawn for UIPath and Automation Anywhere as Softbank investing another $550mm into AA - "AA CEO Shukla said his company has deployed 1.2 million pieces of software, or 'bots', across 2,800 enterprises globally. Automation Anywhere has been expanding in Asia including in Japan, which it entered last year and where it already has 300 customers. The group does not disclose revenues or profit."
How a quantum computer could break 2048-bit RSA encryption in 8 hours
it may be sooner than we think with some algorithmic optimizations - "Now Gidney and Ekerå have shown how a quantum computer could do the calculation with just 20 million qubits. Indeed, they show that such a device would take just eight hours to complete the calculation. "[As a result], the worst case estimate of how many qubits will be needed to factor 2048 bit RSA integers has dropped nearly two orders of magnitude," they say.
Their method focuses on a more efficient way to perform a mathematical process called modular exponentiation. This is the process of finding the remainder when a number is raised to a certain power and then divided by another number.
www.technologyreview.com • Share
A Path to Sub-Second, Encrypted Skin Cancer Detection
AI in healthcare will drastically improve our lives, but what about patient privacy? Using @tf_encrypted we can detect skin cancer on encrypted images. In the last year, we reduced runtime from 24 hours to 36 seconds.
Dropbox is getting a massive overhaul, wants to be the center of your workflow - The Verge
just a matter of time before Dropbox added an application layer on top of its storage platform - "it wants to be one of your collaborative tools alongside heavy hitters like Google Docs, Microsoft Office, Slack, Salesforce, Trello, and Zoom. Today it's unifying those ideas into a single new desktop app that it's calling "the new Dropbox.""
Microsoft Power Platform update aims to put AI in reach of business users
Low code and no code are the latest industry buzzwords, but if vendors can truly abstract away the complexity of difficult tasks like building machine learning models, it could help mainstream technologies that are currently out of reach of most business users. That's precisely what Microsoft is aiming to do with its latest Power Platform […]
Markets
Salesforce is buying data visualization company Tableau for $15.7B in all-stock deal
about 14x trailling Q1 revenue of $1.1billion annualized - On the heels of Google buying analytics startup Looker last week for $2.6 billion, Salesforce today announced a huge piece of news in a bid to step up its own work in data visualization and (more generally) tools to help enterprises make sense of the sea of data that they use and amass: Salesforce is […]
CrowdStrike pops more than 70% in debut, now worth over $11 billion
Security software vendor CrowdStrike began trading on the Nasdaq under the ticker symbol "CRWD."
Slack Listing Is Said to Value It at Up to $17 Billion
Slack Technologies Inc. is expected to be valued by investors at $16 billion to $17 billion when it lists its shares publicly next week, according to people familiar with the matter.
Mary Meeker's Internet Trends 2019
always a great macro view of the Internet and where the drivers of growth are globally
By Ed Sim
Ed Sim's weekly readings and notes on VC, software, and scaling startups - #enterprise #seed #DeveloperFirst #IntelligentAutomation #DataInfra #CloudNative #Cybersecurity
If you don't want these updates anymore, please unsubscribe here
If you were forwarded this newsletter and you like it, you can subscribe here
Powered by Revue