Discover more from What's Hot in Enterprise IT/VC
Ed Sim's (@boldstartvc) weekly readings and notes on enterprise VC, software, and scaling startups
What's Hot in Enterprise IT/VC - Issue #132
this week is focused on founders - how to manage 1 on 1s to keep your team motivated and happy, how to fundraise like a boss, why markets are 10x bigger than ever before, when your data actually does help you build a moat, and filling out the Openview SaaS survey that we at boldstart are helping with again, on the enterprise tech side GitHub expanding and going after NPM and JPM all in on cloud
Happy Mother's Day weekend to all of the amazing mother out there!
Scaling Startups
Markets Are 10X Bigger Than Ever
great read from angel investor Elad Gill on why we are in a world of "much larger outcomes than anyone expected for online software companies."
"software markets and businesses are 10X bigger than they were 10-15 years ago. This is due to the liquidity provided by the global internet. A company that would have been a $10-$20M subscale revenue business is now a $100M revenue company, which means many more companies can now be worth $1B or more, and many more SaaS businesses have the potential to be $10B+."
SaaS Metrics Survey - 2019 Edition
Once again, we're partnering with our friends at @OpenViewVenture on an important SaaS Benchmarking Survey. A great tool and must have for founders - please fill out here
The Empty Promise of Data Moats – Andreessen Horowitz
if you have a startup and you think data is your long term moat, then read this - from Martin Casado and Peter Lautner, all data does not mean you have a moat, lays out framework for difference between data network effects and data scale effects
great tips from Fred Destin at Stride Ventures - remember founders "the objective of every meeting is to get to the next meeting."
One-on-ones are my most valuable meetings; here's how I run them
Mathilde Collin, co-founder and CEO of Front (a portfolio company) shares tips on keeping her team motivated and productive and happy - Employee engagement & retention at Front is high. We have an employee NPS of 97 and in a recent employee engagement survey, 93% of the team agreed that they know how their work contributes to the…
Enterprise Tech
NPM today stands for Now Paging Microsoft: GitHub just launched its own software registry
GitHub expanding its footprint - NPM and jfrog - "While GitHub Package Registry may complement other registries, it could become a significant competitor for enterprise customers. Companies may well prefer to pay for private package hosting through GitHub, which they likely already use for source version control and CI/CD, instead of NPM or Docker."
15 initiatives UiPath and its competitors must take to prove they are serious about transformation
great post on UIPath vision and the reality - it isn't close to democratizing which is why so much interest in market for companies like portfolio company Clay, also so agree on these automation cos need to build out developer ecosystems - "The developer ecosystem must be expanded to extend functionality, libraries etc. Commit to specific goals for how much of the UiPath codebase will be available on Github to build an industry solution skewed against technology-vendor lock-in"
www.horsesforsources.com • Share
After Strategy Reboot, JPMorgan Going Deeper in Cloud
must read interview with CIO JPMorgan Chase - Lori Beer - says the bank has learned a lot during its transition to using services from outside cloud computing providers such as Amazon Web Services
What's the thing you hear most commonly on the operating committee from the non-technical people at JPM? What questions are they asking you?
The questions are always about speed—how are you enabling speed? And I don't necessarily mean getting things done faster by taking shortcuts. It's how are we building products and platforms so that if I want to orchestrate a new Chase customer experience, we can pull those micro services together and orchestrate that new capability faster, and that's what the modern engineering really does for us.
www.theinformation.com • Share
from Google IO this week - amazing automation called Duplex on the web - must watch…leveraging your email and other G services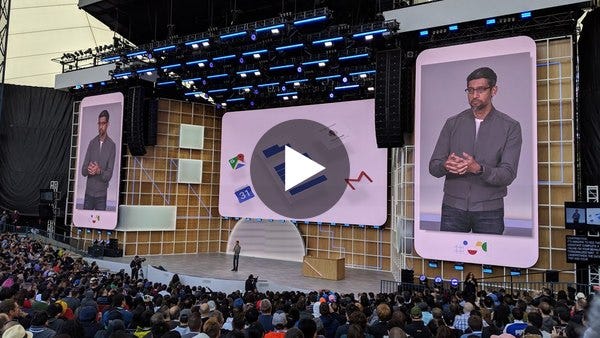 Google IO 2019 Duplex for the web
Markets
The Long-Term Stock Exchange gets SEC approval for Silicon Valley-friendly platform
Government watchdogs have approved the application for Long-Term Stock Exchange, a new trading platform backed by prominent tech execs and investors.
Princeton Looks to Break Up the White Male Money Monopoly
must read on how one of largest endowments is investing in and hiring managers owned by women and minorities
Dropbox tops earnings estimates as customers pay more
Dropbox expanding revenue per customer and overall, revenue for the quarter came to $385.6 million, up 22% from a year ago.
By Ed Sim
Ed Sim's weekly readings and notes on VC, software, and scaling startups - #enterprise #seed #DeveloperFirst #IntelligentAutomation #DataInfra #CloudNative #Cybersecurity
If you don't want these updates anymore, please unsubscribe here
If you were forwarded this newsletter and you like it, you can subscribe here
Powered by Revue