Discover more from What's Hot in Enterprise IT/VC
Ed Sim's (@boldstartvc) weekly readings and notes on enterprise VC, software, and scaling startups
What's Hot in Enterprise IT/VC - Issue #124
the specter of AWS is everywhere this week as Sharone Zitzman writes a great piece on why AWS is bad for open source and Stephen O'Grady discusses how we got here and the future of open source in the context of forking Elastic Search, MongoDB under the threat of AWS' free offering crushes earnings, while Cloudera goes the opposite direction and fails to meet its estimates, great recap on RSA from Kelly Shortridge and Gartner's Top 10 on Security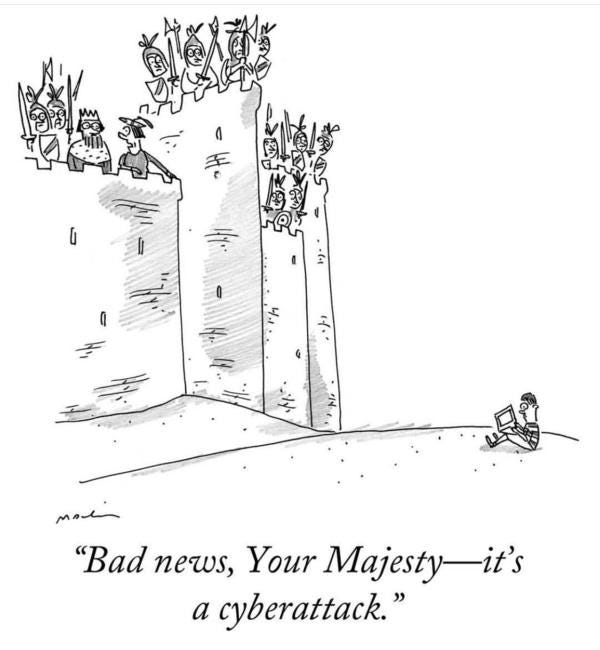 Hat tip - @grantwernick
Scaling Startups
Love this quote from the @adobe earnings call from CEO Shantanu Narayen:

"Reduced churn is the new growth."

Churn for any SaaS business is a drag on both growth and profitability. It's worthy of the same level of focus you put on acquiring new customers (perhaps even more).
5:36 PM - 15 Mar 2019
Tips on Leadership, Hiring, Growth, and More for Enterprise Leaders
Must read on from our friends at GGV Capital with tidbits from enterprise leaders on how to scale, prioritize, and manage - Yesterday, we concluded our third annual Evolving Enterprise, a conference bringing together 100+ founders and leaders in the enterprise community that was co-hosted by GGV Capital and Silicon Valley…
Enterprise Tech
The Cloud and Open Source Powder Keg – tecosystems
from Stephen O'Grady at RedMonk - what the AWS fork of elastic means for open soruce - "The only real question, in fact, is whether this experience will have a deterrent effect, whether other commercial open source vendors will look at Elastic's situation – which finds the company now competing with Amazon not just in product but in open source – and determine that the returns for more some of the more controversial licensing approaches simply don't justify the costs."
great post on why AWS forking Elastic is bad for open source and why MongoDB and InfluxDB had to change their licensing to protect themselves
Amazon Web Services explains why it's increasing its investment in open source, even as it courts controversy with a new software project
"From our perspective, open source should be open source, and proprietary software should be proprietary," Gutmans said onstage. "There's a promise to the end customer that they can use open source however they want. If you do open source, you do open source. If you do proprietary, you do proprietary. There's nothing wrong with proprietary software."
www.businessinsider.com • Share
My Reflections on the 2019 RSA Conference
from Kelly Shortridge of Capsule 8 - Reflecting on my existential crisis during RSAC, I tried to distill what exactly was so troublesome about the conference - Hyperbolization of FUD, Disconnect between products & personas, Misunderstanding of personas, Promotion of security as a blocker vs. a compromiser
Gartner's top 10 security projects for 2019
cloud security posture management, security ratings, container security and more…
Human-robot collaboration at Amazon reveals the future of work
the right way humans and robots should work together
Markets
PagerDuty files to go public in what should be a big year for tech IPOs
another dev first company files for IPO, as I've said before how we sell into the enterprise is rapidly changing as PagerDuty now has 1/3 of the Fortune 500
Amazon Cloud Doesn't Darken MongoDB Outlook
and despite AWS offering an older version of MongoDB for free, it is still crushing revenue and earnings - "Amazon's efforts didn't deter customers from flocking to MongoDB. Far from it. The company reported revenue of $85.5 million for its fiscal fourth quarter late Wednesday, up 71% year over year. That's actually the company's best quarterly growth on record and 16% above Wall Street's estimates. MongoDB's projections for the current quarter and fiscal year were also about 5%-10% above analysts' targets. The stock zoomed 24% Thursday morning."
Cloudera plummets on a disappointing forecast
AWS takes a dent out of Cloudera and Hortonworks - the two most prominent vendors of Hadoop open-source software, came together so they could cut down on the costs of going head-to-head and join forces in taking on Amazon Web Services, which is bolstering its database offerings. However, Cloudera fell sharply after reporting worse-than-expected earnings for its fiscal fourth quarter - analyst estimates at $207mm and company came in at $190mm
Oracle's Revenue Declines as It Struggles to Catch Up in Cloud Services
Oracle cloud is a non-starter - The company said cloud-service and license-support revenue—Oracle's largest segment—grew 1% to $6.66 billion - keep in mind while Azure and AWS still growing double digit %
boldstart
Valence: Machine Learning Performance and Cost Optimization
Congrats @manifold on release of Valence - cut Your Kubernetes Cost in Half with Machine LearningImprove your cluster's performance, while saving on cloud infrastructure spend without manual intervention.
By Ed Sim
Ed Sim's weekly readings and notes on VC, software, and scaling startups - #enterprise #seed #DeveloperFirst #IntelligentAutomation #DataInfra #CloudNative #Cybersecurity
If you don't want these updates anymore, please unsubscribe here
If you were forwarded this newsletter and you like it, you can subscribe here
Powered by Revue