Discover more from What's Hot in Enterprise IT/VC
Ed Sim's (@boldstartvc) weekly readings and notes on enterprise VC, software, and scaling startups
What's Hot in Enterprise IT/VC - Issue #114
Happy New Year! I hope you all had a relaxing holiday season and are ready for what's ahead in 2019. This week's stories include our own look at 2019 and recap of 2018 along with some amazing reads on surviving the enterprise sales chasm, don't rely on AI as your advantage, and Google's security trends for 2019. Here's to a healthy, happy and prosperous 2019 and thank you for reading!
Scaling Startups
boldstart 2018 recap and what's hot in enterprise 2019
here's our third annual enterprise outlook and recap of prior year
1. Solve *one* problem no one has paid attention to in a really big (potential or existing) market. Insanely well.

2. Then, "listen" to customers and address their next biggest problem related to that first problem.

3. Repeat until your startup is worth $1 Trillion.
2:27 PM - 1 Jan 2019
The Unending Chasm, and How to Survive It
must read by Martin Casado, a16z, on the fallacies of crossing the chasm and how enterprise startups can survite it
Your AI skills are worth less than you think
great read for founders to think about their advantage and remember AI is not a business, it's a technology - We are in the middle of an AI boom. Machine Learning experts command extraordinary salaries, investors are happy to open their hearts and checkbooks when meeting AI startups. And rightly so: this is…from Ryszard Szopa
Enterprise Tech
Security trends to pay attention to in 2019 and beyond
zero-trust and passwordless as two themes ahead - As we look ahead to 2019, here are some security trends to watch from some of the people here at Google Cloud who think about security every day.
Kroger Technology and Pivotal Partner to Feed the Human Spirit
Must read on the power of #cloudnative for the Fortune 500, how a 135 year old company is becoming agile and software-first, as I've always said "there is no digital transformation without infrastructure spend"
Marriott Says Hackers Swiped Millions of Passport Numbers
nation state hackers don't want credit card info, they want passport info, where you've been, linkages to government officials and their travel history and more - Marriott International said fewer customers were affected in a massive data breach than initially feared but confirmed that hackers had compromised the passport numbers of millions of people.
In 2019, blockchains will start to become boring - MIT Technology Review
some of the best companies are built in the worst times, same goes for blockchain although it is not a magic solution, boring enterprise blockchain will steadily build while the crypto crash gets the headlines
www.technologyreview.com • Share
Microsoft is privately testing 'Bali,' a way to give users control of data collected about them
deep in Microsoft labs, they are working on a personal data bank, many companies have tried this before but will require Google or Microsoft like scale to pull this off
GM's layoffs can be traced to its quest to turn people into machines
great long read on GM's focus on automation in 1972, historical context and learnings as we move towards a new world of automation
Markets
10 tech companies are sitting on $346 billion of M&A 'dry powder'
if market craters in 2019, here are 10 tech cos with plenty of dry powder to acquire companies, many have an enterprise tilt
www.businessinsider.com • Share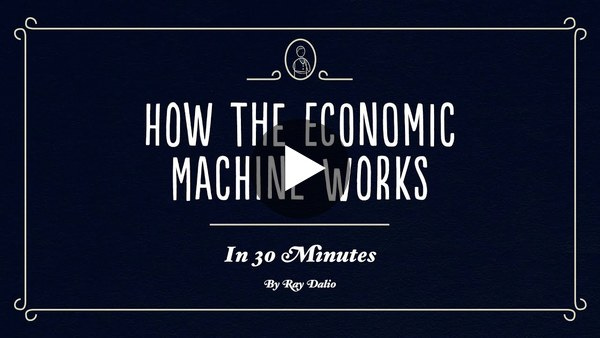 How The Economic Machine Works by Ray Dalio
confused about the economy and what's in store for 2019. watch the video and here's the text as well
By Ed Sim
Ed Sim's weekly readings and notes on VC, software, and scaling startups - #enterprise #seed #DeveloperFirst #IntelligentAutomation #DataInfra #CloudNative #Cybersecurity
If you don't want these updates anymore, please unsubscribe here
If you were forwarded this newsletter and you like it, you can subscribe here
Powered by Revue