Discover more from What's Hot in Enterprise IT/VC
Ed Sim's (@boldstartvc) weekly readings and notes on enterprise VC, software, and scaling startups
What's Hot in Enterprise IT/VC - Issue #109
Was fun to participate in the Fortune Investor Roundtable and share my thoughts on why Fortune 500s need to invest in enterprise software infrastructure, no matter what economic cycle we are in. I also wrote some of my thoughts on Amazon HQ2 and why every NYC startup should start thinking about their own version of that. Heading to AWS re:invent next week in Vegas where there will be 60k attendees, up from 45k last year. Yes, the market is falling but the cloud market continues to grow. Finally, must read on changing nature of open source licensing with respect to cloud (i.e. AWS?).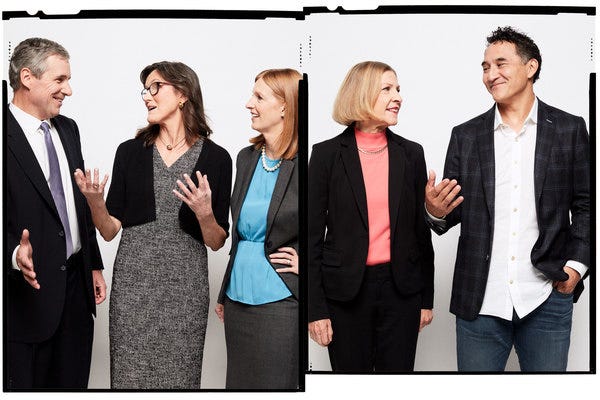 Best Stocks 2019: Investing Tips and Advice from Experts | Fortune
Whether the bull market ends or not, these pros expect great years for stocks like Tesla, Walmart and Disney.
Scaling Startups
Amazon HQ2 and why every NYC startup should have their own HQ2
some of my thoughts on why every NYC co or every startup in crowded areas should rethink their idea of remote workers and HQ2s
Move Slow and Make Things: Airtable's Howie Liu Built A $1B Software Giant Emphasizing Substance Over Speed
By focusing on design and user experience, Airtable's hot, cloud-based software has taken hold in 80,000 organizations from Netflix to small profits. Can it be the next Microsoft?
Enterprise Tech
Why some open-source companies are considering a more closed approach
"Whenever a new open-source project becomes popular, cloud providers strip mine the technology, put the freeware on their platform, capture most if not all of the value but give little back to the community," said Dev Ittycheria, president and CEO of MongoDB, currently valued at $4.3 billion on the Nasdaq. "We think it's important for someone like us to lead and help the next set of open-source companies and projects thrive and grow."
Explainable AI won't deliver. Here's why.
"If you refuse to trust decision-making to something whose process you don't understand, then you should fire all your human workers, because no one knows how the brain (with its hundred billion neurons!) makes decisions."
7 Case Studies on Corporate VC – Risky Business
recap by Scott Lenet of Touchdown VC on various corporate VC models, my fave is from Raj at Jet Blue who focuses on helping startups get pilots
More on Diane Greene's departure from Google Cloud
more behind the Diane Greene's departure - reminds me of Oracle tactics - smart, piggybacking off existing business like advertising and maps in customer conversations but "Greene's efforts to make other Google business partnerships contingent on some kind of business with the cloud unit frustrated other department chiefs"
China's plan to rate citizens based on social behavior moves closer to reality
clearly China does not have a privacy issue, this is a Black Mirror episode come to real life
Markets
The Tech Stock Fall Lost These 5 Companies $800 Billion in Market Value
are there buying opportunities amongst the FAANG and market drop?
Bitcoin Falls Below $5,000 for First Time in 13 Months
for those tracking crypto markets, they are getting crushed!
By Ed Sim
Ed Sim's weekly readings and notes on VC, software, and scaling startups - #enterprise #seed #DeveloperFirst #IntelligentAutomation #DataInfra #CloudNative #Cybersecurity
If you don't want these updates anymore, please unsubscribe here
If you were forwarded this newsletter and you like it, you can subscribe here
Powered by Revue