Discover more from What's Hot in Enterprise IT/VC
Ed Sim's (@boldstartvc) weekly readings and notes on enterprise VC, software, and scaling startups
What's Hot in Enterprise IT/VC - Issue #108
another week and another huge buy with SAP buying Qualtrics for $8 billion and Vista buying Apptio for $1.9 b + Blackberry buying Cylance for $1.4b, but that's a regular occurrence now so let's switch gears and focus on great content for startup founders, portfolio co founders Rahul Vohra (Superhuman) on what product-market fit is to him and Brad Birnbaum (Kustomer) podcast on SaaStr on building a GTM machine against zendesk and Salesforce, also if interested in PLG please register for our panel in NYC on Dec 4 with CMO of Shopify, founder of Superhuman, and ABM/Demand Gen MongoDB - Happy Thanksgiving and thanks for subscribing!
Scaling startups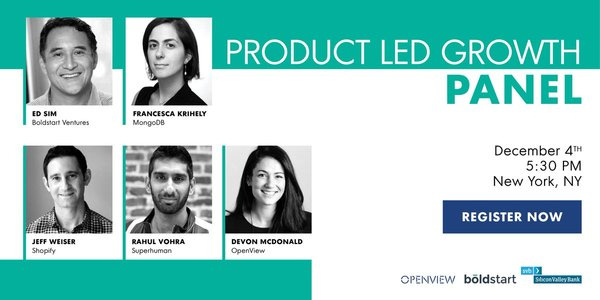 Join OV's @DevMcDee, @Boldstartvc's @edsim and @SVB_Financial for our Product Led Growth Panel on December 4th in NY featuring @MongoDB's @francium, @Shopify's @Jeff_Weiser and @SuperhumanCo's @rahulvohra. Register here: https://t.co/l20qHPlDfv https://t.co/Vqztsigm7u
4:48 PM - 16 Nov 2018
How Superhuman Built an Engine to Find Product/Market Fit
must read! - Superhuman founder and CEO Rahul Vohra walks us through the framework his startup used to make product/market fit more actionable, detailing the survey and four-step process that were key to measuring and optimizing it.
SaaStr 200: Should Startups Start At SMB + Scale To Enterprise or Vice Versa, Brad Birnbaum, Founder/CEO @ Kustomer
hear about Brad Birnbaum's transition from CTO role to CEO role over 4 startups and how he thinks about gototmarket at Kustomer while taking on zendesk, Salesforce and others
Enterprise Tech
Google Cloud CEO Greene being replaced by former Oracle exec Kurian
big news, Diane Greene is out - their market share growth is lagging AWS/Azure - however speaking with several enterprises I do know that some of the reason that did move to Google Cloud was because of Diane - will be interesting to see how a long-time Oracle exec with a drastically different culture impacts GC
Why investors and customers are betting big on CI/CD software development
sorry paywall but quite cool to see an article on importance of CI/CD and dev agility and speed in BI
www.businessinsider.com • Share
New York Is a Genuine Tech Hub (and That Was Before Amazon) - The New York Times
huge win for NYC getting a HQ2 from Amazon - The Bay Area in California remains the nation's high-tech epicenter. But New York's tech work force has been growing impressively.
GDPR: The law that lets Europeans take back their data from big tech companies
WOW - #GDPR on @60Minutes - in the mainstream - as I've said, this is the next Y2K problem, started in Europe but now in California and will spread state to state
The Case Against Quantum Computing - IEEE Spectrum
if into quantum and the possibilities, this is a must read on why it may never happen
Airtable, maker of a coding platform for non-techies, raises $100M at a $1.1B valuation – TechCrunch
democritization of database, low-code/no-code, Airtable growing superfast and more to come in this whole market
Markets
SAP buying Qualtrics for $8 billion
insane numbers, 20x the $400mm revenue run rate
Vista Equity Partners to pay $1.9 billion in PE deal for Apptio
Apptio's run as a public company is coming to an end after just over two years. Private equity firm Vista Equity Partners announced a $1.9 billion for the Bellevue-based IT cost analysis software co
BlackBerry to buy cybersecurity firm Cylance for $1.4 billion
a huge buy for Blackberry but endpoint security definitely a crowded space with hand to hand combat from Crowdstrike and others
By Ed Sim
Ed Sim's weekly readings and notes on VC, software, and scaling startups - #enterprise #seed #DeveloperFirst #IntelligentAutomation #DataInfra #CloudNative #Cybersecurity
If you don't want these updates anymore, please unsubscribe here
If you were forwarded this newsletter and you like it, you can subscribe here
Powered by Revue