Discover more from What's Hot in Enterprise IT/VC
Ed Sim's (@boldstartvc) weekly readings and notes on enterprise VC, software, and scaling startups
What's Hot in Enterprise IT/VC - Issue #103
big news of week was around the stock market and Nasdaq drop of 3.7% for week and whether a minor correction or beginning of a trend, IMO I believe the former, despite that Anaplan IPOed and went up 43% this past week as it's cloud financial planning software is taking hold in large enterprises, more on product led growth with a market map below and a great story on Mailchimp and how it grew with minimal venture backing
Congrats to portfolio co Rebel on sale to Salesforce! API first dev platform for interactive mail
.@GoRebelMail signs definitive agreement to be acquired by @Salesforce! Learn more here: https://t.co/hKj4xev3zv
4:07 PM - 4 Oct 2018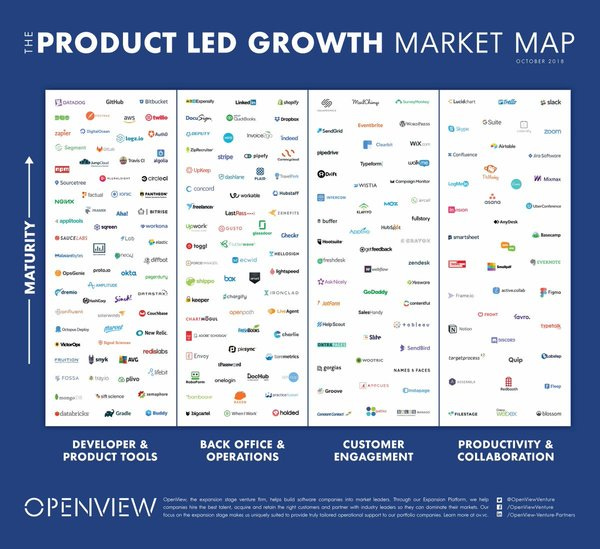 great to have portfolio cos @FrontApp @snyksec on the map, this has been a huge focus area of ours since inception - The Product Led Growth Market Map | @OpenViewVenture https://t.co/hBPeS1VgtE https://t.co/gk4LpNwtaJ
10:16 AM - 9 Oct 2018
Scaling Startups
The New Atlanta Billionaires Behind An Unlikely Tech Unicorn
building a company with no venture money, bottom up, SMB to multi billion value and out of Atlanta - read about Mailchimp
Success in Venture Capital comes down to getting an entrepreneur to pick you.
great ready by Lightspeed partner Jeremy Liew on what it takes to be a successful VC
Enterprise Tech
Amazon Developing 'Picking' Robots for Warehouses — The Information
robotics has been elusive for small pick, pack and ship but sounds like Amazon coming close to deploying their own system - One of Amazon's research projects involves a robot that can visually identify items coming down a conveyor belt, pick them up with a compressed-air vacuum gripper, and move them off the belt onto a table or shelf, said one of those people, who witnessed the robot in action.
www.theinformation.com • Share
How E*Trade CIO Faces Obstacles to Agile - CIO Journal. - WSJ
When it works well, the agile method of software development can help E*Trade deliver software faster and with fewer bugs, says Chief Information Officer Lance Braunstein. But scaling it across the company has been an ongoing and often challenging process that requires fundamentally changing the way people think about and do their work.
Google AI claims 99% accuracy in metastatic breast cancer detection
more accurate than doctors, this is a big deal
IBM Launches Food Trust Blockchain For Commercial Use
IBM Food blockchain is live with Walmart mandating for spinach and lettuce
Markets
Anaplan (PLAN) IPO: Stock starts trading on NYSE
big IPO for Anaplan rising 43% on first day trading and market cap of $3b - SaaS financial planning software
boldstart
Salesforce picks up interactive email startup Rebel - SiliconANGLE
Congrats to portfolio co Rebel - dev first platform to build interactive email - Salesforce picks up interactive email startup Rebel - SiliconANGLE
By Ed Sim
Ed Sim's weekly readings and notes on VC, software, and scaling startups - #enterprise #seed #DeveloperFirst #IntelligentAutomation #DataInfra #CloudNative #Cybersecurity
If you don't want these updates anymore, please unsubscribe here
If you were forwarded this newsletter and you like it, you can subscribe here
Powered by Revue